R Factor EA is a recently launched Forex trading tool, which comes with a proprietary dynamic portfolio management system. Raphael Minato, the developer of the robot, used methods of robustness, randomness, Walk Forward Analysis, etc. to develop the expert advisor that could be ready to face any market changes and difficulties. He says that in comparison with the other EAs, this one can continuously be profitable even during long drawdown periods. Is it true? Find out the answer in our detailed R Factor EA review.

R Factor EA: To Trust or Not to Trust?
Until now, we'd not recommend this EA to the public:
The robot trades with high risks and drawdowns
The dev does not provide setting explanations
Weird backtest report
No money management advice provided
No customer reviews
Features
R Factor is an expert advisor that is hosted on the MQL5 forum. This robot was published on January 9, 2021. Its last version is 1.5, released on January 30, 2021. The dev points out the main features of his EA:
It is an automated trading tool
The robot experienced 3 years of real positive trading results
It has a dynamic portfolio management system
There were 5 EA's activations
The dev claims that the EA could earn $3,5M from $1K deposited funds in 1 year of trading
The robot was Demo downloaded 676 times
The test was performed using methods of robustness, randomness, Walk Forward Analysis, and more

Brokers with ENC accounts, low spreads and low commissions are recommended
The dev recommends ICMarkets broker
For best results, traders have to use Virtual Private Server (VPS)
The system sets SL and TP levels to all open deals
The vendor claims that the robot does not use Averaging, Grid, or Martingale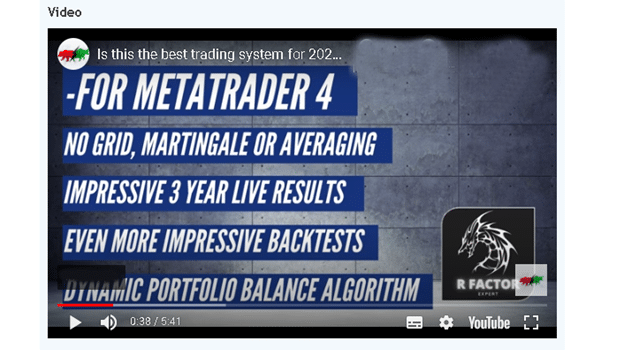 The robot has an Intelligent Trade Exit System
The minimum deposit for one pair is $30
The minimum deposit for the complete portfolio (12 symbols) is $100
Details of all R Factor EA sets and configurations can be found in the comments section
It can be purchased on the MQL5 market for $499
The EA is also available for 3 months rental and costs 150 USD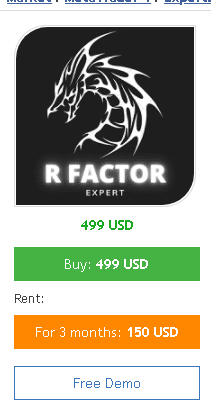 Unverified Backtesting Results
The backtest was performed for 10 currency pairs (if the EA trades 12 currency pairs, then what about the rest 2 symbols? It looks odd). The trading account was deposited at $1000. The robot had been backtested from January 2020 to December 2020.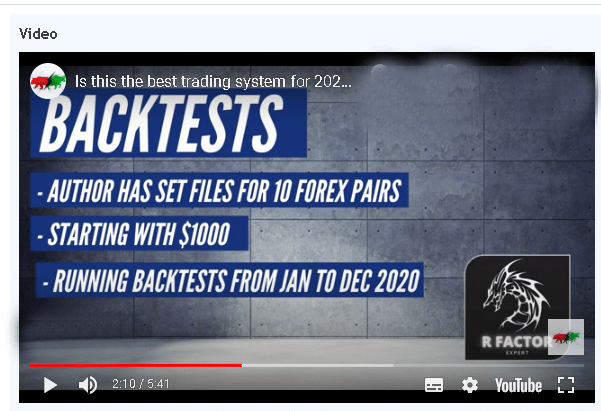 Unfortunately, we are not provided with backtest reports that could be verified. Instead, the dev decided to make a 5 minutes video where he tells us about his robot and shares screenshots of backtesting results: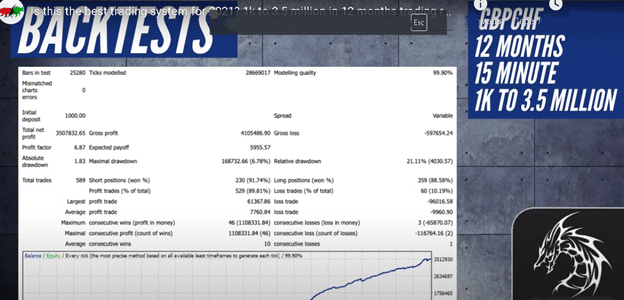 It is a GBP/CHF backtest report based on the 12-months trading activity data. It was performed on an M15 timeframe with 99, 90% modeling quality. It was deposited at $1000. For 12 months of trading, the robot has brought $3507K of profit. Its peak drawdown was low – 6, 78%. It traded 589 trades and won 529 out of them, which represents 89, 81%. Its profit factor was high – 6, 87.
Trading Results
Live trading results are not provided by the vendor. Instead, he shows us a short video where we are told how profitable the EA is.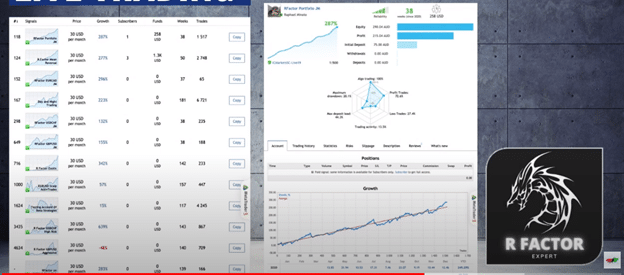 We are shown trading results of 12 currency pairs. However, we appreciate when developers provide live trading results of their products and create accounts on third-party websites (like myfxbook, fxblue, or fxstat) where they can be verified. Thus, we've decided to conduct additional research and found a trading account on myfxbook.com.
The EA runs a REAL AUD account on IC Market broker. It trades on the MT4 platform with 1:500 leverage. Both the trading record and trading privileges of the account are verified. The account was added to myfxbook on May 17, 2018. The deposit details are unknown as the balance and profit data are hidden. Thus, we are unable to analyze what profit the EA has earned for less than 3 years of trading. We only know that since May 2018 its total gain has grown to +10269.6%. The daily gain of the robot is 0, 46%. The monthly gain is also high – 14, 80%.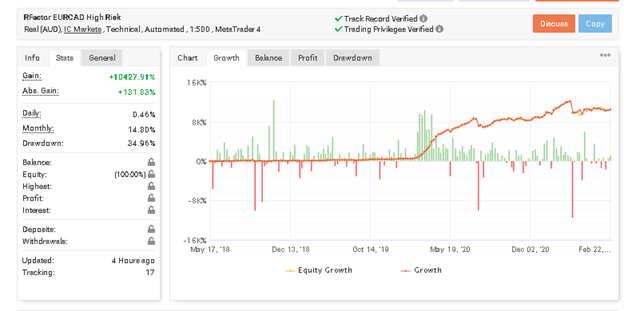 The robot trades only 1 currency pair – EURCAD. It has traded 198 trades and won 71% out of them (141 trades). It has traded 656, 8 pips. There is not a big difference between its average loss and average win: -5,54 pips and 6. 90 pips. The average trade length is 1 day and 37 minutes. Its profit factor is high – 2, 22.


It's a night scalper: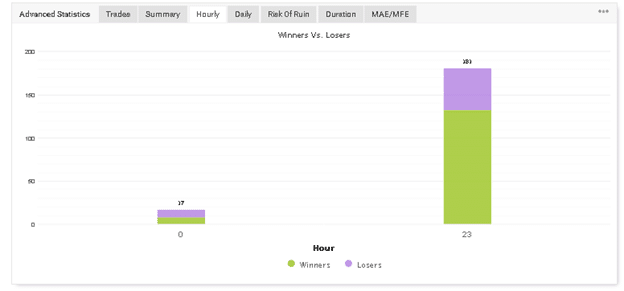 It trades with high trading risks. In the case of 6 consecutive losing trades, there is a 19, 96% chance of losing 10% of the account balance:

High Drawdowns
It should be said that the robot trades with extremely high drawdowns. The R Factor's drawdown is 34, 96%. As you can see, the drawdown of September 2018 was 83, 24%. Although the trading history of the robot is also hidden and we are unable to analyze its trading approach, we can say for sure that the dev is purposely trying to hide smth from us and we assume that it is the dangerous and risky trading strategy they follow to chase pips with large Lot sizes.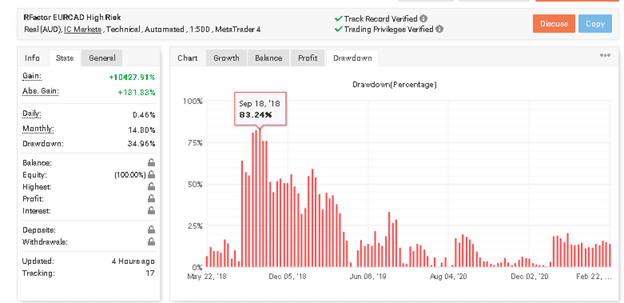 Vendor Transparency
R Factor EA was developed by Raphael Minato from Brazil. He has a high 3519 rating on the MQL5 community. Raphael says that he has been trading in the Forex market since 2014.

The dev has already published 12 signals ' with more than 3 years of performance.' His signals have a high score among the other signals on the MQL5 forum.