Promax Gold EA claims to be the first automatic Gold trading robot using the smart filter functionality. According to the vendor, this allows the robot to perform fundamental and technical analysis with equal accuracy. It is further claimed that this system can generate a monthly profit of 20-48%.
Promax Gold EA: To Trust or Not to Trust?
On the official website of Promax Gold EA, the vendor makes a detailed presentation, highlighting the principal features of the system. We are provided with a couple of live trading accounts on Myfxbook showing real-time results, but we can see that these accounts haven't been active for too long. There is a video showing live performance and a brief explanation of how the EA works.
Finally, we have the vendor recommendations, a video with installation instructions, and payment information. There is no explanation provided for the trading strategy, which is not a good sign. Hence, we are of the opinion that this EA cannot be trusted.
Features
This is a 100% automatic system that only trades in the XAU/USD pair on the Metatrader 4 platform. It automatically selects the lot sizes while trading and has an in-built money management system that is said to prevent your account from getting drained. You only need to pay for the software once and all future updates are provided for free.
This Forex robot is programmed to collect information from the market to place its trades. As per vendor claims, it is capable of achieving an accuracy of 88%, and during a drawdown period, it closes all the trades without loss using the smart grid system.
It takes only 5 minutes to install this robot and you can get started with a minimum deposit of $1000. The vendor recommends using it for the 5-minute timeframe. You are further recommended to use the EA with an ECN account with leverage of 1:500.
The fact that the vendor does not explain the trading strategy is a bit disappointing. Expert traders can study the technical details of the strategies to figure out whether the EA is capable of generating profits or not. Thus, the lack thereof might deter some of them from investing.
Promax Gold EA is currently being sold for $198. The vendor recommends running it on a Demo account for 14 days, and if it does not show decent results, you get a full refund. For this, you need to furnish proof of purchase as well as a screenshot showing unsuccessful trades.
Verified Trading Results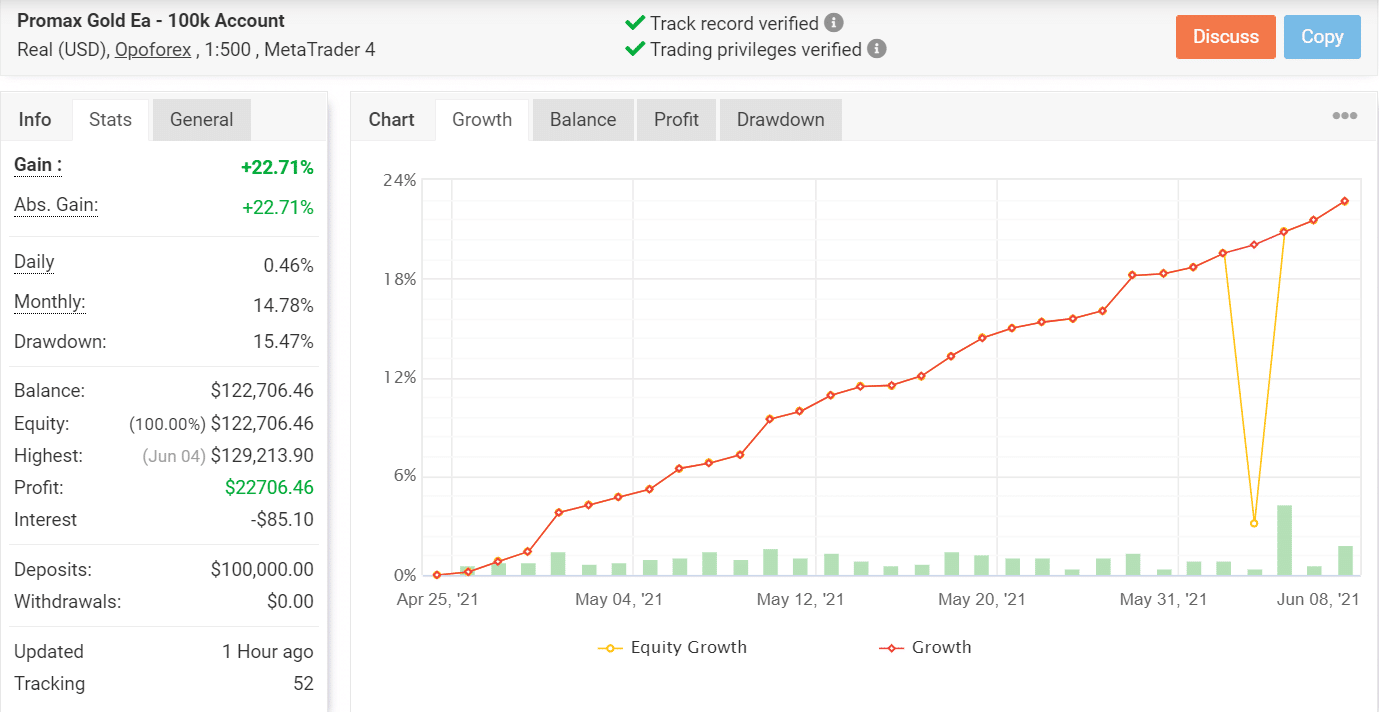 This is a live trading account for Promax Gold EA. Since the results are based on just 171 trades, we cannot take them too seriously. This account has only been active since April 25, 2021, and to date, it has managed to generate a total profit of $22706.46.
Currently, the daily and monthly profits for this account are 0.46% and 14.78%, respectively. It has a win rate of 82% and a profit factor of 2.34. Now, we cannot confidently term this a profitable system, because of the small sample size of trades.
The vendor has chosen not to share the backtesting data for this Forex robot. Backtests are considered vital by most Forex traders because they are carried out over a long time period, which means the system has to deal with difficult marketing conditions. Thus, it reveals to some extent the robustness of an EA.
Vendor Transparency
Promax Gold EA has been developed by the Sinry Advice team which is known for building systems like Red Fox EA and MT Forex Indicator, among others. This company has its headquarters located in Selangor, Malaysia. However, we don't have any information whatsoever on the team members, which is disappointing from a vendor transparency perspective.
Customer Reviews
There are no customer reviews for Promax Gold EA on popular review websites. This is not surprising, however, since most traders do not risk investing in a system that has such a short trading history. It might take several months of live trading before people start to take notice of this robot.