So what is the deal with Piptionary Club? This is a Forex signal, promising to help every trader interested in stable and safe trading  opportunities. The developers of this signal service, promise to provide traders with stable and high investment returns with minimal risks. They also guarantee real-time Forex signals from experienced and professional traders with verified results and impressive trading performance.
In this Piptionary Club review, we will analyze all the above-mentioned elements and decide whether the vendor does meet expectations that they have set.
Is Piptionary Club a Good Choice?
Piptionary Club has some benefits: verified trading results, good trading performance, 14 days free trial, clear signals, high and stable profits, and more.
However, there are some disadvantages of this signal service:
No strategy insight

Lack of vendor transparency

High drawdown

No customer reviews
Until the developers change the above-mentioned issues, we cannot recommend Piptionary Club. However, it is upon you and if you decide to try this signal provider, you can easily do it by opting for a 14 days free trial. 
Vendor Transparency
Piptionary Club was created by a team of professional traders with "decades of trading experience". The vendor does not introduce any of these professional traders. We have not found any information about the creators of the website or their trading history in the Forex market. It is strange, but such a successful signal provider should have a team positively identifying with it to gain more transparency, trust, and popularity. If the vendor wants to be more transparent and open to traders, he needs to introduce us to their analytics, because that is the main part of the product they are promoting.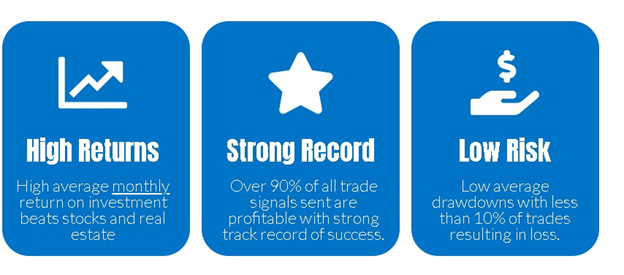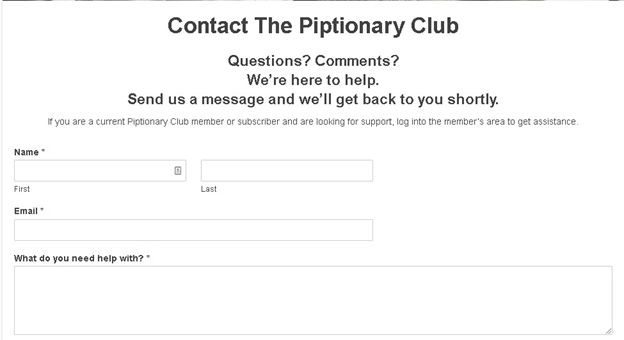 Trading Strategy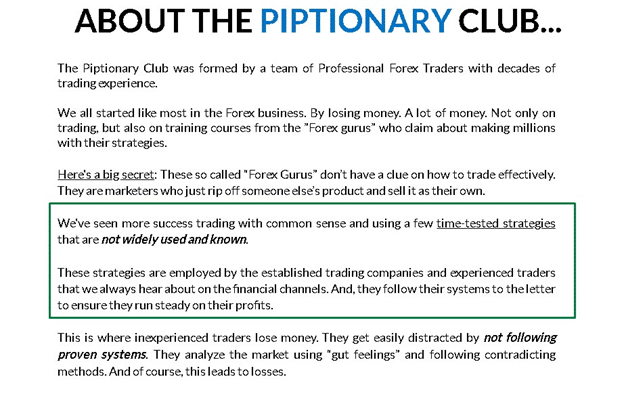 The vendors tell us nothing about their trading strategy. The developers need to add detailed information on their trading insight on their website. It would help traders to better analyze the system and make the right investment decision.
Myfxbook Results
Piptionary Club is providing verified trading results on myfxbook. This great feature adds more transparency to the signal provider. This is a big benefit of this signal service.

Let's analyze the treading performance of this account.
Trading Performance Data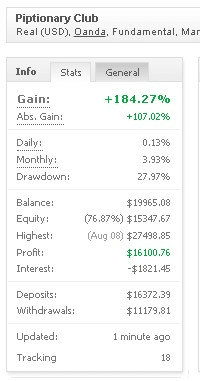 The account started trading on April 24, 2018. Since that time, it has gained a profit of $16100.76. It is showing a +184.27% gain with a drawdown of 27.97%. It has won 277 out of 289 trades, which represents 96% and lost 12 out of 289 trades, which represents 4%.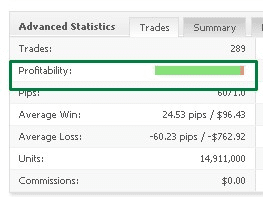 The system placed 289 trades with the best trade of 1068.00 and the worst trade of 6372.00. The average trade win is 24.53 pips and the average loss 60.23 pips.  Its profit factor is 2.92 and the average trade length is 5 days.

The account shows a steady profit, except one day on August 15, 2018, showing a significant loss where the software went from a 133,58% gain down to a 63,59%: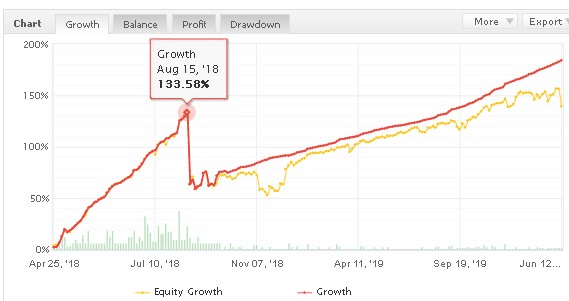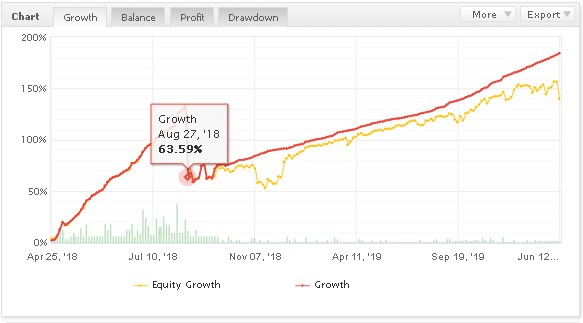 Since that loss, there were insignificant vicissitudes in terms of profit growth. However, since September 28, 2018, the signals have returned to their steady gains.  We have to say that the vendor is trading a lower risk profile now because monthly gains have reduced significantly.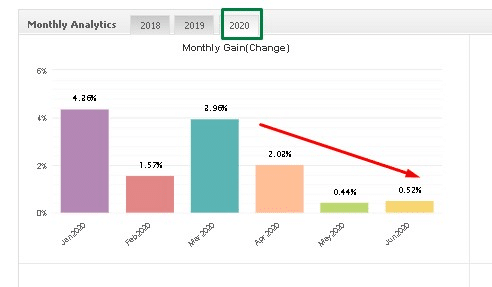 High Drawdown
Drawdowns have constantly been above 6% in the entire trading period under review. High drawdowns are very dangerous because they can ruin any trading account.