'Trade. Get Paid. Repeat' is the confident slogan of PaybackFX, one of the most popular forex rebate services in the industry.
The platform attempts to accomplish its slogan by providing a seamless experience for traders to earn rebates off their existing trading from their favorite brokers by connecting through their referral link.
This article will briefly explain how PaybackFX works, its main features, the earning potential, some of the outstanding and disappointing attributes, and a final word on whether traders should consider this brand.
What is a forex rebate program?
Forex rebates are a program offered by brokers and external providers working with brokers to compensate a portion of the spread or a traded lot size as a cashback incentive to their clients. We could liken forex rebates to a loyalty program.
For example, shoppers may receive discounts or some form of points for every purchase, either of which they can redeem later to spend or use to fund other transactions.
Similarly, brokers encourage traders by offering rebates for every position they make on their platform regardless of whether they make a profit or not. Trading conditions remain entirely unchanged. The accumulation of these rebates is withdrawable by the trader after meeting a few Ts & Cs.
What is PaybackFX?
A subsidiary of the highly popular Myfxbook (a forex social network for traders to analyze and share their results), PaybackFX is a forex rebate service that's been around since February 2016. The association with Myfxbook gives users a lot of trust due to its popularity in the industry.
PaybackFX's unique selling points include daily-updated rebate reporting (where possible), a responsive support system, above-average rebate rates, and several accessible monthly payment options (PayPal, Skrill, and bank wire).
Traders can connect an existing trading account or a brand-new one through their referral link (this includes multiple accounts from different brokers). However, there may be country-specific restrictions in this regard.

Once this process and the profile is complete, depending on the rate offered by the chosen broker, traders can view the rebates they've received daily.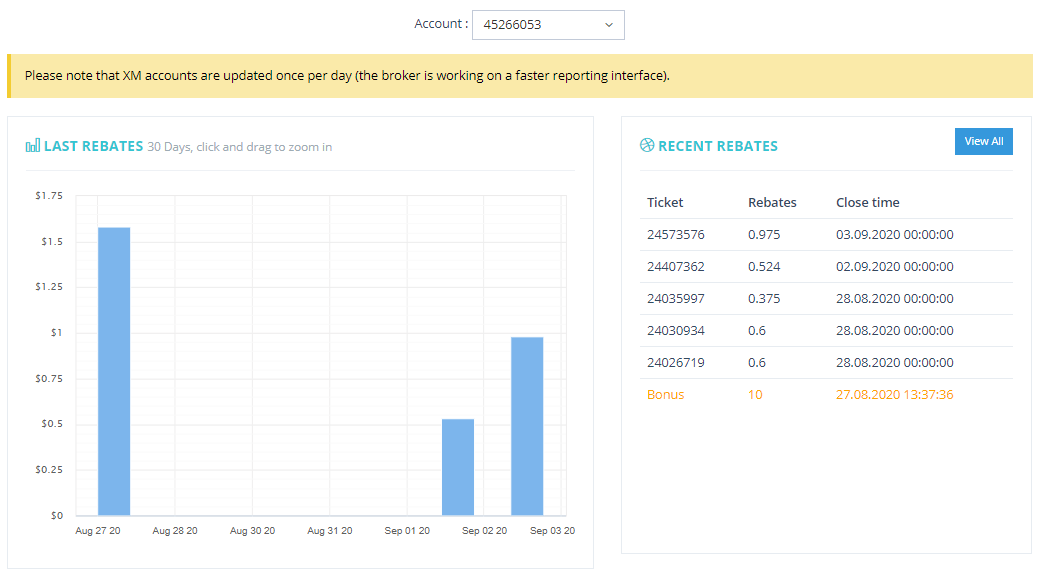 PaybackFX pays rebates monthly after collecting them from brokers, which they do between the 1st and the 10th. Every withdrawal request is processed within 72 hours. Traders can withdraw earnings from multiple accounts in one combined request.
Earnings
Traders should appreciate it is impossible to give a set figure on what each individual can earn as it depends on various factors, namely how great the rebate is and how frequently one trades.
Generally, those engaging in the market frequently or with large accounts may find rebates of better benefit because the difference is notable with volume over time. Fortunately, traders can use the earnings calculator available on the website for every broker.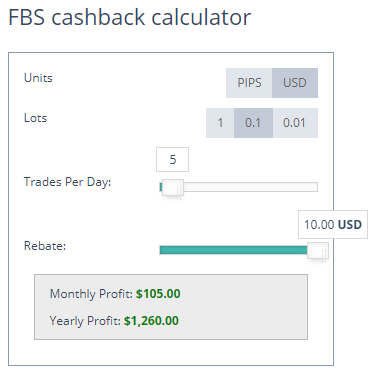 As a conservative estimate, using FBS (as they offer one of the best rates on the platform), let's assume they offered $10 for every position and a trader executed 5 (5 X 0.1) mini lots daily. The estimated monthly profit here is $105 or $1,260 yearly profit (although this is just one example). Earnings will vary widely depending on the factors mentioned above.
Another vital consideration is churning, which is strictly prohibited by the broker. Churning refers to the practice of opening and closing multiple positions in quick succession to accumulate rebates.
Therefore, brokers may typically state there needs to be a minimum pip distance between the opening and closing price of each position or a minimum time length for a rebate to count.
Withdrawal fees
The image below reflects the withdrawal time, minimum withdrawal, and fees for each payment method.

List of brokers under PaybackFX
PaybackFX currently supports a wide range of well-known forex brokers (32), all of which are listed below:
ICMarkets
Axi
Solidary Markets FX
FXOpen
Axiory
FIBO Group
VantageFX
Forex4you
ThinkMarkets
Tickmill
Swissquote
Global Prime
FXGiants UK
Tradeview Markets
FP Markets
IronFX
GO Markets
FxPro
FBS
Tifia
USGFX
HotForex
Pepperstone
InstaForex
Exness
NordFX
RoboForex
FXPrimus
Admiral Markets
FXTM
XM
AvaTrade
Pros and cons
Pros
PaybackFX has an extensive list of brokers under their service, giving traders an ample choice.
The service has an excellent mobile app available only on the Google Play Store (Android), allowing for traders to view their rebate earnings and complete withdrawals on-the-go.
While Payback's rebates aren't necessarily the highest, they are competitive and reflect similarly to those you'd ordinarily receive as an IB (introducing broker) or affiliate.
The minimum withdrawal amount for Skrill and PayPal are $1 and $10, respectively ($100 for bank wire).
Responsive email customer support (the FAQ section on the website covers most of the crucial questions).
The website supports 15 additional languages for viewing purposes (aside from English).
Cons
Users can only withdraw once a month.
With some brokers, one may need to open a new account (instead of connecting an existing one) to receive rebates.
Although not a fault of Payback, some traders may be unable to connect accounts with specific brokers because of the region or country-specific restrictions.
The mobile app is not available for iOS users.
Conclusion
So, is it worthwhile to use PaybackFX? Ultimately, this question depends mostly on the type of trader one is, how often they trade, who they trade with, and their account size. A rebate service is more useful for higher-frequency traders like scalpers and day traders.
In this regard, rebates accumulate reasonably quickly (assuming they don't churn), making them noticeable over the long haul. Swing and position traders with the luxury of larger accounts, despite trading less frequently, may also see a substantial buildup of rebates over time.
These are some of the considerations clients should make. Nonetheless, PaybackFX does its job very well and is therefore highly recommended.