Night Hunter Pro is a Forex expert advisor that is available for sale on the MQL5 marketplace. According to the developer, this EA has a record of generating stable profits for several months with low drawdown. The vendor claims that it is a FIFO-compatible system that avoids risky strategies. You can use this robot to trade in multiple currency pairs using MT4 or MT5.
Night Hunter Pro: to trust or not to trust?
This robot carries a hefty price tag. The vendor promises maximum returns but the live trading statistics tell us otherwise. There is very little information on the developers and the vendor does not offer a money-back guarantee.
Features
Night Hunter Pro is an advanced scalping robot that identifies safe entry points in non-volatile markets by utilizing entry and exit methods combined with advanced filtering methods. According to the vendor, the system is ideal for long-term stable growth. It follows a logical approach as opposed to risky strategies like martingale.
The currency pairs supported by this robot include GBP/USD, EUR/USD, EUR/CHF, USD/CHF, USD/CAD, AUD/CAD, CHF/JPY, EUR/AUD, and EUR/CAD. It is recommended that you run it on M5 charts. Night Hunter Pro is an FTMO and FIO compatible system. The robot makes its entries with pending orders and employs a stop loss for every trade.
You can trade in all instruments using a one-chart setup. This EA has an advanced news filter and an auto-GMT detection feature. It is a self-diagnostic system that uses a negative swap filter. For GMT detection and news filters, you need to allow web requests to the URLs shared by the vendor. The vendor recommends using a hedging account and an ECN broker with low slippage and spread. Since it follows a high-frequency strategy, you should run a VPS server at all times.
There are three lot-sizing modes for this robot. For the Fixed Lots mode, you need to specify the fixed size. The Dynamic Lot mode utilizes the Dynamic Lot parameter specifying the balance or equity for each 0.01 lot, while the max risk per trade calculates the lot size based on the risk percentage.
The current price of this expert advisor is $899, and this makes it quite expensive compared to other automated systems on the market. There is a free demo version you can download for testing purposes. However, the vendor does not offer a money-back guarantee.
The vendor has not shared any contact details. As such, the only way to get in touch with them is through the MQL5 website.
Verified trading results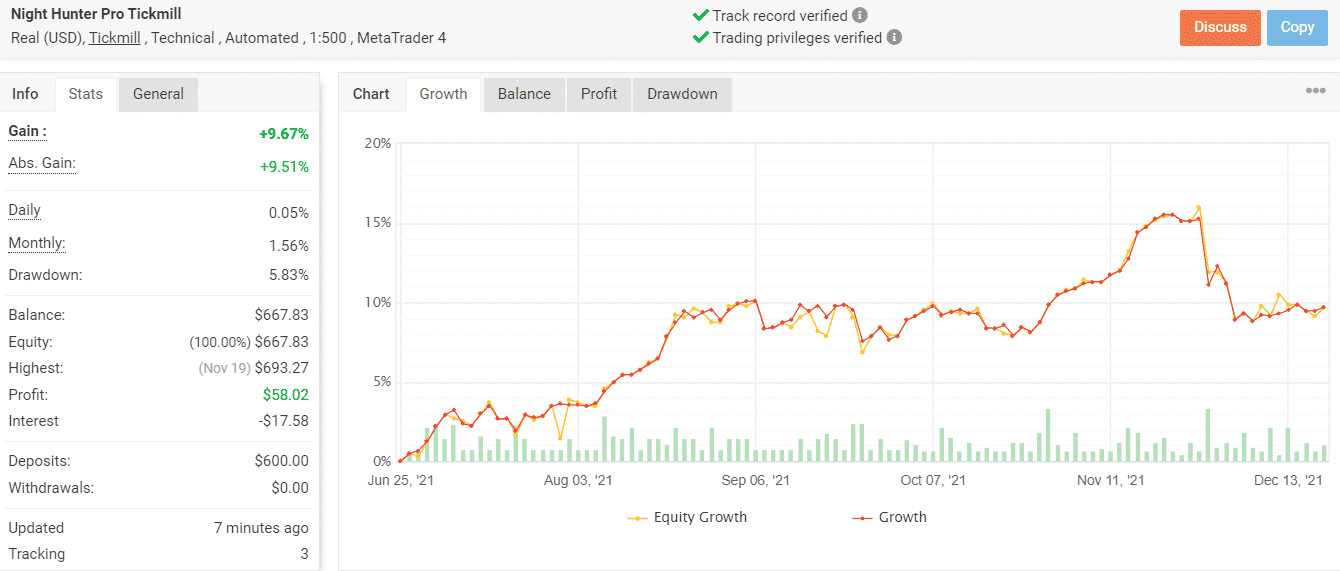 This live trading account on Myfxbook was launched on June 25, 2021. Since the vendor has not shared the link to this account on the MQL5 product page, we had to do our own research to find it. For its short stint in the live market, Night Hunter Pro has placed 354 trades, generating a total profit of only $58.02. It has a decent profit rate of 71% and a moderate profit factor of 1.32.
While the daily and monthly gains are 0.05% and 1.56% respectively, the drawdown is 5.83%. The average win and loss are 3.41 pips/$0.95 and -4.03 pips/-$1.81 respectively.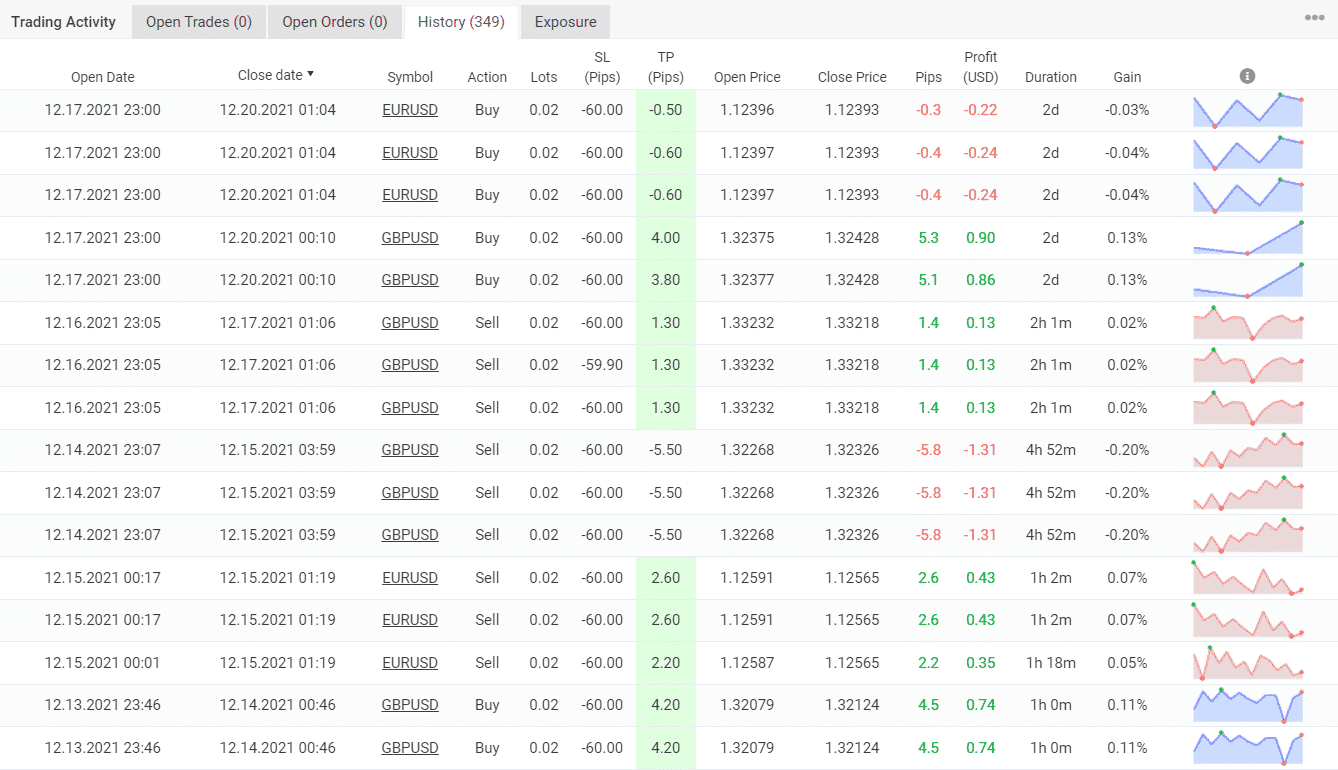 From the trading history, we can see that the system is prone to losing consecutive trades. We can see losses as large as -0.20%, however, the gain is usually around 0.11%.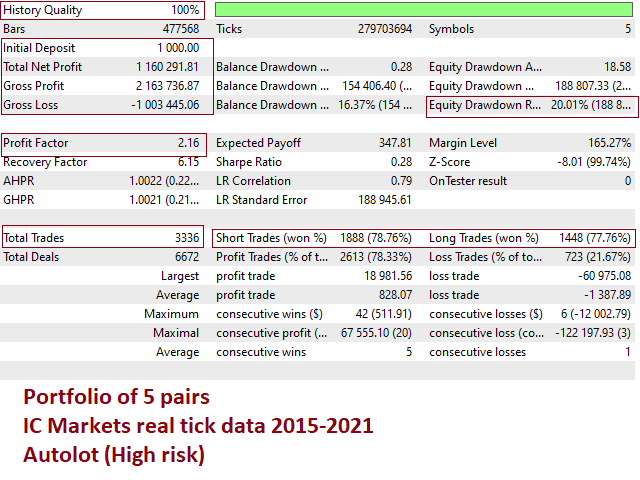 For this backtest, Night Hunter Pro conducted 3336 trades with an initial deposit of $1000. It won 78.76% of its trades, which is a higher win rate compared to the live results. However, its drawdown was significantly higher at 20.01% and the profit factor was 2.16.
Vendor transparency
Valeriia Mishchenko, the developer behind Night Hunter Pro, is based in Russia. We don't have any background information on this person or the people they work with. According to their MQL5 profile, they have no experience. This developer has another robot known as Waka Waka EA.
Customer reviews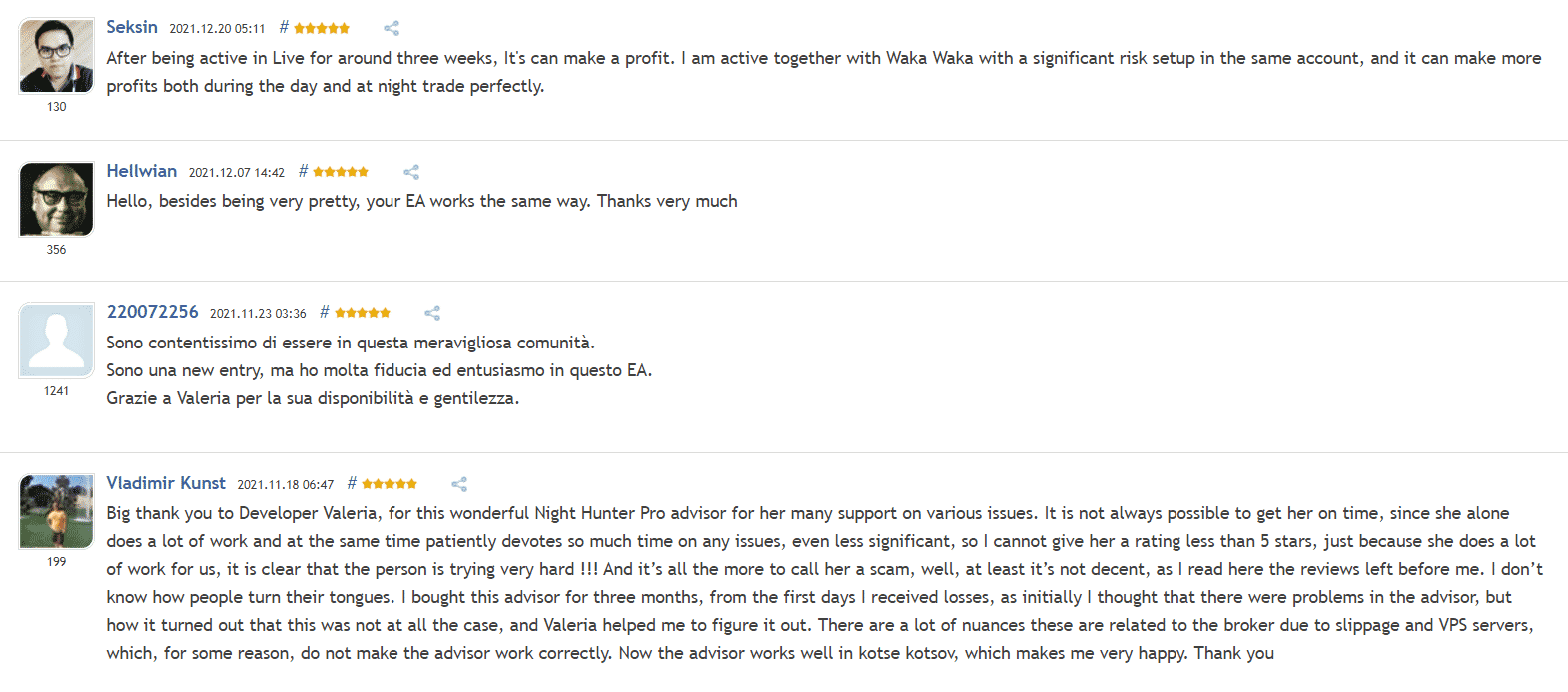 We were not able to find any user reviews for this expert advisor on third-party review websites. On MQL5, there are several reviews, but we cannot verify their authenticity.