Today in this Mr. Martin review, we will be analyzing a Forex expert advisor that is designed to provide traders with smooth and quiet trading experience. Keep on reading to find out all you need to know about this automated trading software, its trading performance, risk factors, trading strategy, and the other valuable data to make the right investment decision.
Is Mr. Martin a Good Choice to Invest Money?
We can neither recommend nor say that this EA is worth its price. Similarly, to the other robots available on the market, this one has its advantages and disadvantages. To help you decide whether Mr. Martin is what you are searching for, we have listed its pros and cons in the table below:
| | |
| --- | --- |
| Pros | Cons |
| Clear trading strategy | High price – 399 USD |
| Good customer support | High deposit required – 1000 USD |
| Vendor transparency | Grid strategy and averaging |
| No live trading results provided on the sales page | |
Features
The developers of this robot claim that Mr. Martin is "completely safe for your deposit". The minimum deposit to start trading with this MT4 tool is $ 1000.
The robot's default settings are optimized to work on EURUSD M1 GMT+2. Therefore, traders can trade with this EA all the time without optimization.
The vendor of this Forex robot provides detailed information about the input parameters of this product: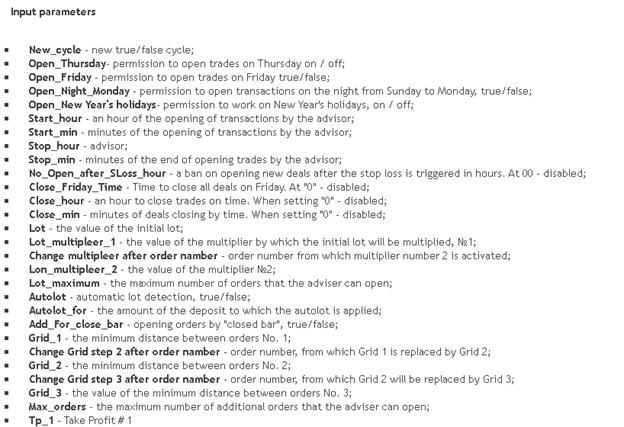 The latest version of Mr. Martin is 2.24.
Price
Currently, you can buy this product on the MT4 market only. It is sold for $399. The good thing about this trading tool is that its developers offer a free demo version. Therefore, those traders who are interested in the software can test the software before investing money in it.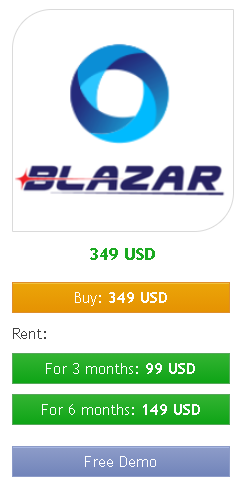 Trading Strategy
Mr. Martin EA uses Grid and averaging trading approaches. Its developer claims that the grid trading strategy used for this EA is safe. He explains that Mr. Martin EA uses a unique input system, deposit protection system, and special filters that guarantee the safety of placing orders.
Trading Performance Data
We see many screenshots of the backtesting results of this EA. Although we appreciate that the developer provides this information on the sales page we do not like that this information cannot be verified. Historically, simple screenshots provided on the sales page may be easily manipulated.
Therefore, we have decided to conduct additional research and analyze the live trading performance of this EA on the myfxbook.com website.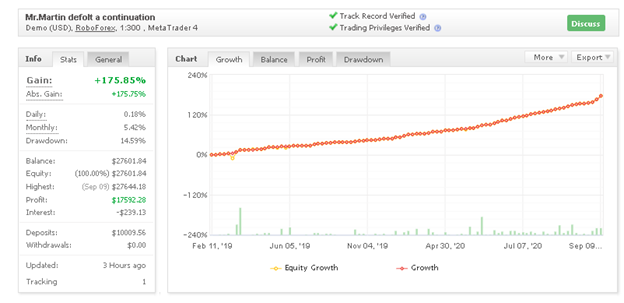 It is a demo account, running on MetaTrader 4 platform and trading with RoboForex brokerage with a 1:300 leverage. It uses USD currency for trading. This account was launched on February 11, 2019, and since that time it has gotten a gain of over 175, 85%. The initial deposit was $10000 (February 2, 2019) as required. For 1 year and over 7 months of trading, the robot has brought 17592.28 dollars of profit. Currently, its balance equals $27601.84.
Its balance chart is constantly moving up: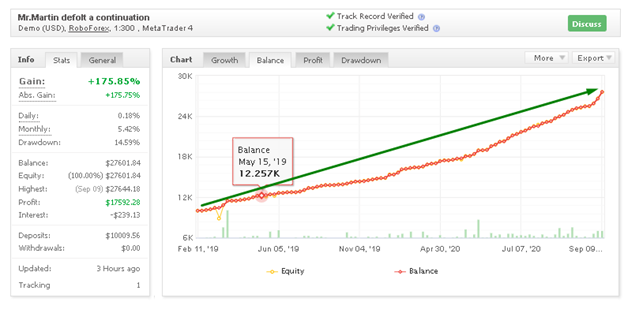 There are inconsiderable ups and downs, but it is normal for trading because currency value changes every day and it is impossible to predict its price.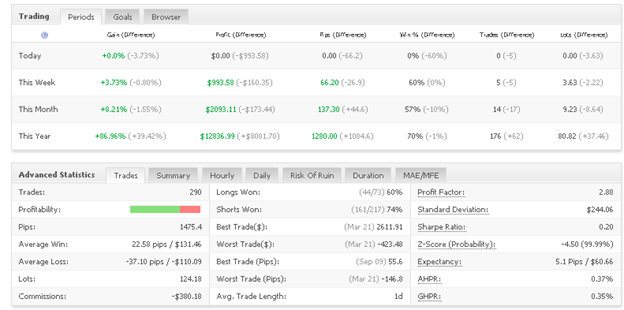 The robot has traded 290 trades and 1475, 4 pips. It has won 205 out of 290 trades, which represents 71%, and lost 85 out of 290 trades, which represents 29%. The average win is $131.46 and an average loss is -$110.09, average trade length 1 day, and the worst drawdown 14, 59% ($8,886K):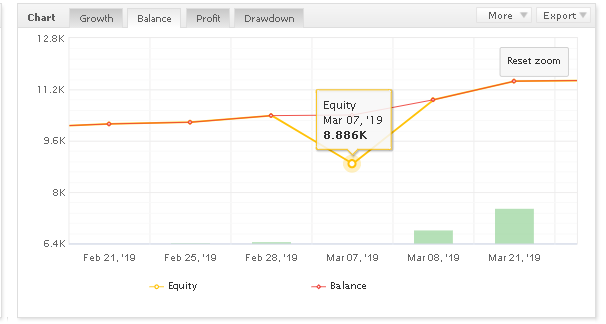 Monthly Gain
In comparison with 2019, the monthly gain of 2020 is showing better results.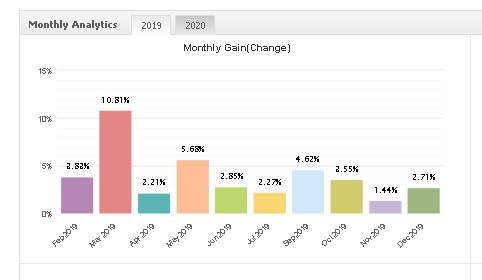 In April 2019, the monthly gain was 2, 21%, while the same month in 2020 has brought 6,06% of the profit. Since April to September 2020, the robot has been trading better than in 2019: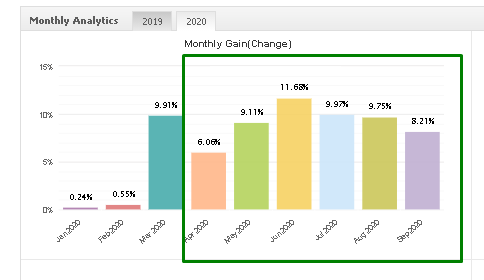 Vendor Transparency
This expert advisor is sold on the MQL5 market only. We have found that the developer of Mr. Martin EA is Vasiliy Kolesov, located in Russia. He is also selling 7 different products on the MQL5 market: EA Monolith, Yellow mouse scalping, CloseProfit, and more.
Vasiliy is an experienced trader who has spent years searching for an expert advisor, which could provide stable and secure trading "over a long period". He tried different expert advisors from the Forex market until he had decided to make his advisor to exclude any human interference and trade "on autopilot".