Mood EA is an automated trading system that comes with a drawdown reduction algorithm to minimize losses. A take profit feature is also included to maximize profits. In any case, do any of these features enhance the efficiency of the robot? The goal of our review is to answer this question, and consequently, help you decide whether to trust the EA or not.
Mood EA: to trust or not to trust?
We have analyzed the different characteristics of the robot and discovered several things, which we believe will help you to come up with a definite conclusion. On the one hand, we have learned that Mood EA is fairly priced and includes numerous protection systems meant to mitigate losses. On the other hand, the strategy used is risky, and since live trading data is unavailable, it is hard to predict how it will work for you.
Features
The developer doesn't list the features of the robot per se. Instead, he provides a long list highlighting the settings of the EA. They include the following:
Opens new series-on/off beginning of a new series
Trade buy and trade sell, which allow the advisor to buy and sell orders
Manual orders support
Money management
Auto lot and lot multiplier
Distance multiplier
A lifetime license for Mood EA currently goes for $199. No other pricing option exists. A money-back guarantee is not available either.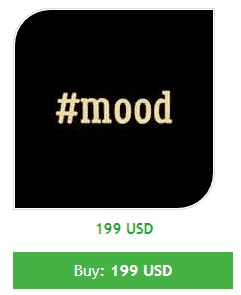 Mood EA relies on an indicator while trading. Its strategy is particularly based on the Momentum indicator. The advisor looks at the oversold or overbought conditions of this indicator to decide when to place an order. In essence, this indicator enables it to catch the "mood" of traders.
Backtest results
The developer has showcased the backtest results of this EA in the sales pitch. We have provided a detailed analysis of the data below: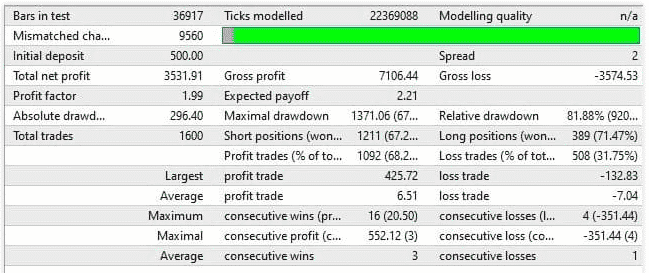 As you can see above, the backtesting period is not indicated. So, we don't really know when it began and ended. Info on the currency pair and the timeframe used is also missing. Anyway, the EA managed to increase a deposit of $500 to $3531.91 after completing a total of 1600 trades. The success rates for short and long positions were 67% and 71%, respectively.
There was a profit factor of 1.99. The massive drawdown of 81.88% raised serious concerns about the safety of the strategy on board. Apparently, the robot took many risks while trading.
Trading results
Live trading results are available, but they are not detailed enough. Furthermore, the credibility of the data has not been confirmed by an independent third-party site like Myfxbook.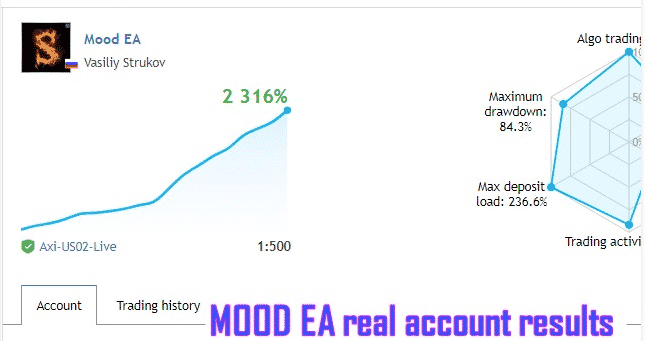 We are told that the EA uses a leverage of 1:500 and is working under the Axi brokerage. It appears that the software has increased the value of the account by 2316%. Unfortunately, we don't have info on the following parameters: net profit, deposit, number of trades, winning streaks, profit factor, best and worst trades, etc.
High drawdown
The reported drawdown of 84.3% is sky-high. It indicates that the trading strategy used is innately risky. Therefore, it causes the robot to engage in bad trades quite often. Even then, the vendor needs to use this EA on Myfxbook or FXBlue for traders to see what drawdown rate it can generate. This will provide some certainty with regard to the risks involved in trading. Who knows, they could be higher or lower.
Vendor transparency
The author of this robot is known as Vasiliy Strukov. He lives in Russia, and going by his profile on mql5, he has developed several other trading systems. They include Idea Pro gold, Status, CheckPoint, EA Idea Pro, EA Antivirus, and Isolation. Regrettably, there's no information about his trading history in Forex.
Customer reviews
From the comments on mql5, it is evident that clients are satisfied with this EA's services. As such, they say that the system is excellent, earns them stable profits, and has a low drawdown. There are no negative reviews so far.