Margin Grid Bot is one of the 16 free robots available on the Pionex exchange that enables traders to benefit from the trending market. It is based on the grid trading strategy and allows investors to go long or short on their executions. Traders can start with the bot by configuring simple parameters like upper/lower price, leverage, grid, borrowable fund, etc. We will explain the functioning and risks involved with this system to let you decide whether it is worth investing in or not.
How does Margin GRID Bot function?
The Margin Grid requires you to mortgage your currency for borrowing other assets to power the grid. For example, it will keep BTC as collateral and provide USDT to traders to trade in the market. The robot follows the margin parameters explained below and places orders accordingly. Using borrowed cash can help traders open positions with more significant lot size and therefore earn better profits on their executions.
The platform allows traders to use leverage in the set of following mutliples: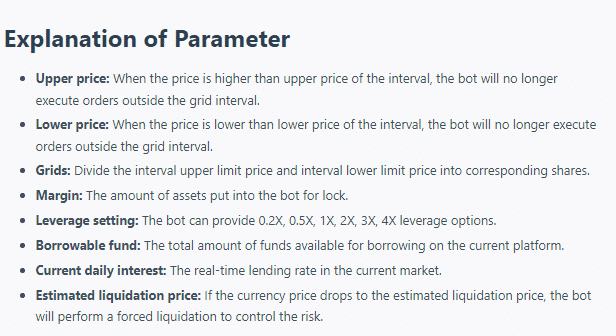 Margin GRID Bot review–positive aspects
Traders can keep their required coins as collateral and borrow tokens needed for trading
It is a beginner-friendly bot
The platform allows investors to configure the parameters like Margin, Leverage, grids, etc
It has a mobile application on Google and Apple store
Margin GRID Bot review–negative aspects
The creation of a bot requires a certain amount of interest and little expertise
It only works on Pionex and trades 346 coins
Time in business
The company was established in 2019, and it has been in business for about three years. It has a $5B monthly trading volume with users from over 100 countries.

Reputation
Pionex is a legitimate platform that operates under FinCEN's MSB in the United States (Money Services Business). The website mentions that it has leading crypto names as partners, such as Binance, Simplex, Coinfirm, etc.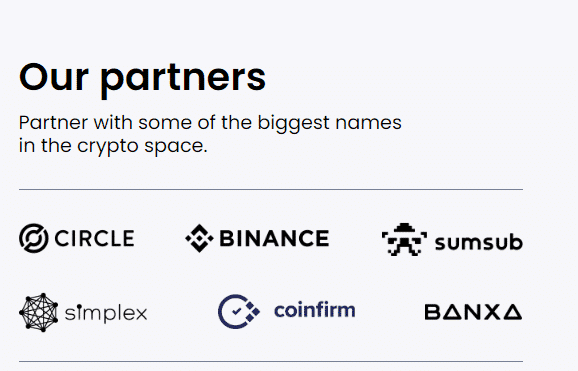 Supported exchanges
Margin GRID Bot works with only one cryptocurrency exchange–Pionex.
UI of Margin GRID Bot
The platform's user interface is easy to understand and supports multiple significant languages like Spanish, English, Chinese, Arabic, etc. The dashboard includes the required tools for trading and explains each bot for users.
Key features of Margin GRID Bot
Margin GRID Bot offers the following features:
Suitable for both fluctuating and rising or downtrend markets.
The bot charges a low trading fee of 0.05%.
Leverage is available in 0.2X, 0.5X, 1X, 2X, 3X, 4X.
It has several risk management techniques like stop loss.
Investors can control slippage by creating the order limit price.
How to get started on Margin GRID Bot?
Traders can begin trading using Margin Grid Bot by following the instructions below:
Go to Pionex.com and sign in to your account
Choose the bot from the list on the right and click Create
Select (Loan ETH/Loan USDT), implying that the bot will use your USDT to lend ETH and short ETH, or your ETH to lend USDT and long ETH
Configure the parameters such as upper and lower prices, grids, margins, leverage, etc
Choose the trade amount, and the calculator will determine how much you can borrow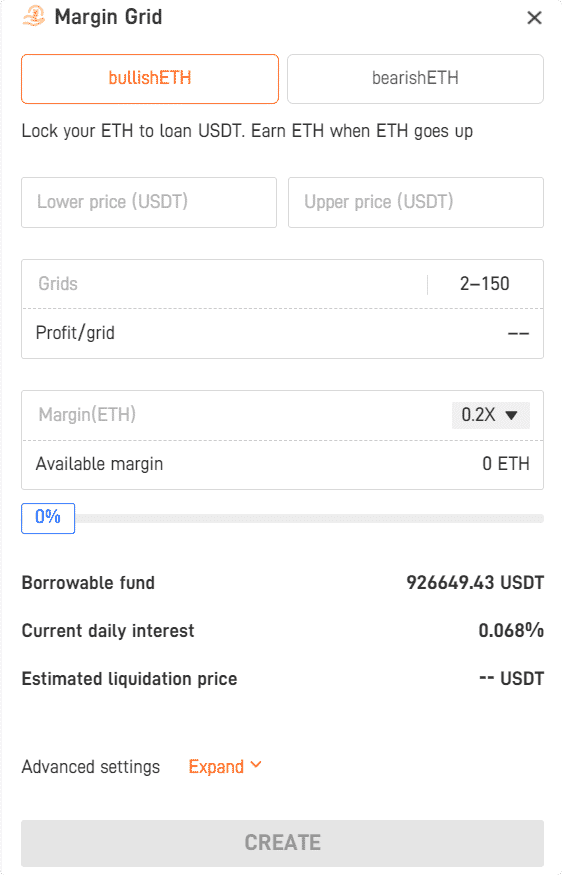 How secure is Margin GRID Bot?
It has an MSB license, the same as Binance and Huobi. The Pionex platform provides safety and security with an identity verification system and two-factor authentication, which improves the protection of user accounts.
Customer support
Pionex offers customer service through a range of channels, including live chat, email, blogs, tutorials, etc. There is a community of traders on Telegram, Discord, etc.
Are traders happy with Margin GRID Bot?
To analyze the platform's operation and functionality, we can look at customer reviews on reputable third-party sites like TrustPilot. It has a 4.2/5 rating, which is satisfactory. A user commented that they have a fast response time.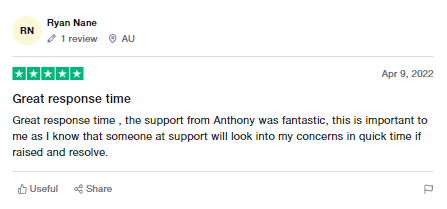 Pricing and fees
Margin GRID Bot is free for all traders to utilize with all the features and tools. It has a 0.05% maker/taker fee, with no other hidden charges.

Is a free trial available?
The bot's tools and features can be used without spending any money.
Languages supported
The platform supports several languages such as English, Indonesian, Vietnamese, Portuguese, Turkish, French, Deutsch, Spanish, Arabic, Chinese, and Russian.

What kinds of traders is Margin GRID Botbest suited for?
Margin GRID Bot is best for advanced traders that seek to profit from market trends without risking their long-term holding position. Beginners can easily use the robot by simply configuring some parameters.
Company information
The BitUniverse team oversees the Singapore-based enterprise. Larry Toh is Pionex's executive director, and Robert Morris is its global compliance chief. There are over $100 million in daily trades and $5B billion in monthly trading volume.