Leprechaun is a Forex EA that uses a unique strategy and is able to execute trades without any halts. Promising excellent results for highly volatile pairs, it was launched on 1st September 2020. According to the vendor, it is capable of generating a daily profit of 1%. However, whether it is reliable or not, can only be found out by conducting a thorough evaluation of its different aspects.
Leprechaun: To Trust or Not to Trust?
Leprechaun is a robot that was launched only recently, and it does not have an official website and is sold on MQL5.com. Here, the vendor provides us with a detailed description of how the robot functions and mentions the recommended settings, timeframes, lots, etc. The key advantages of the system are then listed, and a screenshot of backtesting data is shared.
Overall, the information presented looks adequate and the manner of presentation is quite professional. Our first impression is quite positive and we think this might be one of those few robots you can place your trust in.
Features
This is a fully automated Forex EA that is available for $100. Compared to other Forex EAs on the market, this is quite cheap, which means it will appeal to some of those traders who do not have too high a budget for Forex robots. A free demo version of the robot is available for those who wish to test the system's performance before using it in a real-time trading scenario. The vendor does not provide a money-back guarantee for this product.
Leprechaun applies a grid strategy for trading. In this regard, the vendor mentions that the balance of the trading positions is reversed in the direction of the trend when it shifts, so the entire grid is closed at once. It can trade in a continuous manner and you can also program it to operate during certain time intervals.
It excels in entering the market during periods of high volatility, and the vendor recommends you avoid trading during flat market periods and holidays. This robot trades in the American trading session and it does not use indicators. It is stated that even beginners can use this Forex EA with considerable ease.
This robot trades in the XAU/USD pair in the H1 timeframe. The vendor recommends starting with a cent account having a minimum lot size of 0.1. It is further recommended that you start with a balance of $100, even though the minimum balance is $10.
When the settings are in default, this EA makes its entry during the American session and assesses the trend to open a grid of orders. This grid is closed on the following day. Using this strategy, it can maintain a refinancing of 25% on a monthly basis.
Verified Trading Results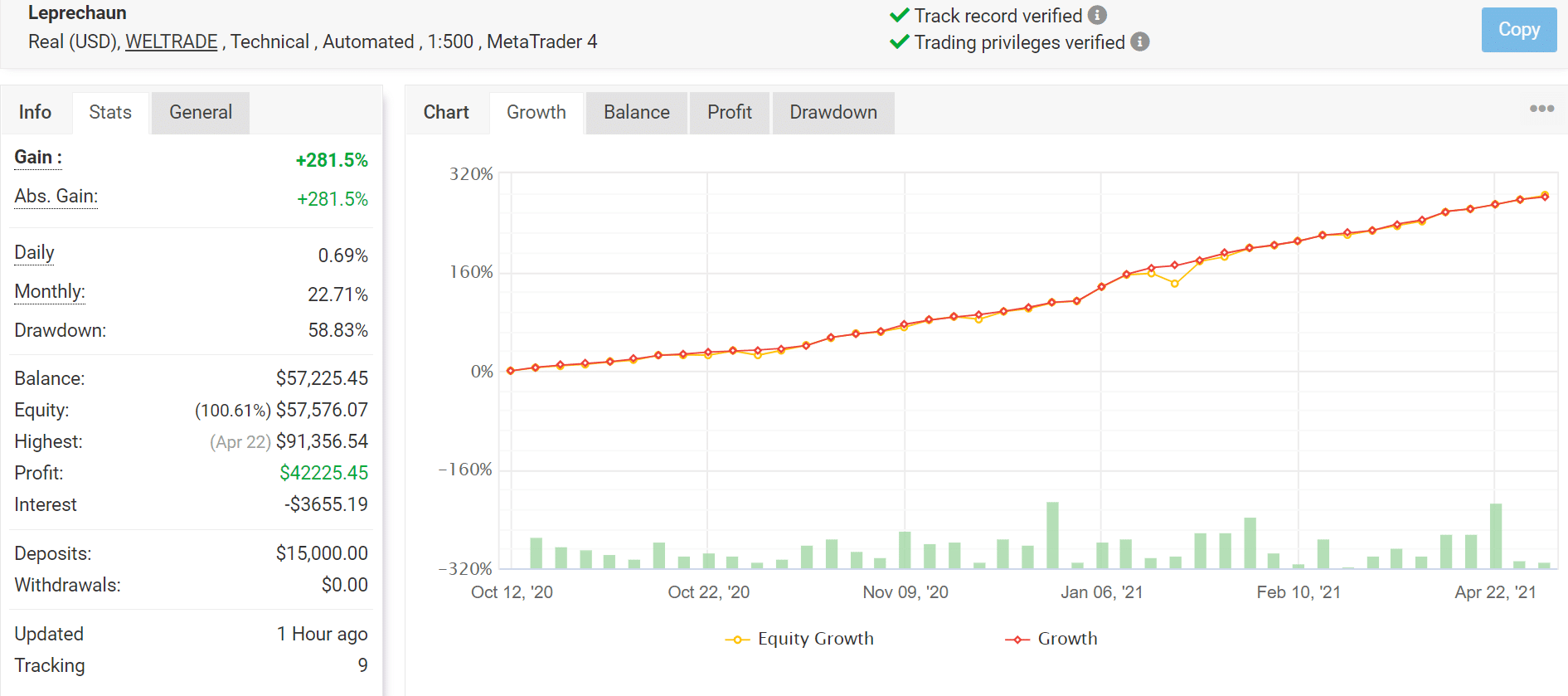 This live trading account for Leprechaun was launched on 12th October 2020 and has completed 1277 trades to date. Out of these, it has managed to win 852, which represents profitability of 67%. It has an average win of 1632.05 pips/$316.31 and daily and monthly profits of 0.69% and 22.71%, respectively.
One thing that concerns us about this trading account is the extremely high drawdown of 58.83%. Although the daily profit for the account is a bit less than what the vendor claims on the MQL5 page, the profit factor is decent at 1.19.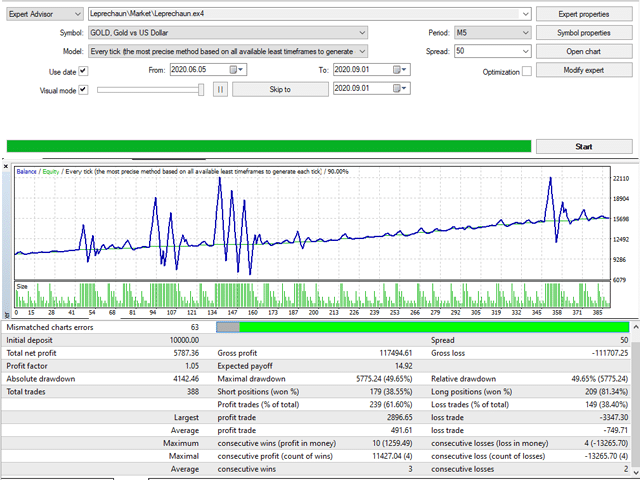 This backtest was conducted over a period of 3 months in 2020. The initial deposit used was $10,000, and from this, a total net profit of $5787.36 was generated. Here also, we notice a high relative drawdown of 49.65%. The win percentage for this backtest was 61.60%, a little low in comparison to the live trading results.
Vendor Transparency
Leprechaun has been developed by Aleksei Zaitsev, a trader based in Russia who has a YouTube channel. In this channel, he explains how the system functions using several videos. We don't know anything else about this person, however, and it cannot be verified whether he has any real experience as a trader. On the MQL5 page, there are no other products to his name except Leprechaun.
Customer Reviews

There are a few customer reviews for Leprechaun on the MQL5 website, but most of them are in Russian. We couldn't find any reviews on websites like Quora, Myfxbook, Forexpeacearmy, and Trustpilot. Clearly, this Forex EA has some way to go before it manages to earn the trust of traders worldwide.