Learn2Trade is a platform that includes various services like signals for Forex and Crypto, broker and other reviews, courses, and educational materials. The main statement says that Learn To Trade is the "World's Best Forex Signal Provider. The world's markets at our fingertips anytime, anywhere." We've prepared this Learn2Trade review to make everything clear.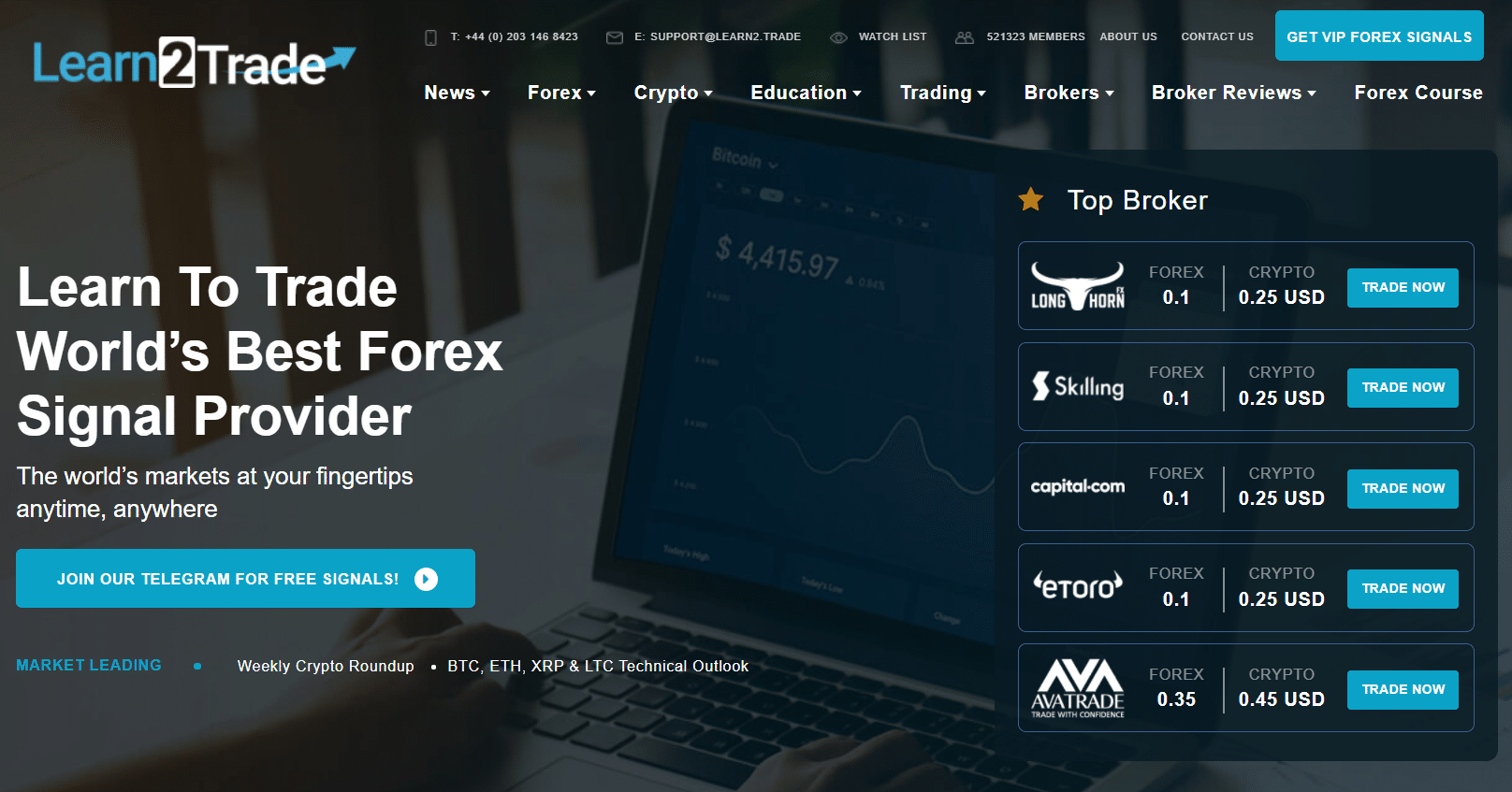 Learn2Trade: To Trust or Not to Trust?
Without backtest reports and verified trading results we never recommend any trading service. The rest is up to your acceptable risks.
Features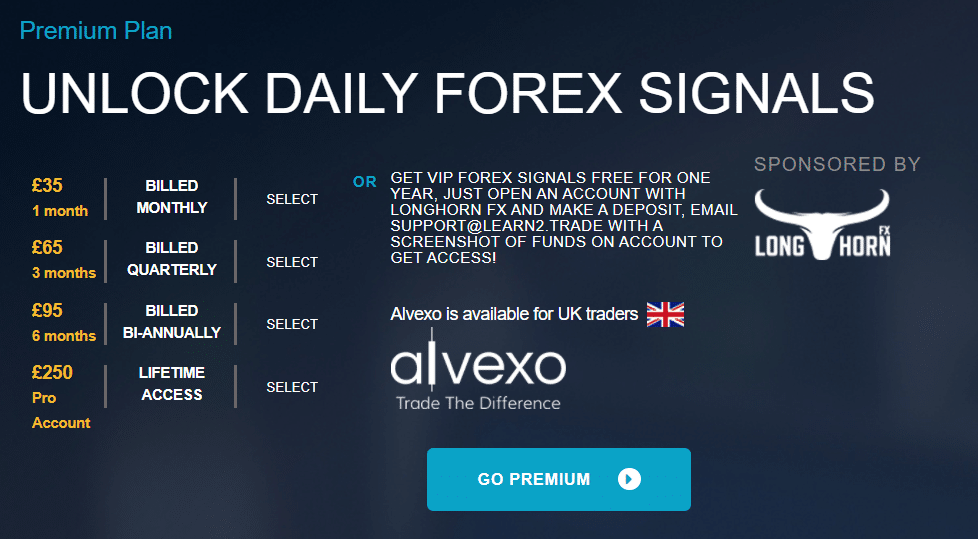 The pricing hasn't changed for the last half a year. The one-month subscription costs 35 GBP monthly. The 65 GBP costs a three-month subscription. The six-month subscription costs 95 GBP. There's a pro account. Access to it costs 250 GBP. It's an honest offer.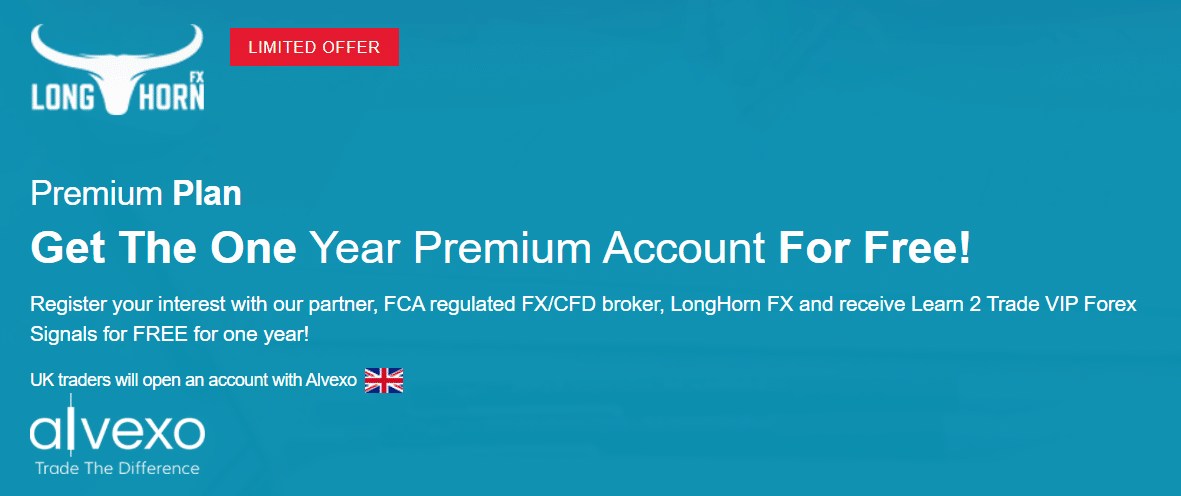 We can receive Premium signals for free for one year. We have to complete a registration on a Long Horn broker and deposit it at the required minimum. For UK citizens, we have to register on Alvexo broker instead.

The main page featured the offer from a CedarFX broker. We have to deposit $100 on the real account to get these signals for free for a year.
The system generates the signals based on the common RSI indicator. Traders use it for spotting trends and overbought/oversold levels on the chart. There are many other indicators RSI, Stoch, CCI, etc used.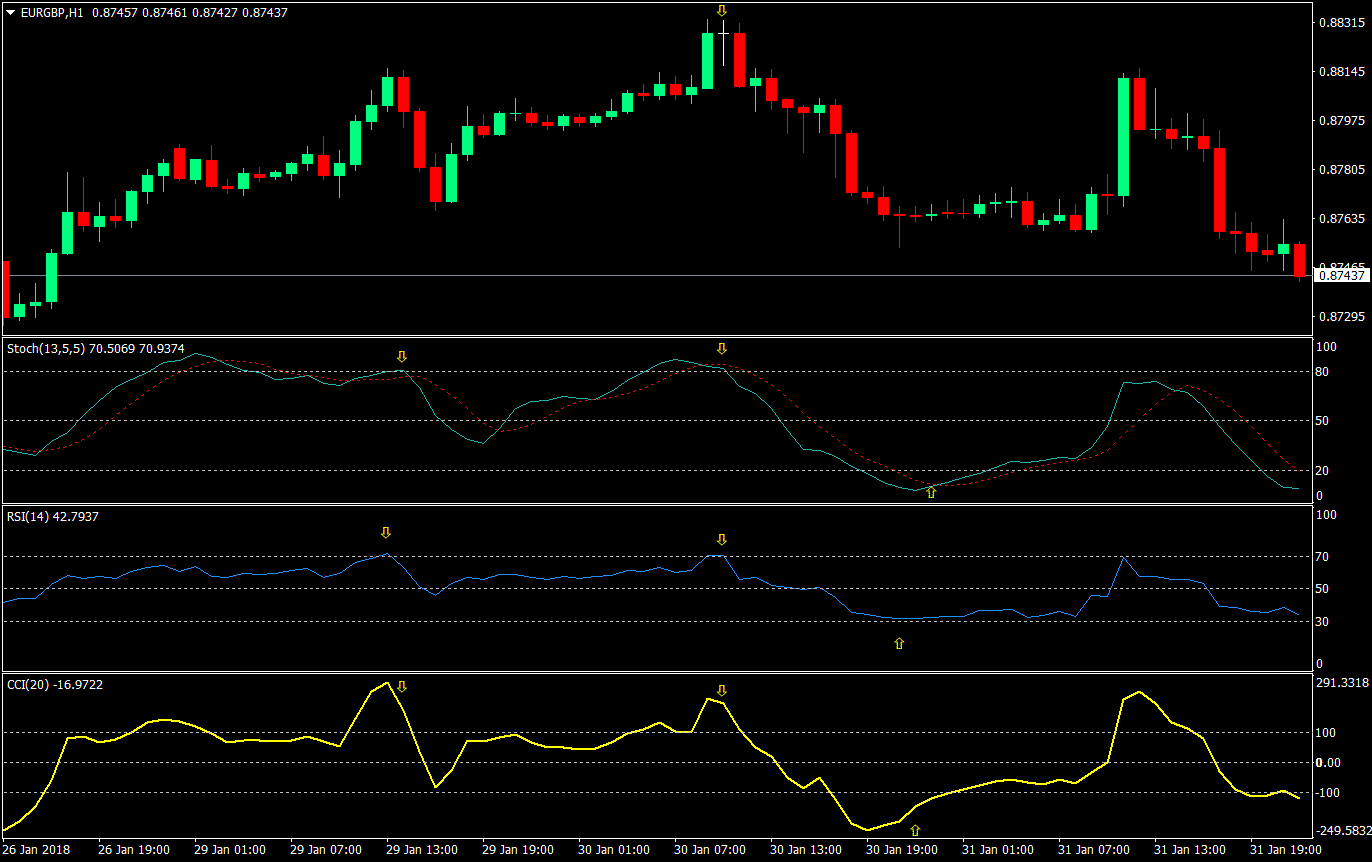 The system uses Fibonacci Retracement Levels, Support and Resistance levels, Bollinger Bands, and Moving Averages to find trend-trading opportunities.
We've got some features grouped up in the list:

The average signal frequency is 3-5 signals daily.
Signals can be traded on Forex, Indices, Commodities, Crypto, and other financial instruments.
We'll receive access to the Telegram channel.
An average signals' win-rate is 82%.
We can expect to get 30-40% of the monthly gain.
The system provides us with email and smartphone alerts.

The free Telegram channel was deployed to deliver free signals.
The signal frequency is three signals a week.
We can use them without providing bank or personal information.
We are free to test them on a demo account.
The signals are provided for Forex major, minor, and exotic pairs.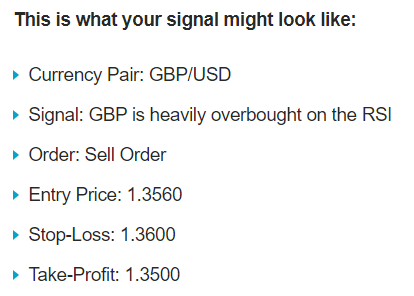 The signals have the same format: Currency Pair, Trigger, Direction, Entry Price, Take Profit, and Stop Loss.
The system provides real-time notifications to support open trades.
There is daily technical analysis in the channel.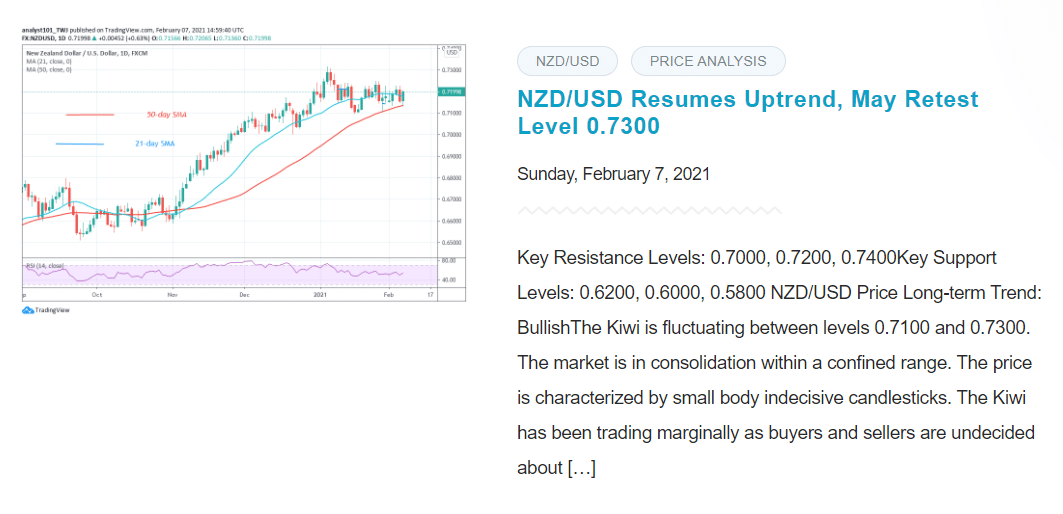 There's a news feed with updates and trading ideas.
Verified Trading Results
The company doesn't provide backtest reports. Probably, because they don't have an EA and they are just another aggregation company that receives signals from analysts and traders.

From the channel, we know how free signals were traded.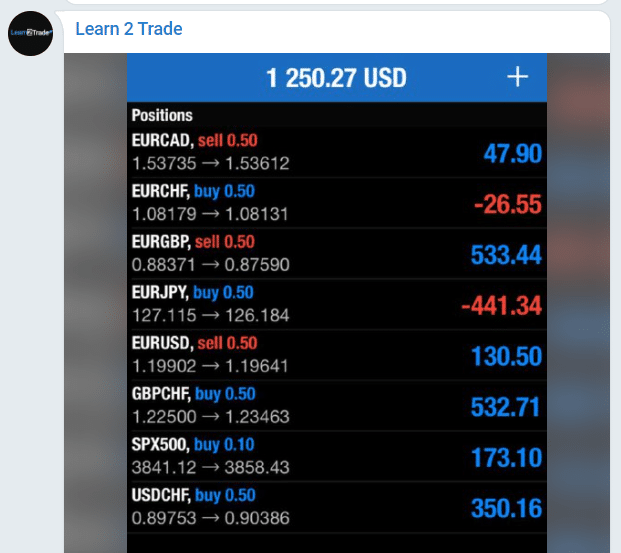 There are some screenshots like this that prove nothing. We can't be sure they are real. It means the owners don't trade these signals on their accounts.
High Drawdowns
There's no intel about drawdowns because no verified trading results were provided.
Vendor Transparency

The presentation includes some positive testimonials.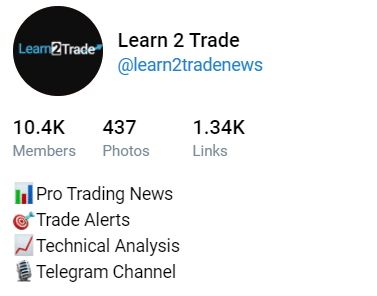 The Telegram channel has 10400 followers, 437 photos and 1340 links.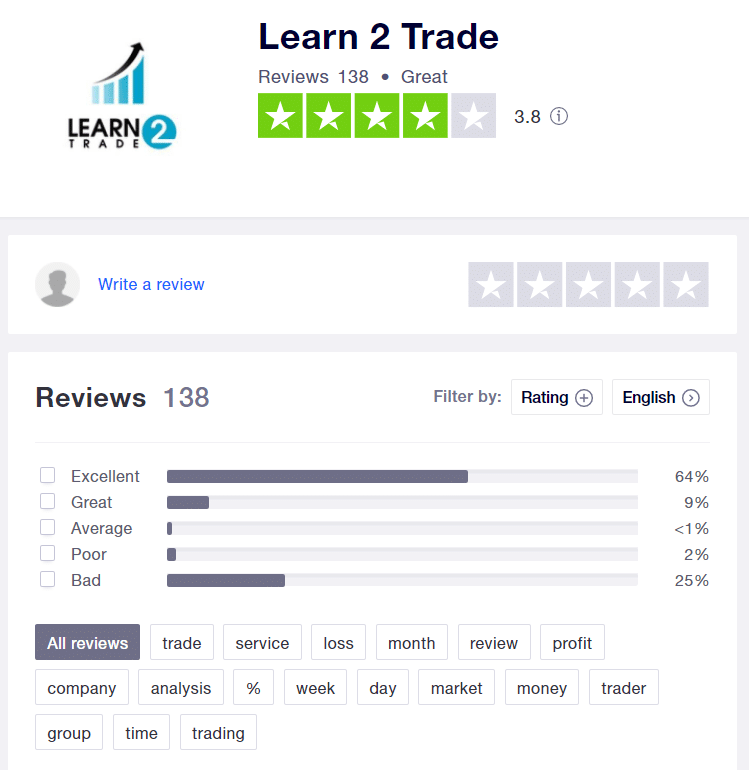 Learn2Trade has a Trustpilot page with a 3.8-star rate based on 138 reviews.
People feedback
From it, we have many negative comments: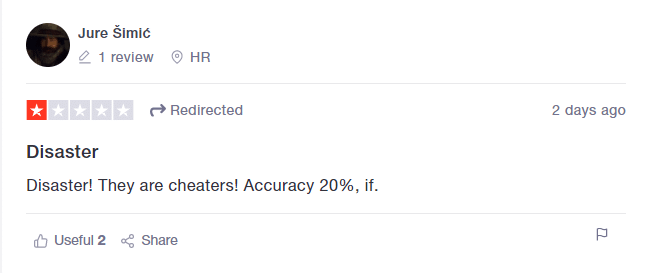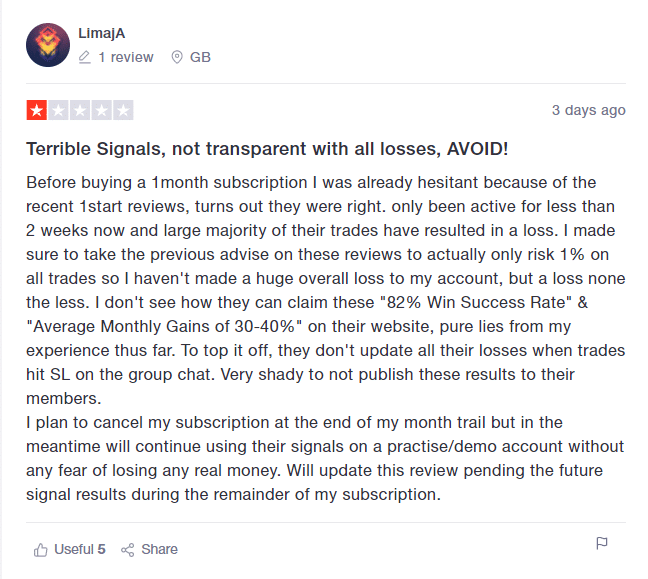 There is a competition between positive and negative comments.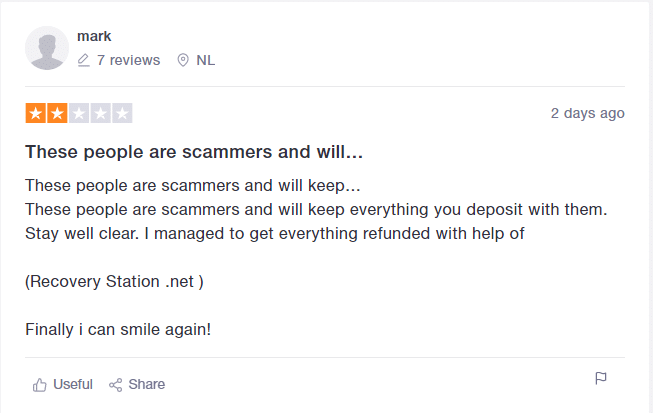 Some of them sound awkward.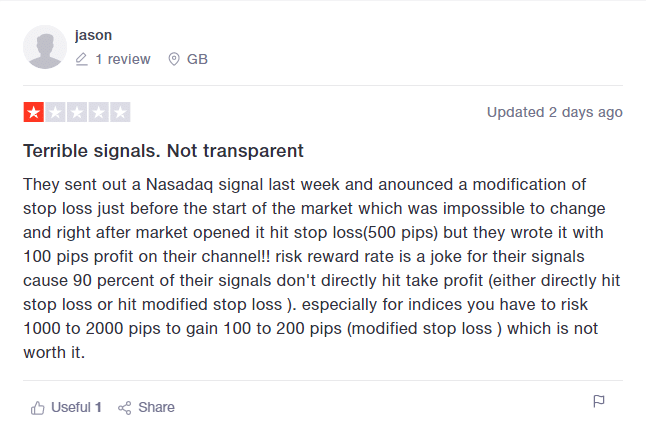 This feedback provides us with the info that SL levels are much higher than TP ones.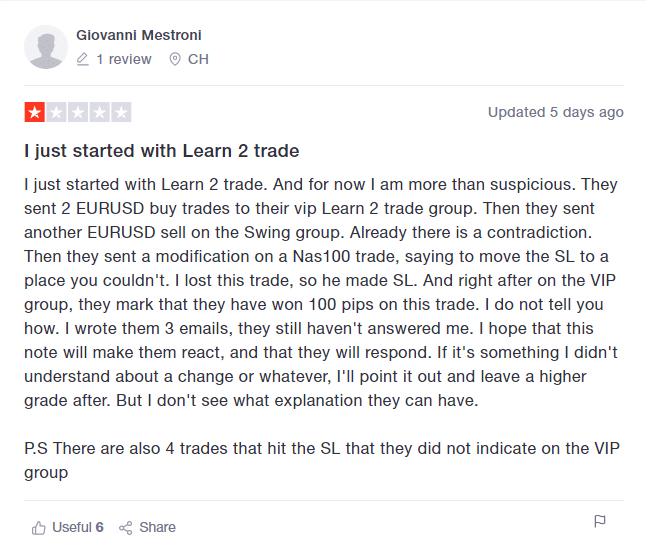 As we can see, we have to avoid NASDAQ signals and placing signals at the Monday market opening.