Jet Trader Pro is a trading solution that belongs to the LeapFX portfolio. The presentation includes various explanations about how the system works. Also, we have a claim that the system has been working successfully for over 14 months. So, we decided to check the system out.
Jet Trader Pro: to trust or not to trust?
Jet Trader Pro looks like a pretty decent trading solution. We'd like to note that the system knows how to be profitable on the Forex market.
Features
The presentation includes details about the system and how it is going to work on our terminal.
We can expect that the system covers us with automatic orders execution on our terminal.
The only platform to trade on is MT4.
It works with EURUSD.
The advisor manages to cut the drawdowns out.
The robot doesn't require us to have previous trading experience to be good.
It's possible to customize risks as we want.
There are two packages of settings.
The solution will manage SL and TP levels for us.
We can expect to get welcome and knowledgeable support provided.
The system can be customized as we want to fit your trading style.
It will be consistently updated.
There are two packages provided that vary by the working type: rental or lifetime. We can rent the robot out for $347. A lifetime copy costs $697. There are features like free updates and upgrades, support, settings, Full Jate Trader Pro software, and a 30-day refund policy.
Verified trading results
The presentation doesn't include backtests. Anyway, they can't predict future performance. So, that's why the developers decided to share trading results. They show how well the system works on the real market.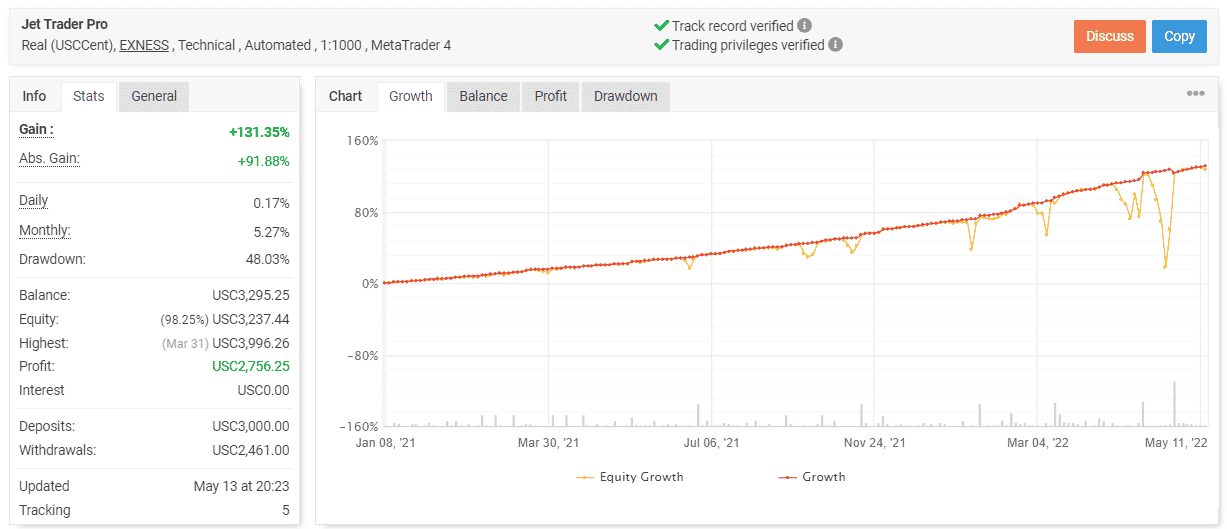 Jet Trader Pro keeps working on a real EXNESS account. It opens and closes deals automatically with a huge leverage of 1:1000 on the MT4 platform. The account was created on January 08, 2021, founded at USC3,000, and withdrawn at USC2,461. The data is trustworthy because the account has a verified track record. Since then, the absolute gain has become 131.39%. An average monthly gain is 5.27%. The maximum drawdown is 48.03%. There are only five traders tracking the results.

The advisor generated 2108.3 pips in 515 trades. An average win is 34.45 pips when an average loss is -87.68 pips. The rate of winning orders is 67-81%. An average trade length is four days. The profit factor is good to go, 2.08.

The most trading activities occured on the European trading session.

The most actively traded days are Wednesday with 114 deals closed and Thursday with 121 ones.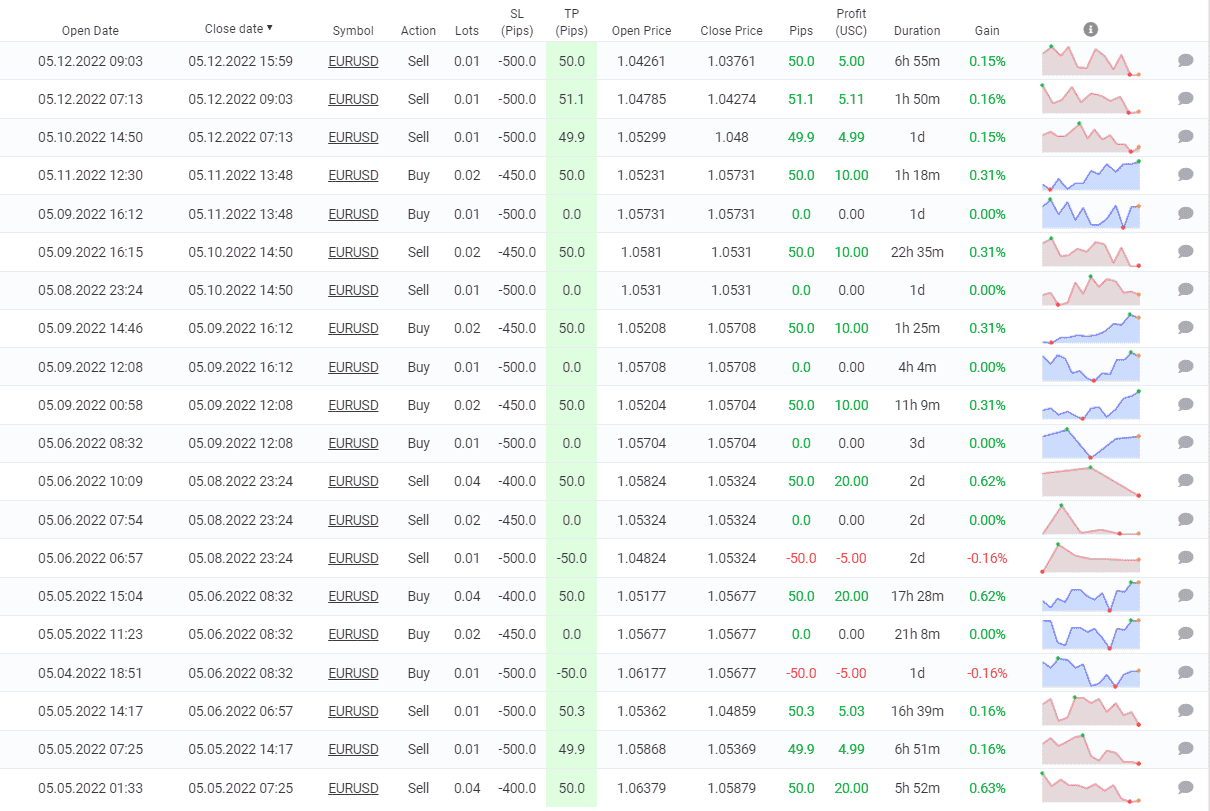 The advisor works with dynamic SL and TP levels. We may note that among 20 orders – 18 of them were profitable. It's a great result.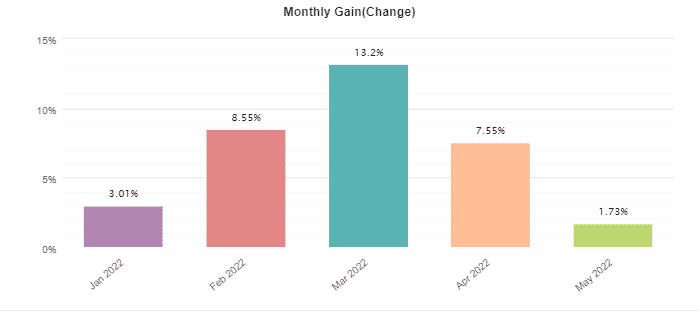 The robot keeps the account profitable this year.
Vendor transparency
LeapFX is a developer with a great portfolio that includes: Funnel Trader 2.0, Atomic Trader, DynaScalp, AX Trader, The Fund Trader, and others. All of this products were released within a year and they work well under current market conditions.
People feedback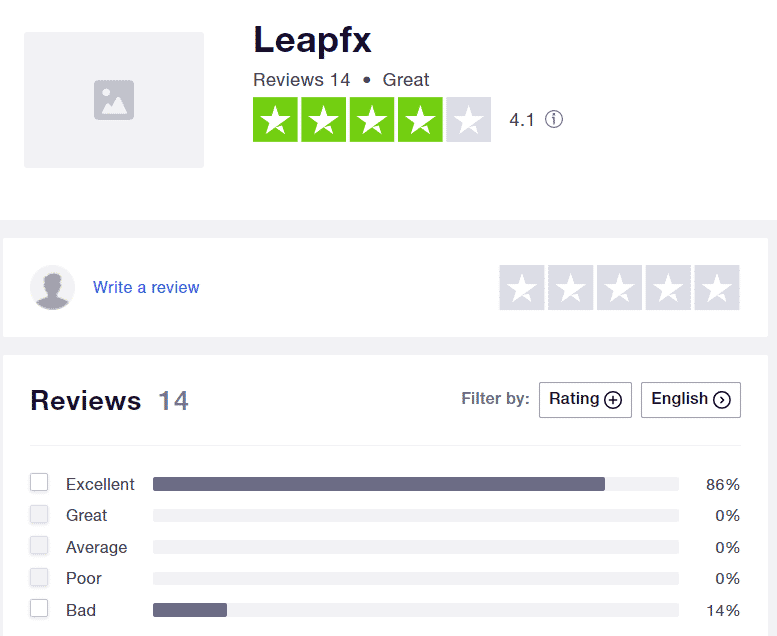 We have 14 reviews written on Trustpilot.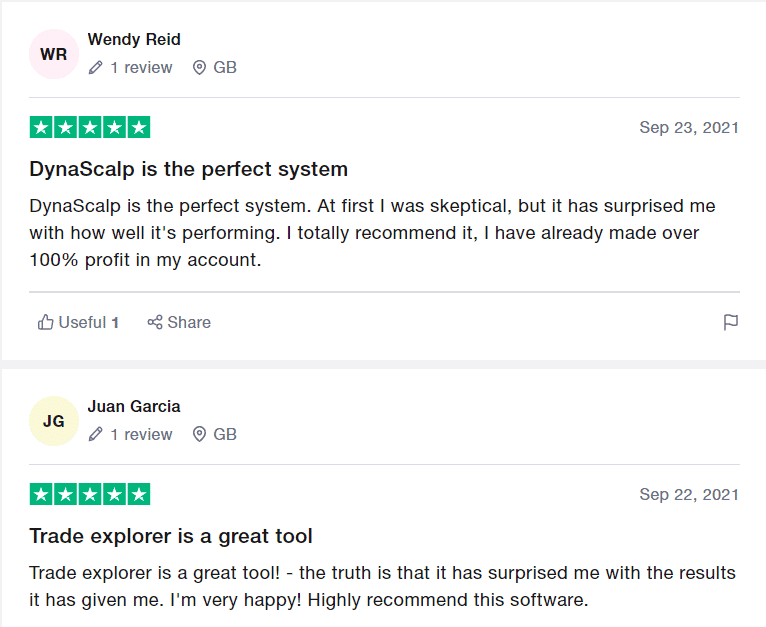 We can note that people are satisfied with the company's service and products they designed.