Huckster is a forex robot sold exclusively on MQL5 by Jakub Bogusz, a highly experienced Polish MetaTrader coder. The vendor has been developing expert advisors for MT4 and MT5 since 2014.
He has an established reputation on MQL5 with 246 subscribers, five signal services, and six products.
Huckster: to trust or not to trust
Despite showing some promise, our review will highlight the alarming aspects of this robot. One is the lack of verified live trading results in places like Myfxbook and FX Blue.
No information exists on how long Huckster has been on the market. Yet, MQL5 states 28 May 2022 as the publishing date for the EA. This means the software is less than a month old.
We also cannot fully trust this product as we didn't find any external reviews other than from MQL5.
Features
Huckster works on MetaTrader 4 and 5. To set up the robot, you must install Huckster onto your terminal. After that, the developer mentions a URL to add to the platform. Finally, users should open the 1HR chart of EURUSD to get the robot functioning.
Here, it automatically scans the charts of other forex markets and executes accordingly. Huckster was designed to work on EURUSD and its minor counterparts, namely EURGBP, EURAUD, EURJPY, EURNZD, EURCHF, and EURCAD.
Bogusz recommends a minimum balance of $500 on a low or raw spread account using at least 1:100 leverage.
Huckster will work with any MT4 or MT5 broker. However, the account should have standard hedging functionality (not netting). This robot currently sells for $349 on MQL5, a price much higher than the average.
Is it worth the money? We believe it's not mainly because Bogusz has failed to offer live verified results.
Plus, no moneyback guarantee exists with Huckster, making it a riskier purchase. However, a demo version is available for the EA and has been downloaded 616 times on the site.
Bogusz offers customer support through a Telegram group where you can ask various questions on the bot.
Trading strategy
Unfortunately, the Polish developer offers little information on the strategy Huckster is based on. Yet they state that the robot was programmed using trend and volume indicator analysis.
It's a fully automated system working with multiple Euro pairs on the H1, H4, and daily charts. Based on the recommended time frames, it's fair to assume Huckster is not a scalper like most EAs.
High drawdown
The robot was designed to risk not more than 1% per trade. The FAQ section states the monthly drawdown shouldn't exceed 5%.
However, the back-testing results show drawdowns above 5%, which is alarmingly inconsistent.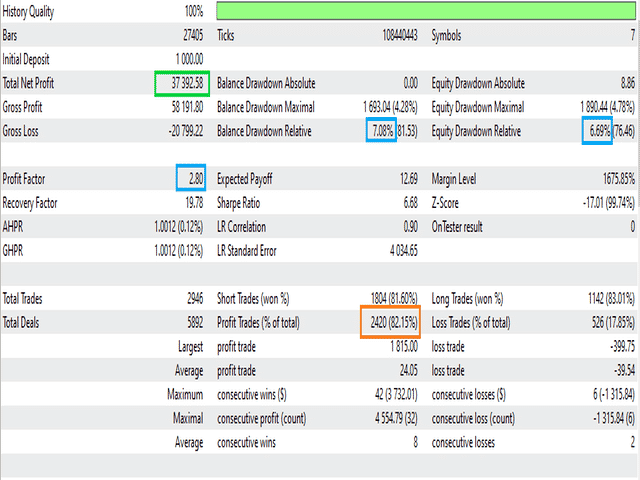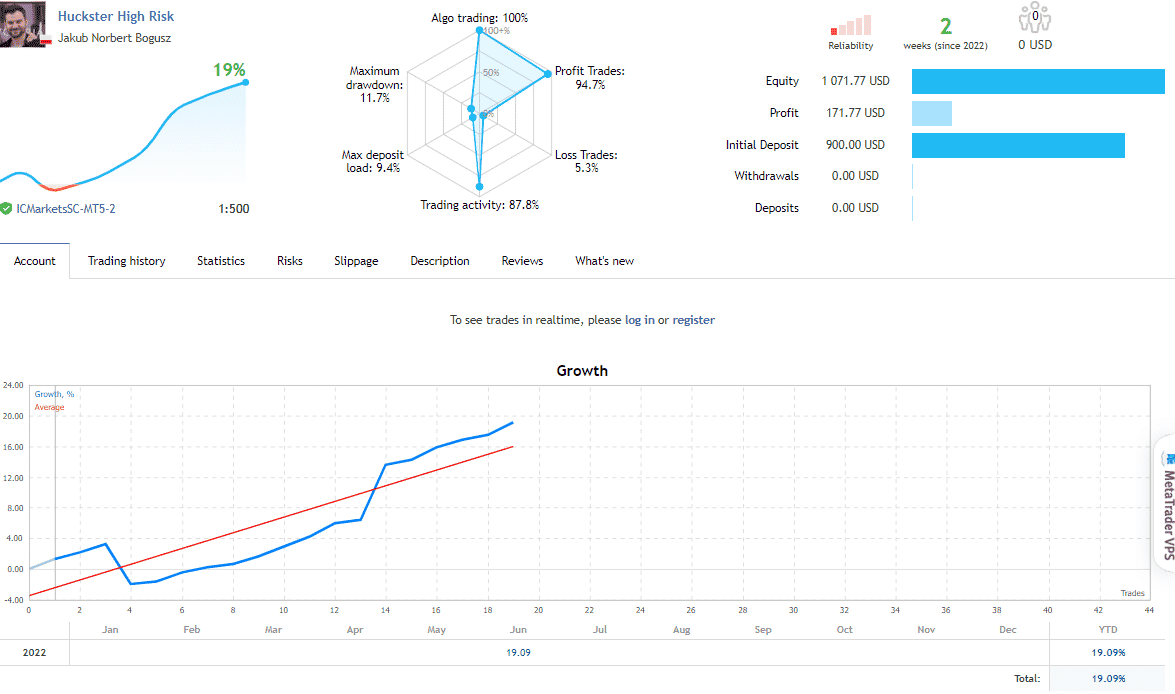 Trading results
Unfortunately, you cannot see any live trading performance for Huckster on sites like Myfxbook, FX Stat, and FX Blue. Bogusz claims the robot makes around 10% monthly gains if you risk 1% per position.
However, such a statement is simply speculation since no tangible proof exists, which is one of this robot's main red flags. Bogusz offers only one backtesting report. Still, they don't indicate which periods the EA was tested on (although the developer mentioned five years).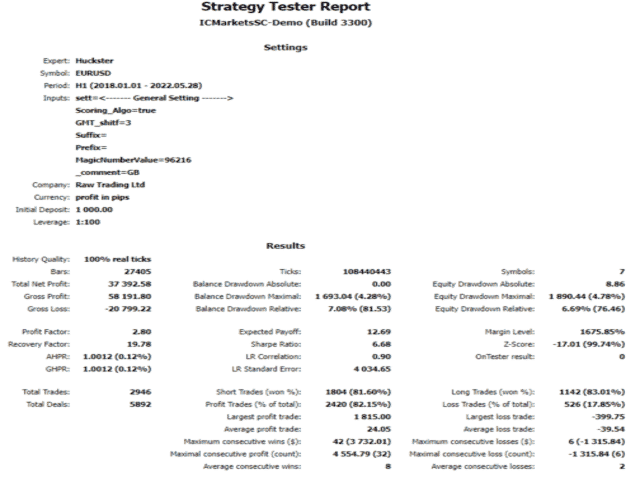 However, the back-testing results tell us a few things about Huckster. A profit factor of 2.8 suggests an excellent risk-to-reward. Furthermore, the winning percentage was 82%.
Yet, users cannot rely on back-testing alone as it's not an accurate indicator of the potential performance under real market conditions.
Vendor transparency
Bogusz is quite active on MQL5 and seems responsive to good and bad comments. Yet, they lack the transparency in providing live trading results; plus, the backtesting report is questionable.
User feedback
The main feedback for Huckster is currently only available on MQL5. The robot has a 4.33/5 rating from 13 reviews and 85 purchases, with a 1-star from one user.
The negative Japanese comment translates to "I do not know how to use," to which Bogusz responded. Although most reviews are positive, it's still early to say how new customers will perceive the robot's future performance. Thus, the ratings can change substantially.