The MetaTrader 5 (MT5) is a popular trading software that is offered by many forex and Contracts-for-Difference (CFD) brokers.
The software allows traders to conduct technical and fundamental analyses on thousands of financial assets and implement trades. It also helps quantitative traders develop and test their algorithms or robots. In this article, we will look at some of the top ways on how to use the software as a professional trader.
Building and testing robots
Robots, also known as expert advisors, are tools that help investors and traders to automate their trades. They can send signals when certain combinations are made. Advanced robots can also open and close trades. Unlike the MT4, the MT5 comes loaded with several expert advisors like ExpertMAMA, ExpertMACD, and ExpertMAPSAR.
The platform also has a tool that helps developers build the algorithms using the native MQL programming language. The coding platform has tools that help you use prebuilt templates, build the software from scratch, or modify an existing script.
To get there, you need to go to tools and then select the MetaQuotes Language Editor. After this, you should select whether you want to build the code from scratch or whether you want to use a template.
MQL editor in MT5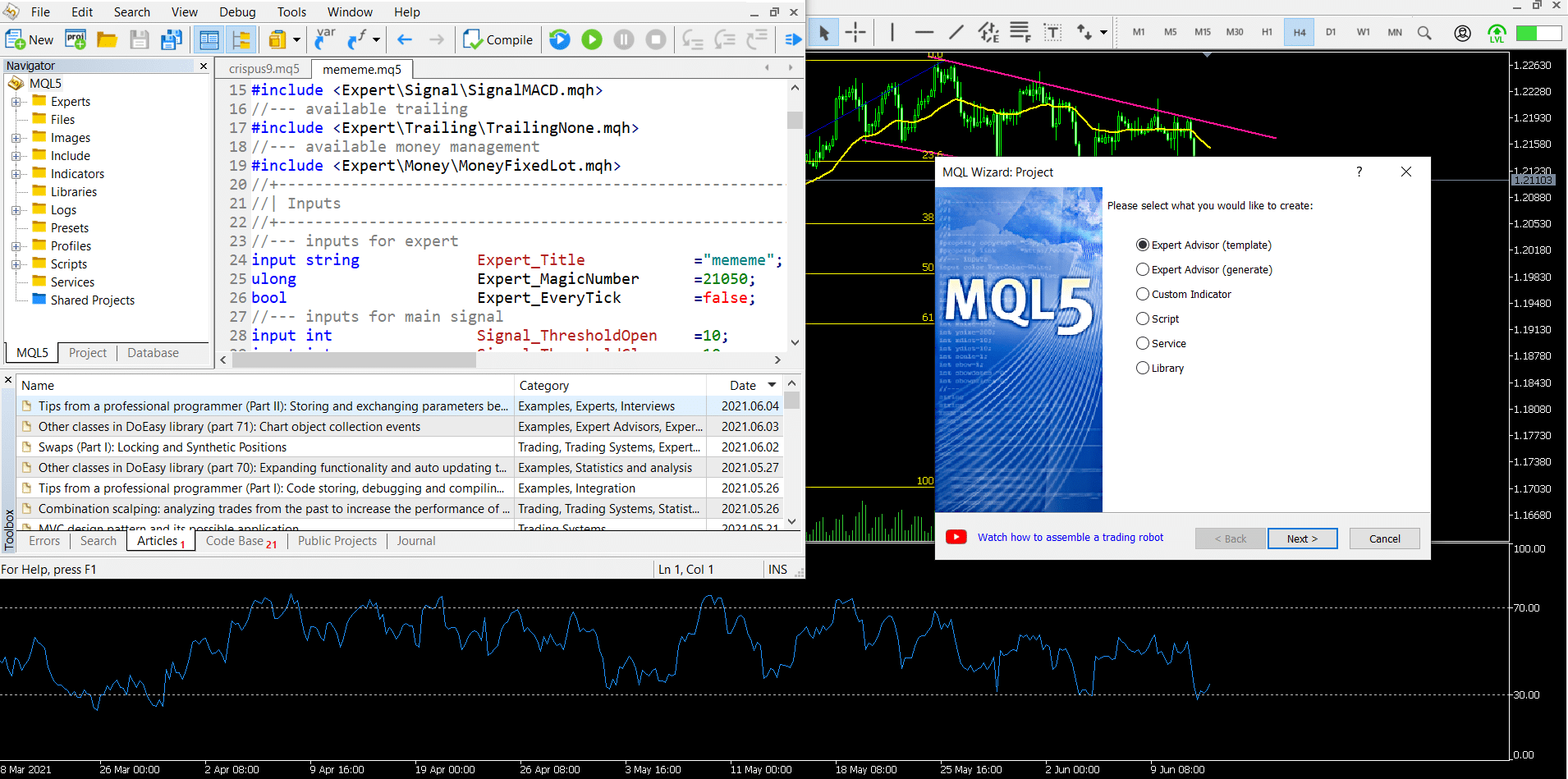 Finally, you should start building if you have experience in programming and trading. Also, you should have a brief idea of what you want your robot to achieve. The screenshot above shows the dashboard of creating the robot using MT5.
Strategy tester
The final stage of building or buying a robot is to test it. Indeed, I know many people who have lost a fortune simply because they did not subject their bots to strict testing. Fortunately, the MT5 has a tool to help you test a robot. It can be accessed by going to View or by using this shortcut: ctrl+R.
The strategy tester platform has several selections. For example, you can use the visualize option to see the robot you created or bought in action. You can also see math calculations, stress delays, and complete optimization features.
The process of testing a strategy is relatively easy. Just open the strategy tester, select the dashboard you want to see, select the robot you want to test, and enter the conditions.
Strategy tester results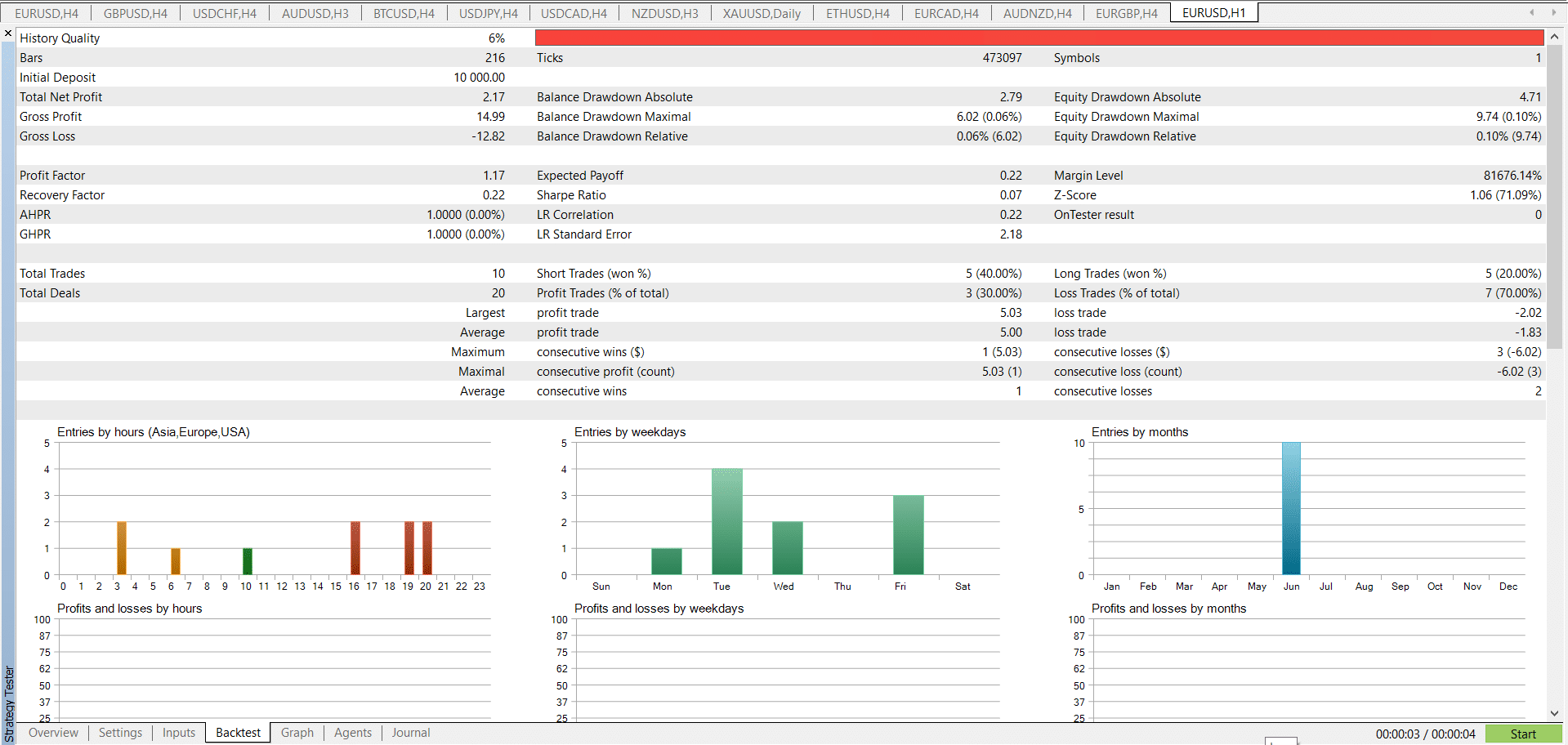 On the conditions, you should add items like the currency pair you want to analyze, the timeframe, duration, and the amount of money you want to test. The chart above shows the results of the ExpertMAMA test.
Volume in trading
Many trading experts have a good understanding of the importance of volume. However, for beginners, I recommend that you read a book known as Volume Price Analysis by Anna Couling. It is the book that opened my eyes to the importance of volume in day trading.
Volume is significant because it tells you what other traders are doing. It also tells you whether a rally is being supported by rising volume or not.
There are two main ways of identifying volume when day trading. In MetaTrader 5, you can just right-click inside a chart and then select tick volume. You can also use the ctrl+L shortcut to access the volume.
Volume in a chart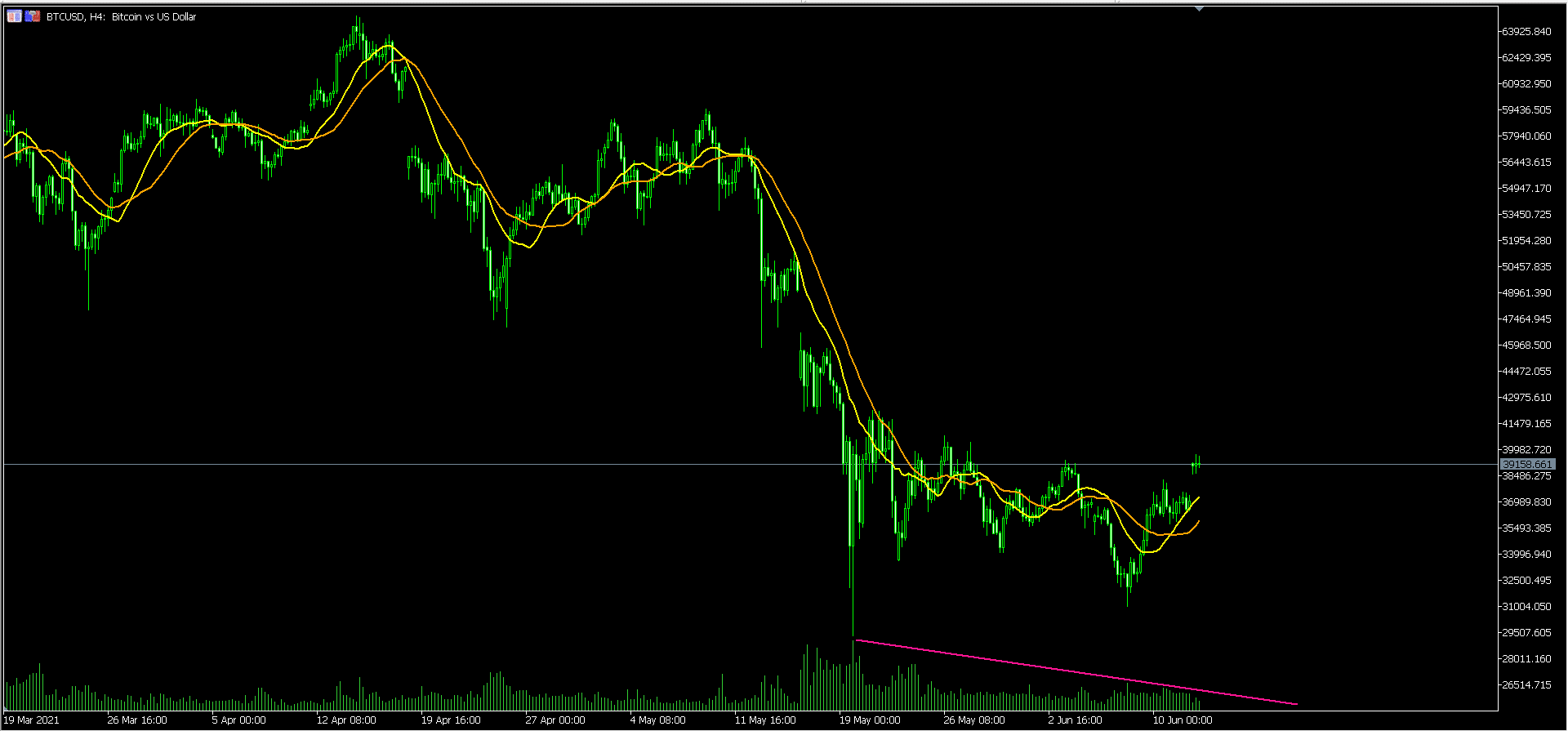 For example, the chart below shows that the volume of Bitcoin was falling at the time of writing. This could send a signal to be cautious about the state of the Bitcoin market.
Embrace shortcuts
Another simple way of using the MT5 as a professional is to embrace shortcuts. While this is a minor thing, using these shortcuts can help you save time. Some of the most useful shortcuts in MT5 are:
Ctrl + M – This shortcut shows you the MarketWatch, where you will see all the available assets.
Ctrl + T – This shortcut will show you your account details like any open trades, account balance, and equity, among others.
Alt + 1, 2, or 3 – This is an easy way to change the type of chart you are using. 1 will show you a bar chart, while 2 and 3 will show you candlesticks and line charts, respectively.
F4 – Pressing this function will open the MetaQuotes Language Editor tool.
Ctrl + G – This is another easy shortcut to adding or removing the grid in your chart.
Use the economic calendar
An economic calendar is a valuable tool that most traders use to know the upcoming economic data. The calendar is offered by many platforms like Investing.com and DailyFx for free.
Economic calendar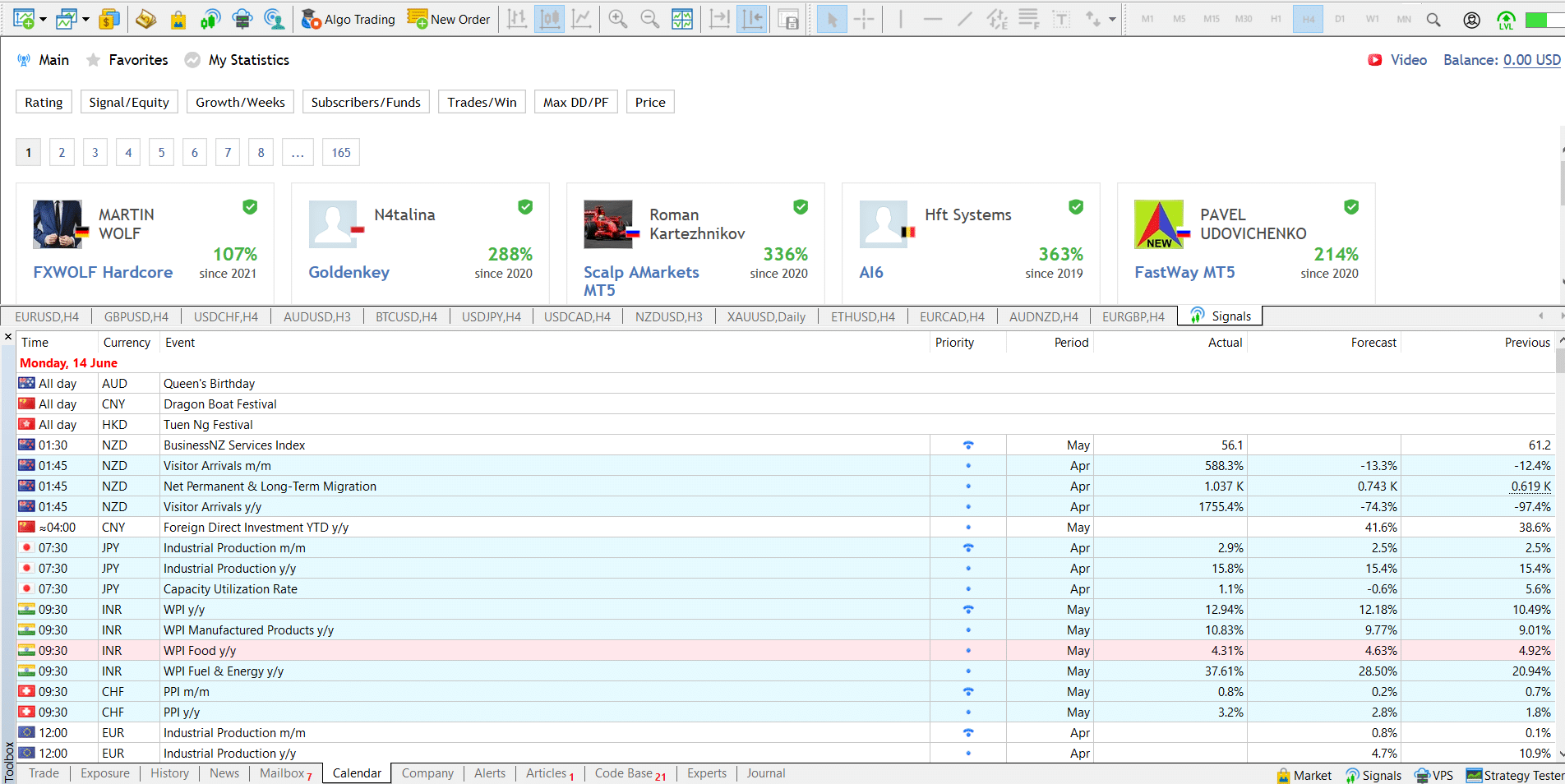 If you are using the MT5, you can avoid going to these because the software has a prebuilt calendar. You can access it by using the shortcut ctrl+T and then selecting it, as shown above.
Trading signals
Signals refer to predictions that other experienced traders offer. Most signal providers use a specific manual trading technique to come up with these predictions. Others use algorithms to send the signals. There are many sources of trading signals, like the website of a signal provider.
Fortunately, the MT5 has a tool that helps you get access to quality signals, some of which are offered for free. Others cost as little as $1 per day.
To access the signals, you just need to find them on the bottom dashboard. You should then look at its reliability, performance, years of experience, and whether it is a manual or automated one.
Trading signals in MT5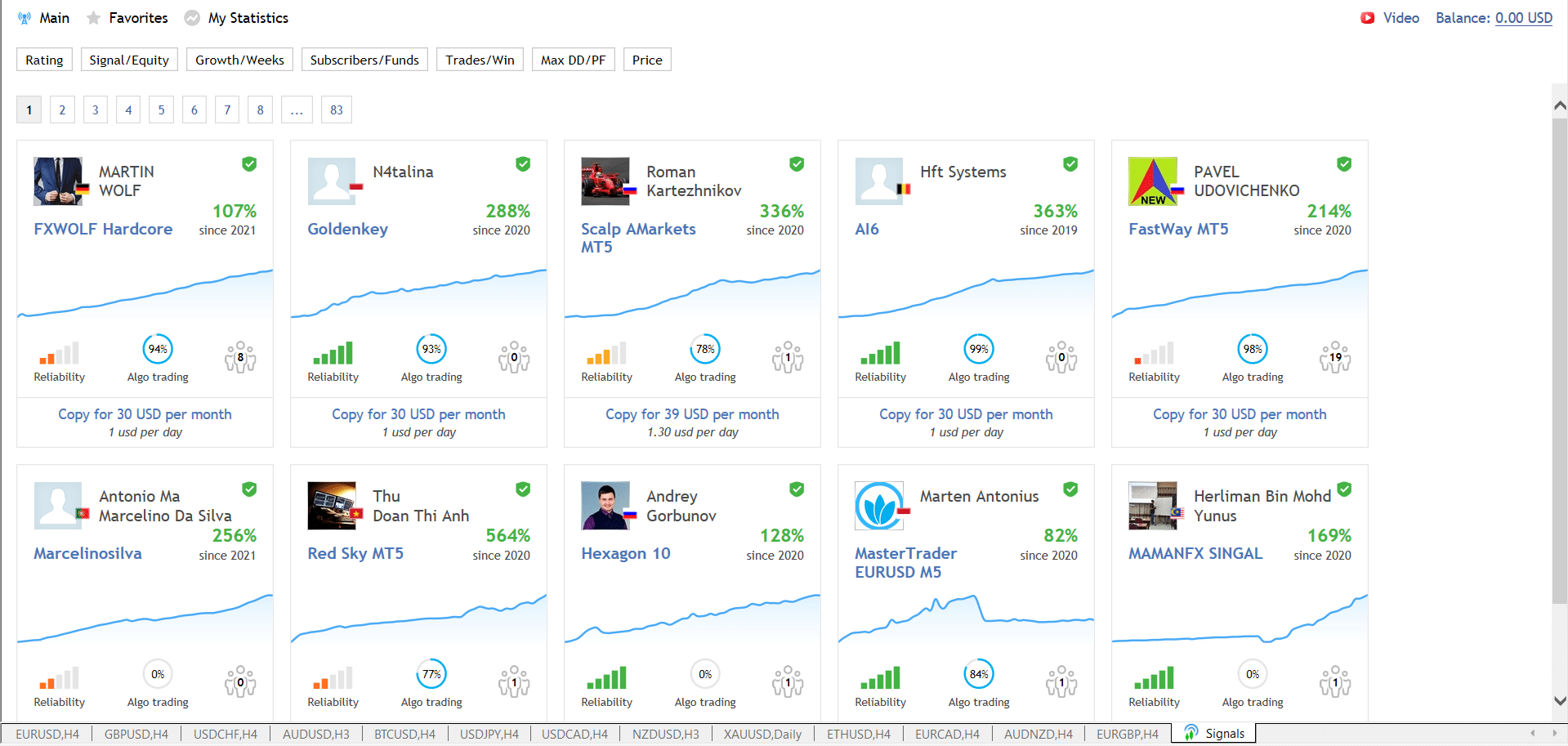 For example, in the chart below, we see that the HFT systems signal costs $1 per day. It also has generated 363% in returns and has a 100% reliability.
Summary
The MT5 is an excellent charting and trading software that is usually more advanced than the MT4. It also has more features than the MT4, like more timeframes, robo-advisors, and more indicators. In this article, we have looked at some of the popular features to use and how to use them as an expert.