Happy Way is a system that provides us with a possibility to be profitable on Forex. The presentation includes various information about the robot that helps us to make a wise decision. Let's check it out to figure out if the system is good to go.
Happy Way: to trust or not to trust?
Happy Way is a pretty decent product to work with. Its presentation and trading results convince us that it's the right choice to work with.
Features
We have various explanations provided about how the system works and what we have to do with it.
The presentation informs us about automatic trading possibilities.
It trades in the market direction only.
The core pairs to trade are USDCAD, AUDUSD, AUDCAD, CADCHF, AUDCHF.
It doesn't use any indicator and its advantage is that it uses reinsurance positions (grid strategy) without increasing lots (no martingale).
The robot works with a Price Action strategy forming Grids of orders.
It's possible to trade on any cross pair.
It can be used by all types of traders.
We can work on the account of May size.
There's a lot multiplayer feature applied.
It is regulated by FCA and FCS.
We are allowed to work with 1:500 leverage.
The system works quickly on our account.
We should manage an account with at least $15 on it.
There are ten robots added to the package.
The system can be installed on Windows 7, 8, 10, Mac OS, and Linux.
We have to work with it on the MT4 platform.
The account requires $1000 to work with 0.01 lot sizes.
We can trade on it 24/7.
It will work better on an ECN broker.
Price
The offer mentioned a 30% discount for customers. We can purchase the system for €299 and expect to receive two licenses or for €499 and get five ones. The package includes free updates and upgrades when needed, ten, mentioned before, advisors, and a refund policy for 30 days.
Verified trading results
The developers decided to rely on the actual trading results instead of backtests. As we know, backtest reports do not provide anything about the current performance of the system. They can only tell us how it performed in the past before release.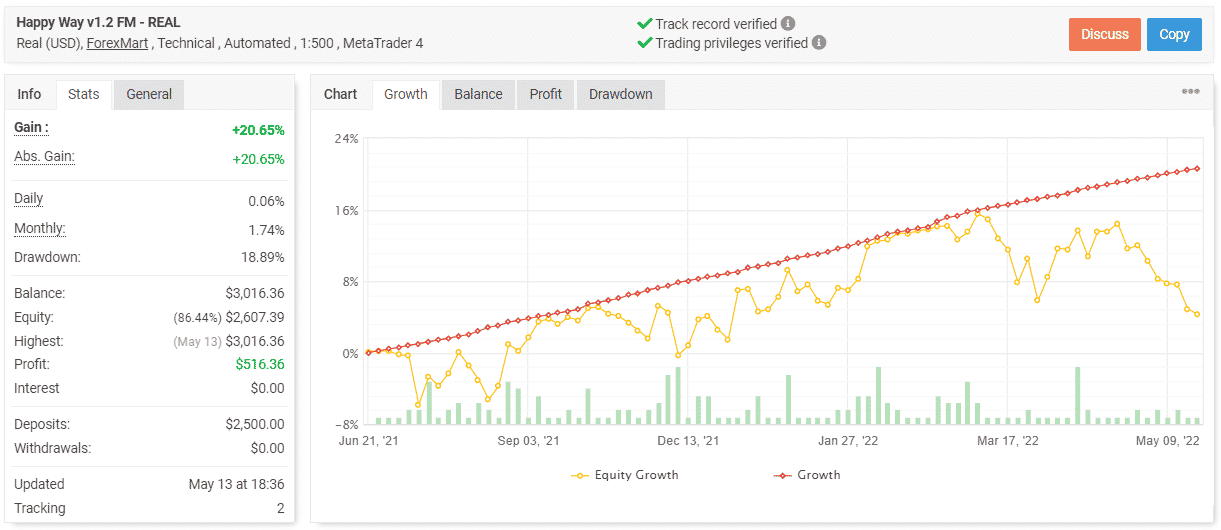 Happy Way keeps working on a real account nominated in USD on ForexMart. This broker is not used often. It works automatically with 1:500 leverage on MT4. The account has a verified track record. It was created on June 21, 2021. The developers decided to fund it at $2,500. The robot has managed to generate 20.65% of the total gain. An average monthly gain is 1.74%. The maximal drawdown is 18.89%. There are only two traders who check the trading results.

There were 191 deals executed with 5908.8 pips. There were oly 1.91 lots traded. An average win is 82.36 pips when an average loss is -84.10 pips. It manages orders with a 68-70% win rate. An average trade length is 16 days. The profit factor is 2.15.

There are five symbols traded where AUDUSD with 39 deals closed is the most traded among them.

The most traded session is a European one.

Monday is the less traded day with 25 deals closed among others.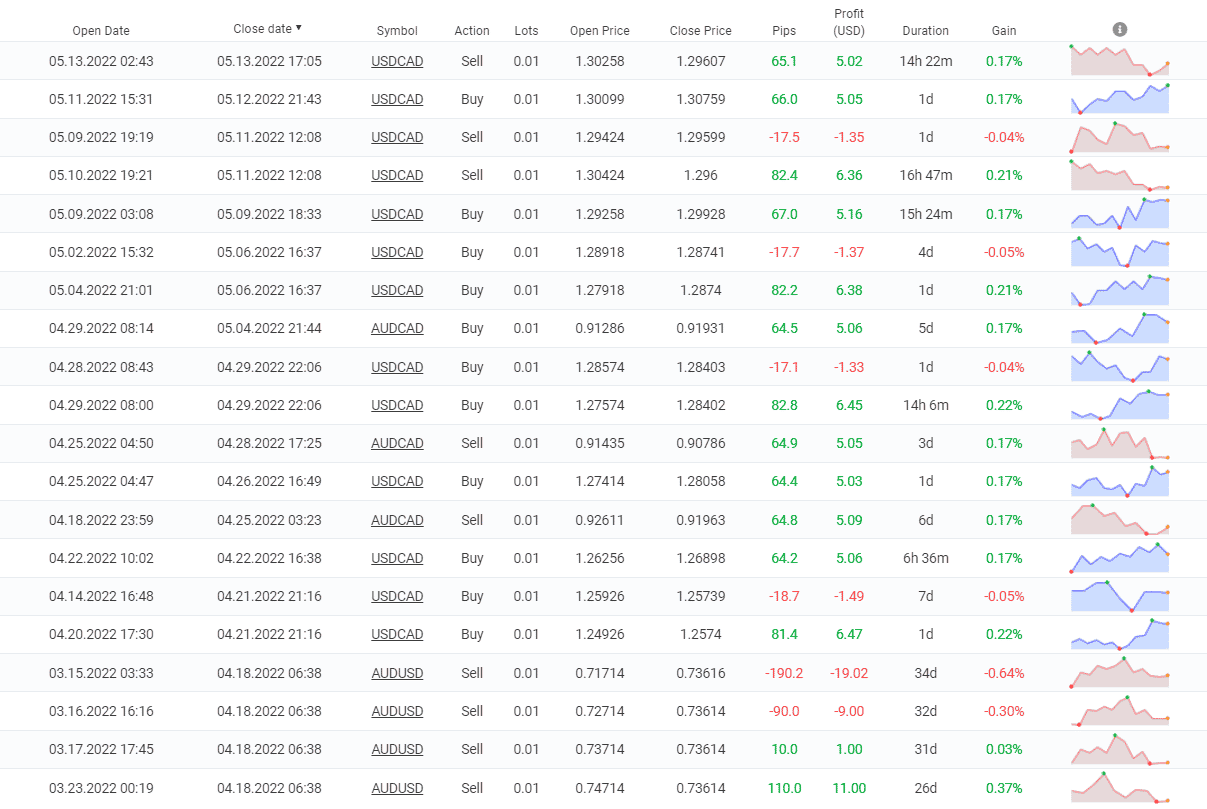 Happy Way doesn't use Martingale in trading at all.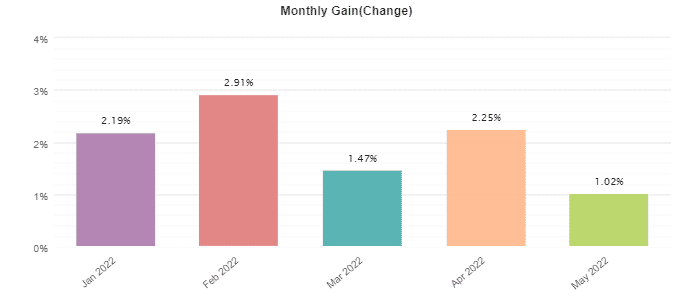 The robot has closed four months in a row with profits. It's great because the robot proves that it can provide stable profits.
Vendor transparency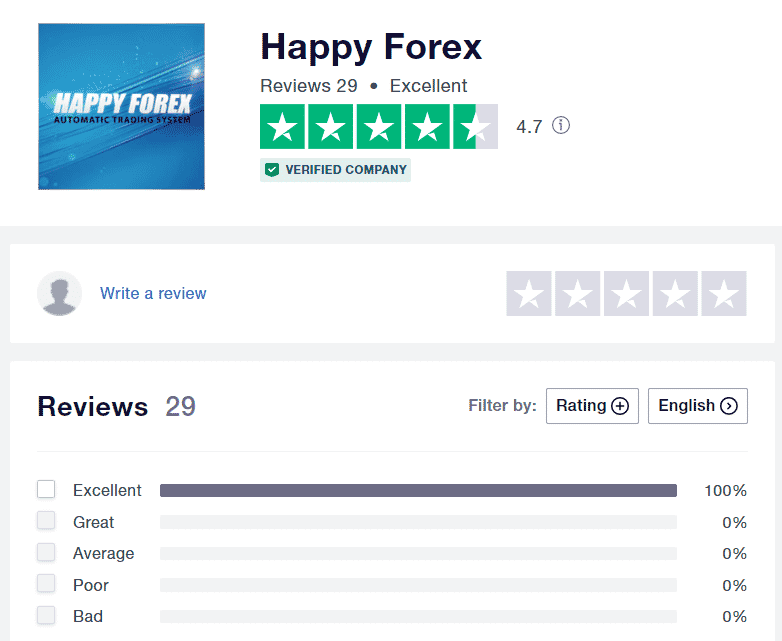 There's a profile of the Happy Forex company created on Trustpilot. There are 29 reviews written.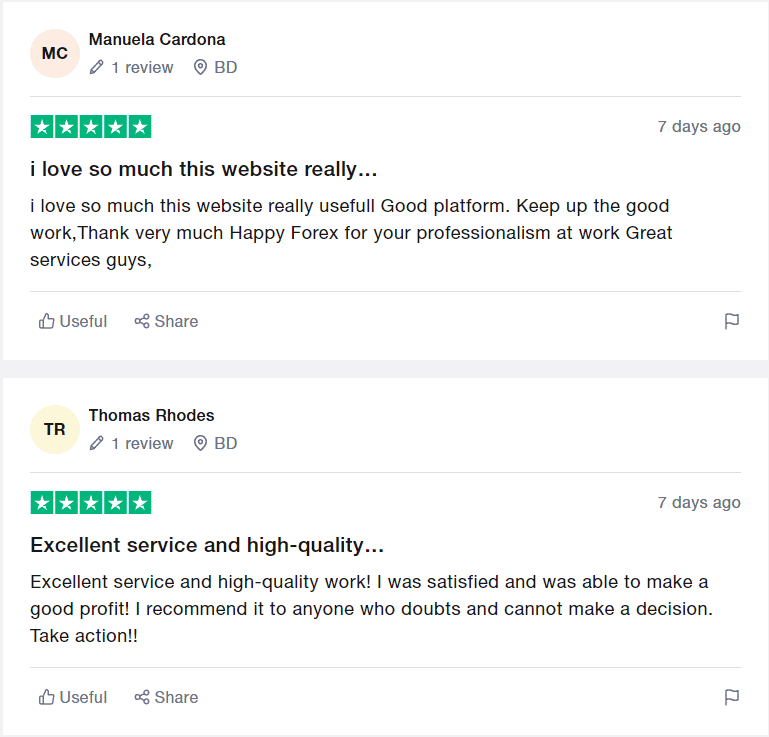 Clients shared their positive experience of using this system. So, we can expect to repeat their experience.