In this Happy Trend review, we will analyze a fully automated Forex robot developed by a well-known Happy Forex team. This robot was designed to help all traders, no matter whether you are a guru or newbie who has minimal or even no knowledge about Forex trading strategies. The main goal of this robot is to eliminate human interference and provide smooth and stable profit.
Is Happy Trend a Good Choice?
We do not recommend this EA. Our decision and assessment are based on:
–   Horrible trading results
–   High drawdown
–   High-risk level
Happy Trend EA Trading Strategy
This EA works on high volatility along with a new filer. The robot opens 1 trade/currency pair with an implemented money management system that tries to identify the direction of the trend movement. The Happy Forex team added new features to the latest version of EA Happy Trend v1.7: CloseTradeByTime, CloseAfterHours, UseTrailingStop, and TrailingStop. The main goal of these new settings is to adjust to current market conditions.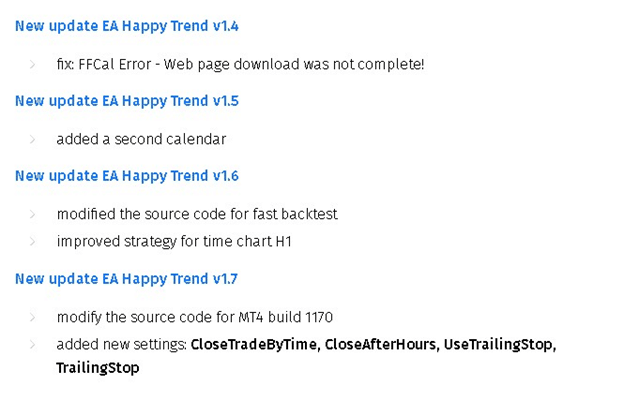 Backtesting Results
We have found backtesting of Happy Trend. The backtesting started in 2000 and ended in 2010.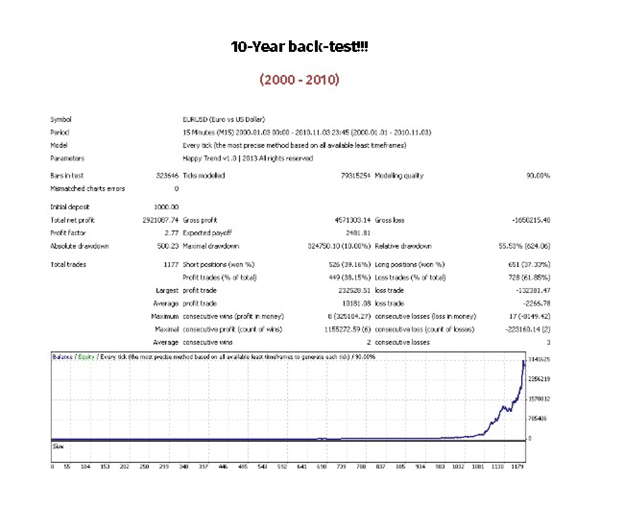 It was done for the EURUSD currency pair and performed on the M15 timeframe with 90% of modeling quality. The initial deposit was $1000. Its profit factor was 2,77. From 2000 to 2010 the account has traded 1177 deals and earned 2921087, 74 dollars. The maximum drawdown was 10%. The win rate for short positions was 39,16% and 37,33% for long positions. This is quite low.
Myfxbook Trading Results
The good thing about this EA is that its developers provide verified myfxbook results on their website.
Let's review the account and its trading performance.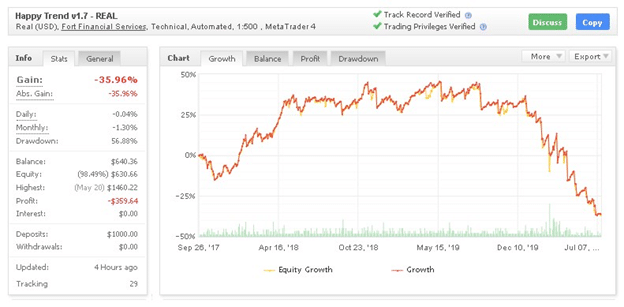 We have a real and live Happy Trend account, which trades with USD currency and works on the popular Meta Trader 4 platform. It works with Fort Financial Services broker with 1:500 leverage. The account started trading on September 26, 2017, and deposited $1000.00. The account total gain is -35.96%, the monthly gain is -1,30%.
As we can see from the screenshot above, the robot slowly but surely was zeroing the account. The largest negative changes started on December 27, 2019. Since that time there were no positive changes in terms of profit growth: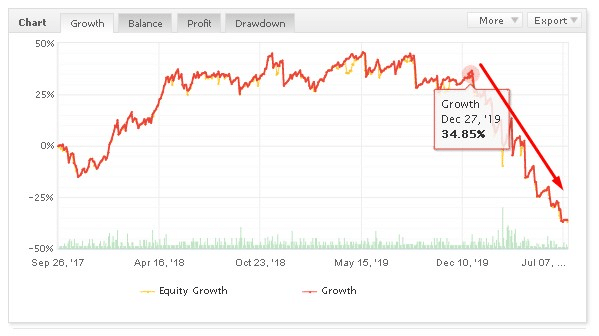 The account has performed 803 trades with -657.8 pips. It has won 621 out of 803 trades, which represents 77% of total trades. The average loss is 4 in four times larger (-$22.09) than its win rate ($5.90). The average trade length is 14 hours and 57 minutes. The profit factor is less than 1 and equals 0.91.

The account is trading with AUDUSD, EURUSD, GBPUSD, USDCHF, and USDJPY currency pairs, but only with EURUSD it is obtaining good trading results, the rest ones bring only losses.

Sad Trading Performance in 2020
A study of the Myfxbook monthly performance data for happy Trend EA shows that the performance of 2020 is not good. As can be seen from the screenshot below, the EA does not bring any profits. Instead, it is stealing money and bringing significant loses:

2020 has only seen monthly gains in the 1st quarter of -5,86%, -15,69%, and -2,76% for January, February, and March. However, there were some months with better profitability in 2019. For instance, a monthly gain of 7,91% in February and of 1,97 in March.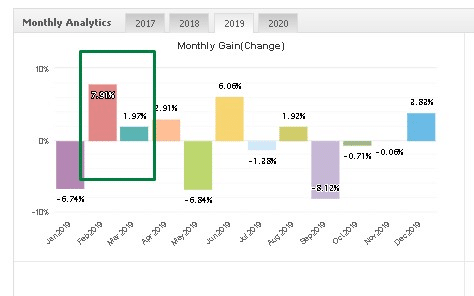 This raises many questions and calls for some concerns about whether this trading system can continue to withstand evolving conditions in the Forex market.
High Drawdown
The robot shows very high drawdown – 56, 88%.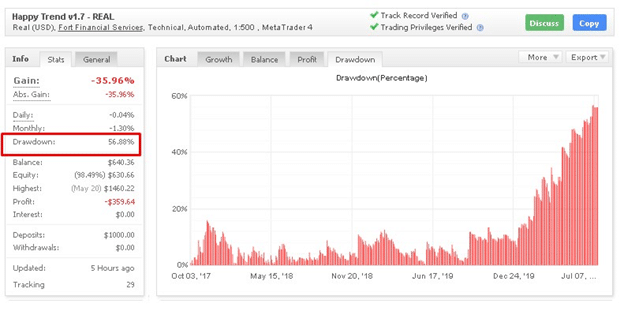 Even with low-risk trading 10% loss size, there is a 99, 99% chance of losing 10% of the account. Moreover, there is a 99, 99% risk of losing 100% of the account.