Happy Power is a robot that belongs to the Happy Forex company. It has a reputation as a great and reliable robot designer. The developer has various products in the portfolio such as Happy Gold, Happy Fast Money, Happy News, etc. That's why we decided to check it.
Happy Power: to trust or not to trust?
We'd like to say yes. The system looks pretty stable and predictable.
Features
The presentation is featured by various claims about the system and its performance.
Happy Power was designed to provide us with assistance with automatic orders execution.
The system can calculate entry points precisely.
There's an AI feature.
This can mean trust it can fit the market conditions automatically.
It has an adapting process performed automatically.
The core strategy behind the service is Price Action and trading between support and resistance levels.
Another strategy is a Grid of orders.
It manages EURCHF as the core cross pair.
The time frame is M30.
The balance has to be over $1000.
We have a recommended deposit of $3000.
An ECN account is a good option.
It works with 5-digit charts only.
The system can be set to trade within several minutes.
Trading is possible on Windows 7, 8, 10, Mac OS, and Linux.
We can work on MT4 and MT5 with the robot.
The offer includes only one price–€325 for a real account copy. The discount of 30% can be used if we have other products of Happy Forex purchased. The package is featured by one license for an unlimited number of real and demo accounts, free updates and upgrades, and a 30-day money-back guarantee. The license is for the first month and will be automatically free renewed for a lifetime via email.
Verified trading results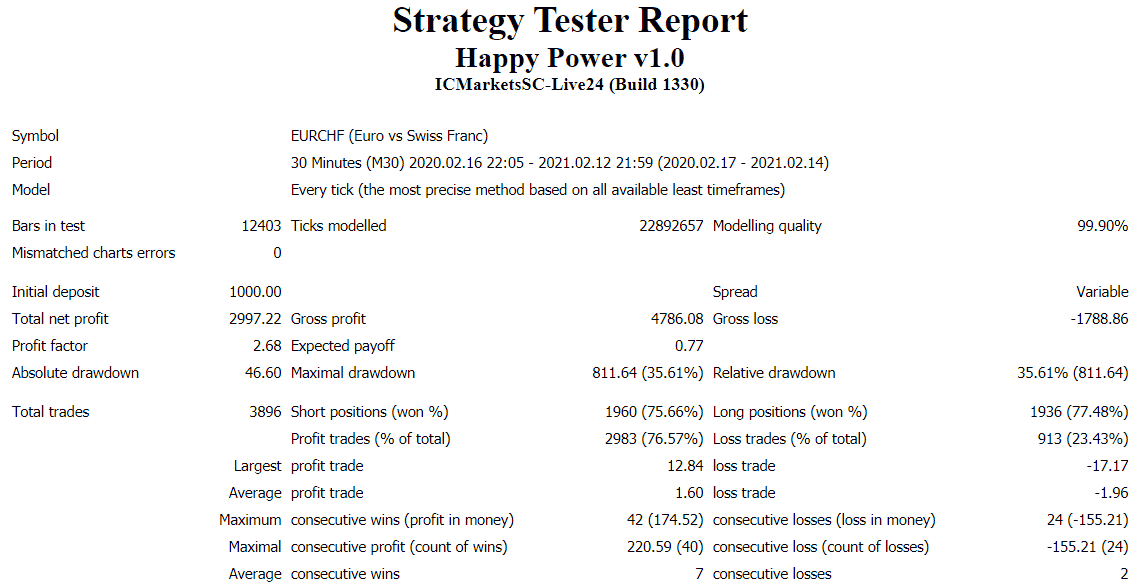 There's a report of EURCHF on the M30 time frame. The modeling quality was high–99.90% with variable spreads. An initial deposit was $1000. The system managed to obtain $2997.22 of the total net profit. The profit factor was 2.68. The maximum drawdown was 35.61%. Happy Power performed 3896 deals with the win rate of 75.66% for short and 77.48% for long trading positions.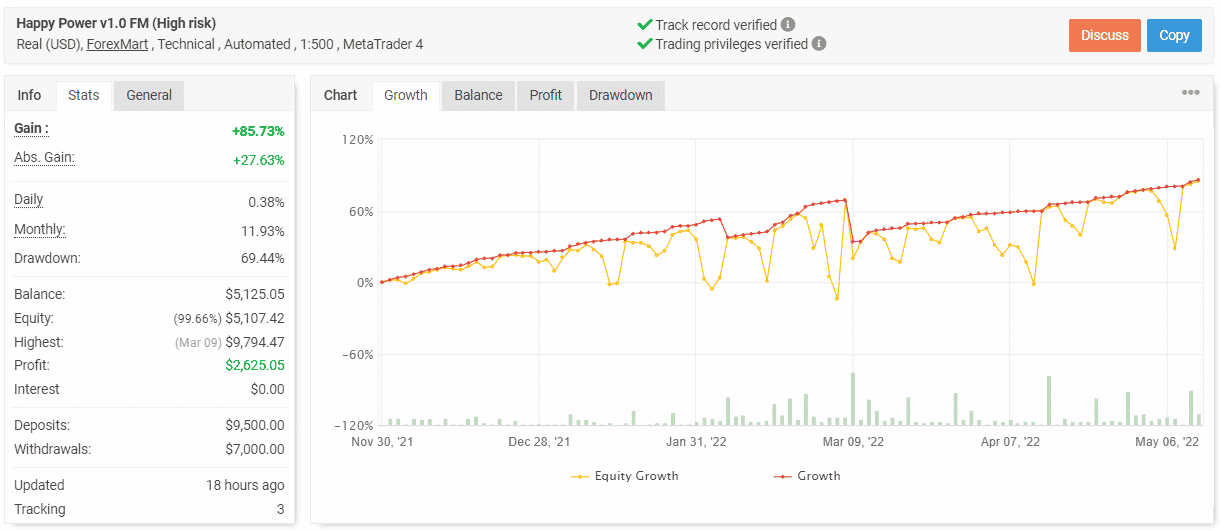 Happy Power runs a real USD account on ForexMart automatically with 1:500 leverage on MT4. The account has a verified track record. So, it was created on November 30, 2021, deposited at $9,500, and withdrawn at $7,000. Since then, the total gain has become 85.73%. An average monthly gain is 11.93%. The maximum drawdown is 69.44%. We have several people who track the results of this trading account.

It has executed 3512 deals with 24,584.4 pips. An average win is 26.35 pips when an average loss is -37.76 pips. The system trades with an average trade length of two days and a profit factor of 1.62. This is exactly a good number for a paid advisor.

The advisor trades equally in both directions.

The risks are acceptable. The system has to lose 137 deals in a row to lose 10% of the balance.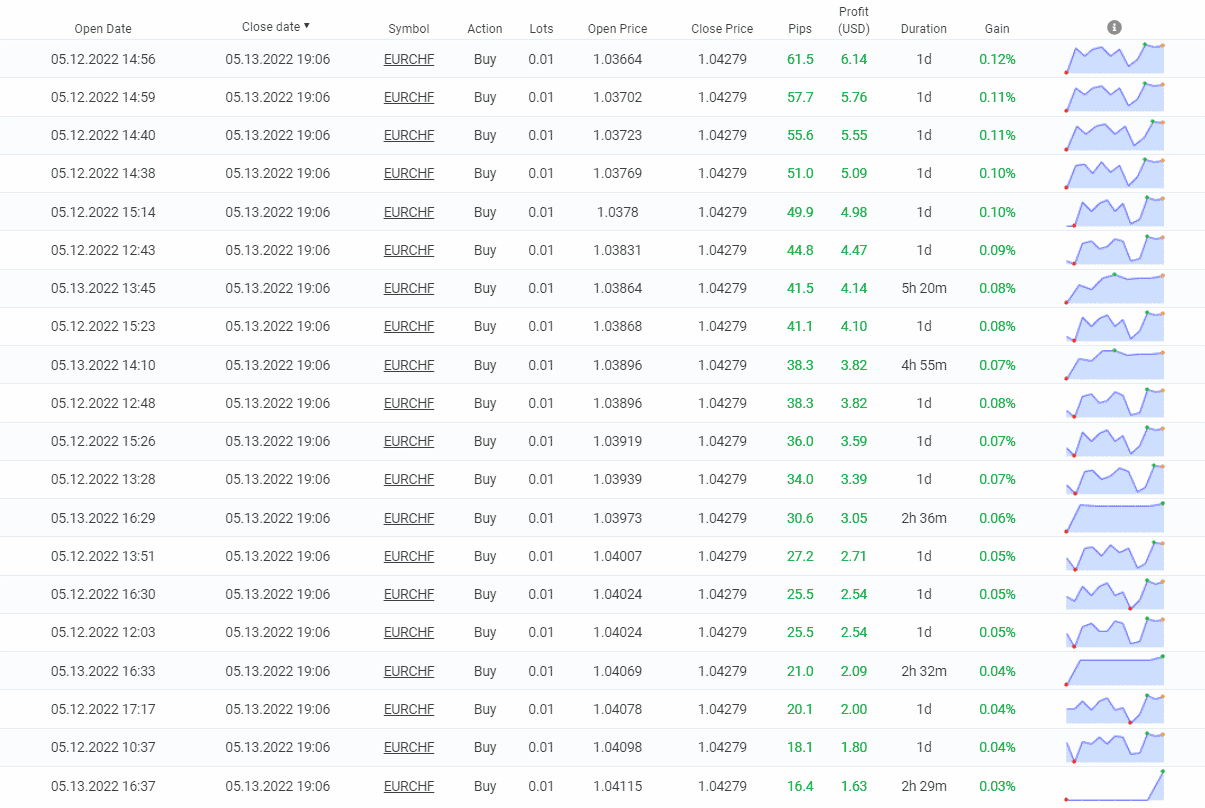 Although it trades with significant Grids of orders, Martingale is not applied. It's a good sign.
Vendor transparency
Happy Forex is a veteran company that has various trading solutions in their portfolio: Happy Frequency, Happy Fast Money, Happy Forex, Happy Gold, and more. So, the devs provide the Forex-related community with great products consistently.
People feedback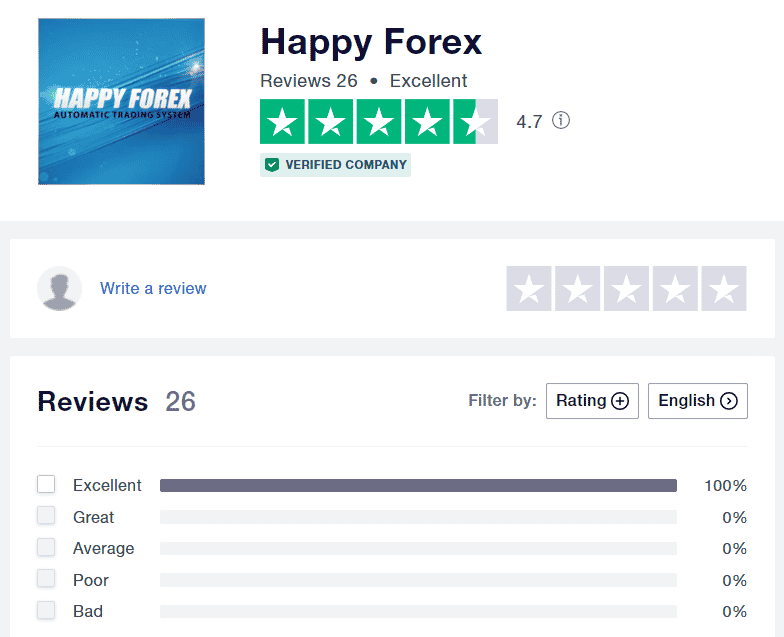 Happy Forex has a page on Trustpilot with 26 reviews written.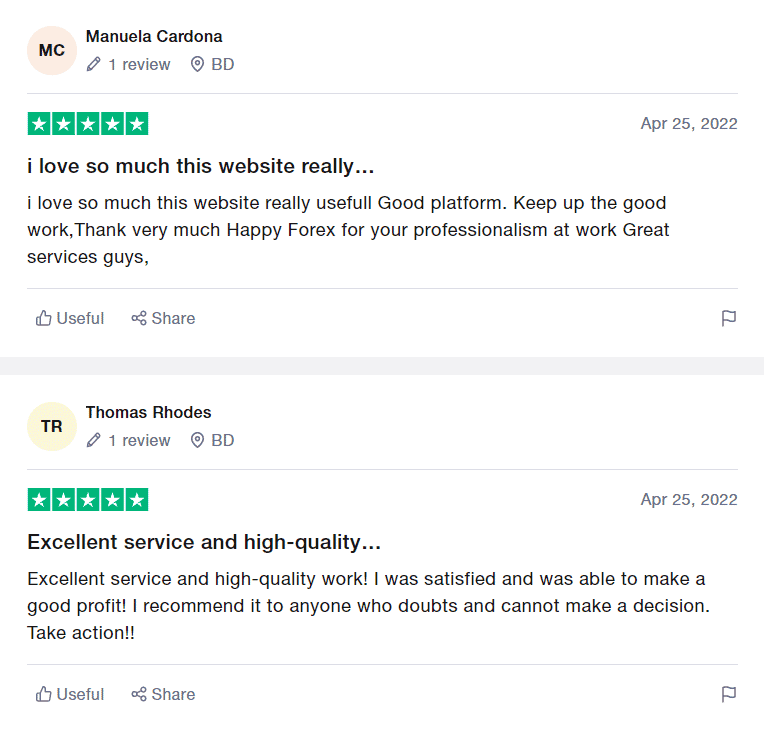 Clients mentioned that they are satisfied with service quality and support.
Other notes
The system requires much margin to open huge grids on the market.