Happy Gold has been a part of the Happy Forex family for years. The robot has received some crucial updates and was released once again on a real account. In this Happy Gold review, we will check how the system works and whether it is worth investing.
Happy Gold: to trust or not to trust?
We don't have a right answer. The system has to work on the account for half a year or even more so everyone can see its performance.
Features
The presentation includes a few details, settings, and other information.
The advisor was designed to trade for us automatically.
There's a "modified ZigZag indicator that tracks and connects extreme points of the chart, the distance between these points being equal or higher than the percentage specified for the price scale."
It executes three risky strategies: Scalp, Swing, and Grid.
We can work only on XAUUSD.
The time frames can be from M15 to H4.
It follows FIFA rules.
An average stop loss is deep – 24 pips.
It uses a dynamic Take Profit.
The system has to be used on the account with 20 pips spreads.
We can use the robot on an ECN account.
It can be used on the systems: Windows, Mac OS, and Linux.
It supports both platforms: MT4 and MT5.
The minimum deposit requirements are $100.
It doesn't use other risky strategies like Martingale, Hedge, or Grid.
We can work on ECN brokers.
There's auto-quotes detection 4 or 5 digits.
We can rely on a knowledgeable user guide.
There are 2 or 5 licenses for real accounts.
The robot will receive free updates and upgrades.
"The license is for the first month, and then you will automatically receive a free lifetime license on your email. You will pay for the license once only." It sounds ridiculous to get this role coaster for that pricing.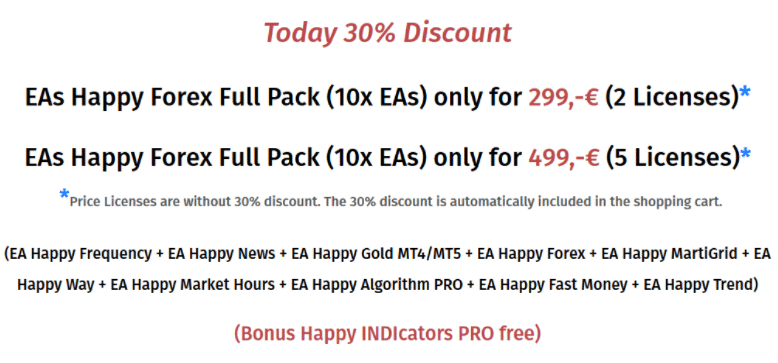 Happy Forex has a common offer no one needs. The packages include ten additional mostly scam EAs. The 2-license pack costs €299. The 5-license pack costs €499.
Verified trading results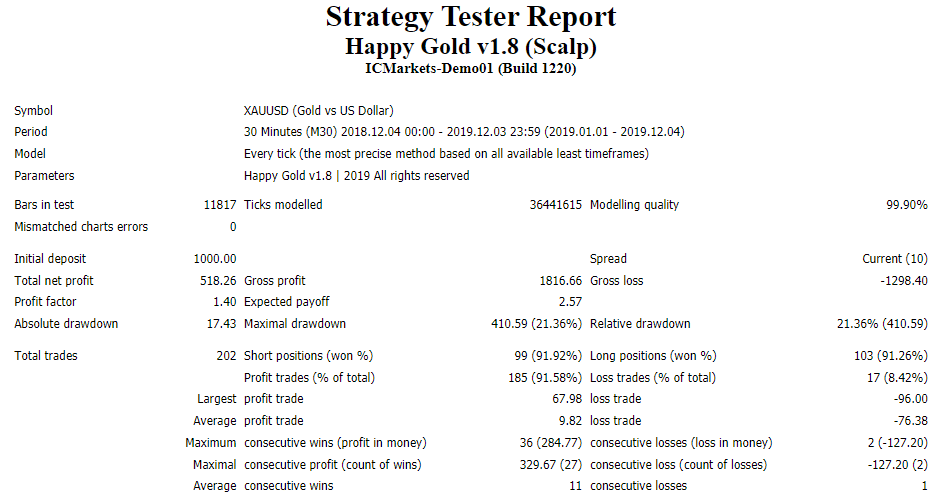 We have a XAUUSD backtest on the M30 time frame based on the one-year data. The modeling quality was 99.90% with 10 pips spreads. An initial deposit was $1000. The total net profit has become $518.26. The profit factor was 1.40. The maximal drawdown was 21.36%. There were 202 deals executed with 91% of the win rate for shorts and 91% for longs.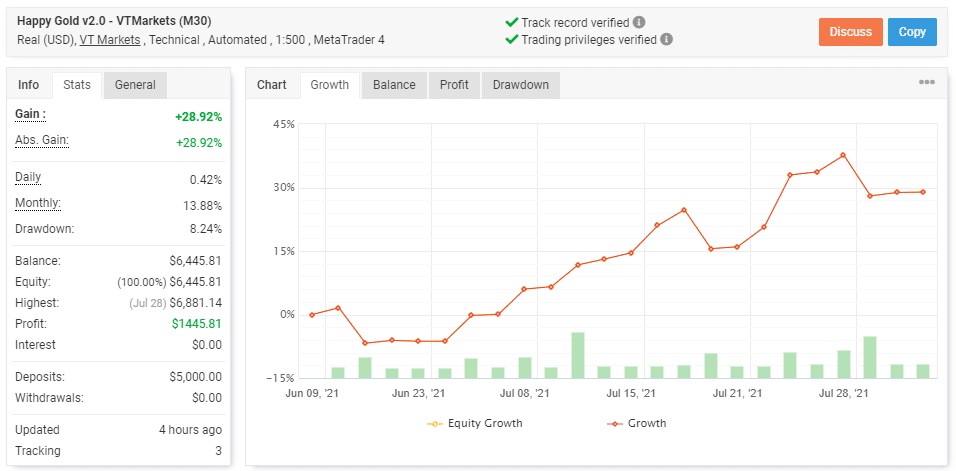 The robot runs a real account on VT Markets automatically with 1:500 leverage on MT4. We've never seen someone use this broker. We can't trust it. The account has a verified track record and verified trading privileges as well. It was created on June 09, 2021, and deposited at $5000. Since then, the absolute gain has become 28.92%.

Happy Gold has executed 34 deals with 1029 pips. An average win is 60.17 pips when an average loss is -143.20 pips. The win rate is 75% for longs and 94% for shorts. An average trade length is 4 minutes only. The profit factor is 1.96. It looks like the system works on the M1 time frame.
The advisor has managed to be profitable only in the short direction.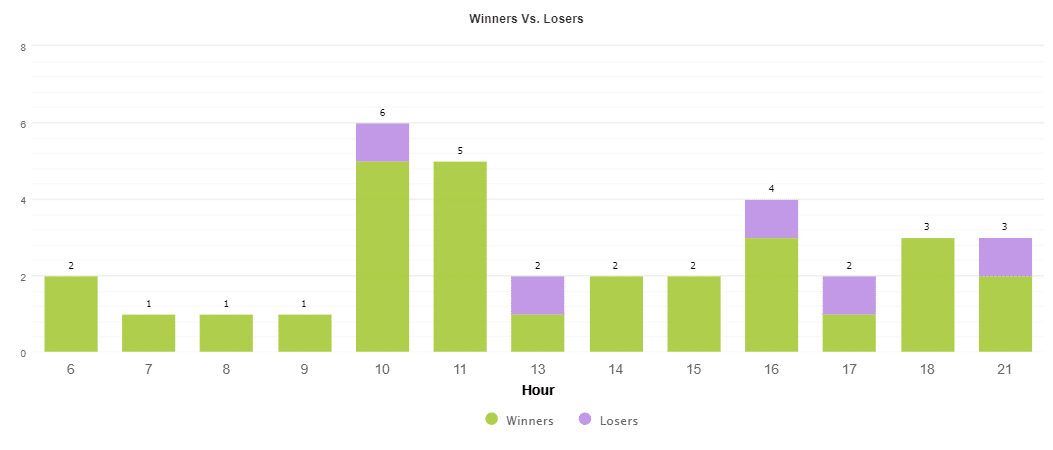 It focuses on trading during European trading hours.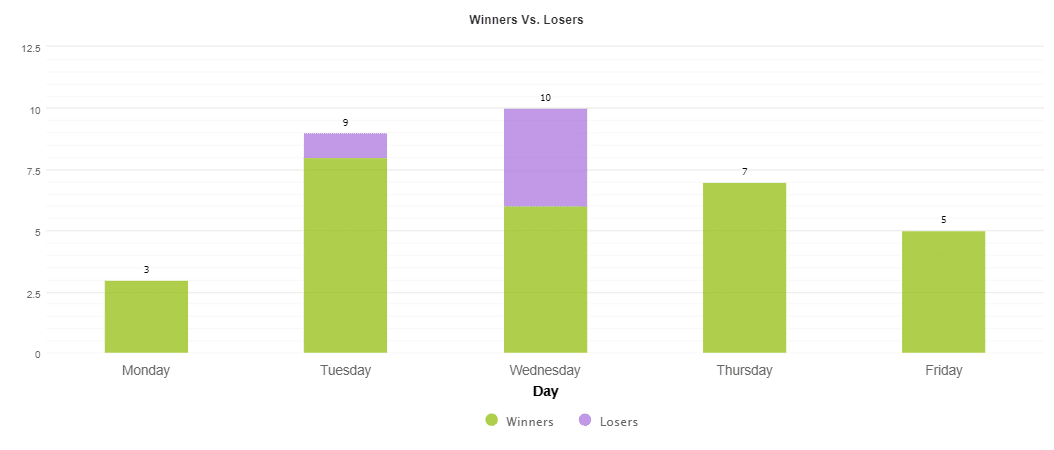 The robot with three orders almost skips trading Monday.

The advisor has to lose only two orders in a row to lose 10% of the account balance. It's dangerous.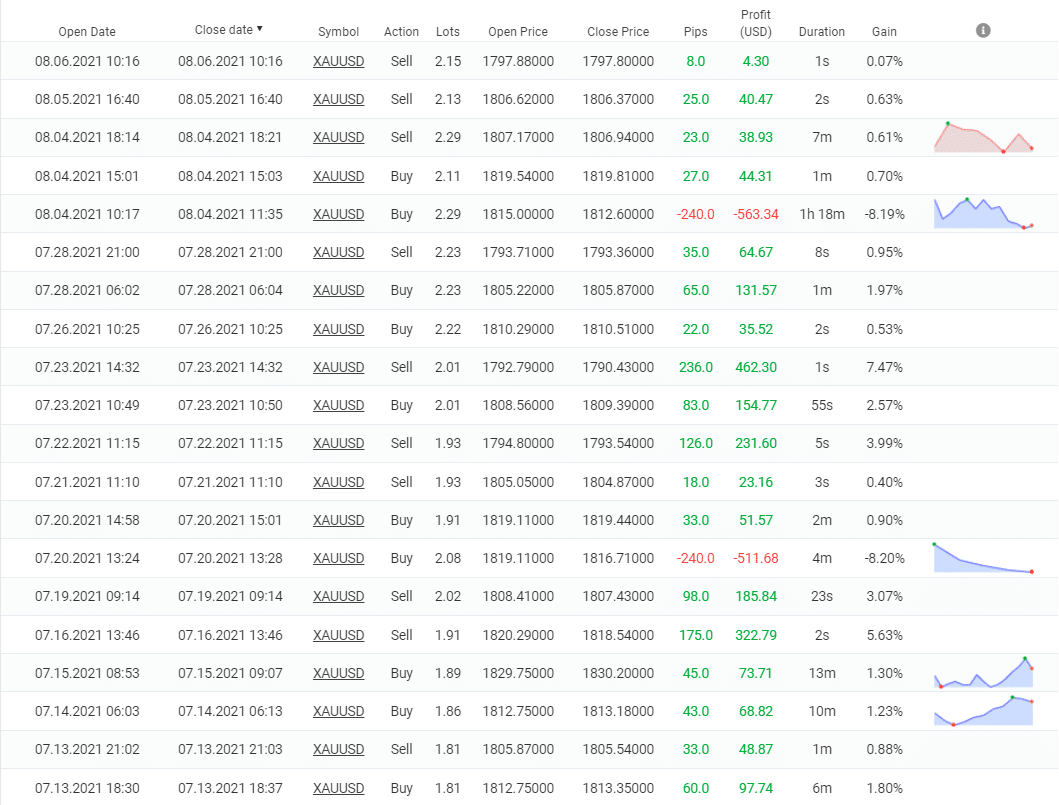 SL levels are deep, as was mentioned. The robot works with various lot sizes.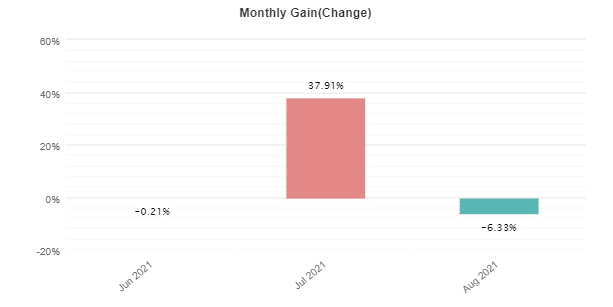 August 2021 will be lost if nothing is changed.
Vendor transparency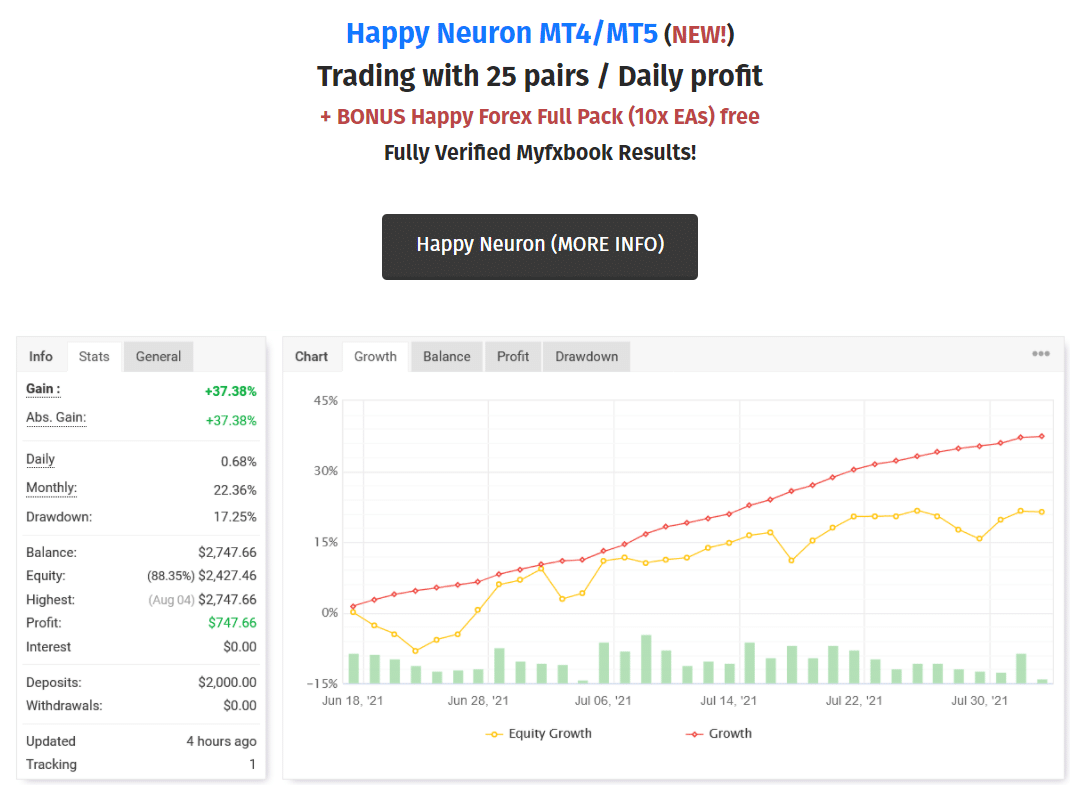 The main page of Happy Family informs us that there are many much better trading solutions.
People feedback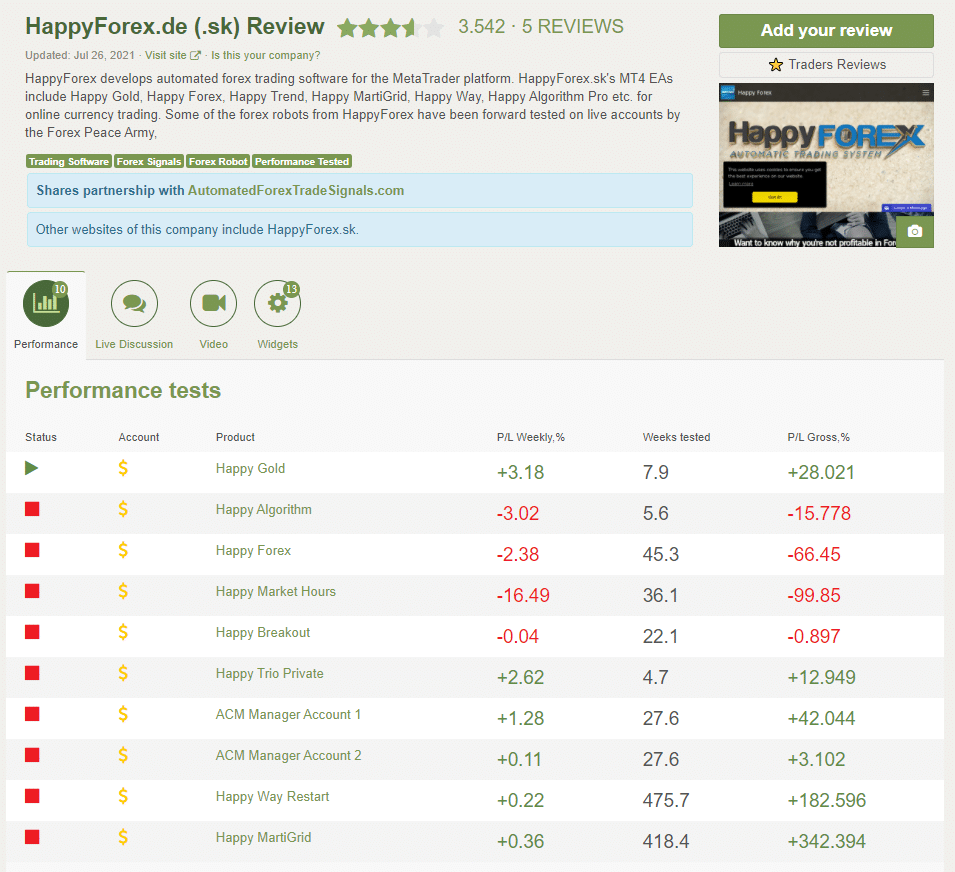 The company runs a page for all its products on Forex Peace Army with a 3.5 rate based on only five reviews. We may note these free robots stopped running on real accounts.
Other notes
We don't know how the system worked before and after updates on real people's accounts. Can we be profitable? We don't know for sure.