Gunbot claims to be the largest crypto trading community with over 7000 active users. It promises to earn you passive income while ensuring you receive the highest quality of support. The bot is capable of implementing a number of precoded strategies on autopilot, but you are also at liberty to modify the styles to your liking.
How does Gunbot function?
Gunbot gives you the chance to automate your trading in the crypto market. It plans to transfer your trading activities on autopilot to save your time.
Gunbot review–positive aspects
User-friendly
Positive reviews from clients
Customizable
Works with over 100 exchanges
Gunbot review–negative aspects
Profitability rate is unknown
You have to pay extra for one-on-one support
Time in business
Gunbot was created by Gunthy Ltd in 2016 and is still being used today. It is compatible with Mac, Windows, ARM, and Linux.
Reputation
This bot's reputation in the market is rather good. Many traders have confirmed that the system works and is effective. What makes Gunbot stand out, though, is its Gunthy token offering, which is said to bring the bot's license system to a whole new level by allowing users to verify their license ownership through Blockchain. It further enables traders to swap their API keys on their own.
Supported exchanges
Gunbot has partnered with more than 100 exchanges, including Binance, Binance US, Coinbase Pro, Poloniex, Huobi, Bitmex, Kucoin, Kraken, RobinHood, Bittrex, Bitfinex, Cex.io, etc.
UI of the Gunbot
This system purports to offer a new graphical interface designed to simplify things. Through this interface, you can quickly check the value of your portfolio, the charts of all pairs, the balance for every coin, trading indicators, and your recent trades.
Key features of Gunbot
Below are some of the features the bot offers:
Over 14 pre-coded strategies
Easy installation process
Support of all popular exchanges
Powerful TradingView Addons
Free updates are available for a lifetime
A crypto sight profit tracker is included
A referral program through its affiliate network
How to get started on Gunbot
The initial step to using Gunbot is to buy it from Gunbot.shop to ensure that you get access to good support. Next, set it up on your VPS or computer and link it to your exchange account. Then, you will be expected to develop a trading strategy. You can opt to select from predetermined strategies or come up with your own. Subsequently, select the coins you want the bot to trade with and assign the strategy each pair should apply. Lastly, run the bot for it to implement buy/sell operations.
How secure is Gunbot?
The bot is ordinarily safe because your API keys are stored in your device and not on its servers. This gives you charge of its security. So, the app will remain safe as long as you keep your computer safe.
Customer support
Gunbot offers customer support to all of its users. It is available in different forms ranging from email, Whatsapp, Telegram, live chat, tutorials, to Skype. We are also impressed by the fact that personalized one-on-one support plus remote support through Teamviewer is included. What's more, you can always visit the FAQs page and learn a lot about the product.
Are traders happy with Gunbot?
They surely are. Hundreds of the bot's clients have flocked Trustpilot to heap it with praise. As of now, the average score the service has been given is 4.1/5. This is proof that people love it and are satisfied with it.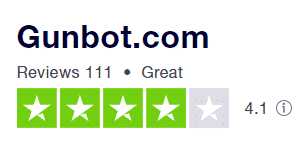 Pricing and fees
Traders who want to try this bot out have three main subscription plans to select from. The Standard pack, which is priced at 0.0075BTC, provides a few basic features. These include support for a single exchange and Gunbot with no add-ons. The Pro plan takes you a step further by increasing the number of exchanges you can use to 3 and providing the Gunbot backtesting add-on. This option will cost you 0.0105BTC. Then we have the Ultimate plan, which allows you to trade on 5 exchanges simultaneously. It also features a TradingView and backtesting add-ons for Gunbot. The price of this pack is 0.0175BTC.
Is a free trial available?
Gunbot doesn't offer a free trial to its potential customers. So, it is advisable you work with the cheapest option first to get a feel of how it works before committing more money to it.
Languages supported
We don't know what languages this bot supports as we could not find any information relating to this subject on the official website.
What kind of traders is Gunbot best suited for?
Gunbot is appropriate for traders who don't have time to conduct trades manually. By following an easy install process, the bot can be up and running in a few minutes and conduct trades automatically for you 24/7. Moreover, you are permitted to always alter the system's settings and tweak based on new insight or any changes in the market.
Company information
As mentioned earlier, this system is the creation of Gunthy Ltd. This is an Algo-trading software provider based in Spain. Unfortunately, there's no information about the development team, including their qualifications and time in this market.
Gunbot verdict: should you give it a try?
Gunbot comes loaded with many strategies, which you can leverage to earn passive income. The bot is also customizable, allowing you to create the trading plan you feel will work best under the current market conditions. The main disadvantage of this system originates from the uncertainties that plague the crypto market. That being the case, you can't predict its profitability rate.