Some forex traders prefer following signals from other professional and profitable traders especially if they do not trust their own strategies or have limited time to analyze the charts for trading setups.
In this post, we look into Gold VIP Signal service to confirm whether it's worth trying or not.
Gold VIP Signal is a forex signal provider offered through the De-GreatForexSignal website. Its developers declare that they provide "the best signals and services you have ever had".
They affirm that their team has the most professional traders who work 24/7 days to give you the best. They analyze the market and make their daily strategy according to this to provide you with the best results to generate maximum income.
The signal providers state that to achieve success in the competitive Forex market, you have to follow their rules and make proper money management.
Gold VIP Signal: To Trust or Not to Trust?
This signal provider cannot be trusted. Their website does not show much information about their services and how much they charge for them. They only say that the forex signals they offer are given out to traders through WhatsApp. We know that many signal providers use Telegram to deliver their signals to their subscribers and many traders find it easy to follow.
Features
Let's now look at the trading strategy, timeframe, settings, pairs and other requirements to see how it all works:
Gold VIP Signal uses Trend Trading strategy and has been developed to work on H4.
The team behind Gold VIP Signal analyses the market 24/7 and assures the best result for traders.
They use a combination of several trend-following indicators in combination with oscillators and support and resistance levels to find the entry point, and to identify potential target areas (take profit levels).
With a balance of $1000, the signals can make up to $300 monthly.
Traders have to pay 40% from the funds they withdraw.
To get started traders have to open an account by clicking on any of their recommended brokers on the dev's website and register.
They also assert that their signals have a winning percentage of 90%.

Its main features are:
Customers' accounts are managed by professional traders.
They are the only ones with access to accounts.
No prior trading experience needed.
Clients can withdraw profits anytime.
Funds are held at reputable and regulated banks and brokerages.
Minimum deposit should be $1000.
All trades are instant or pending execution.
Signals with Entry point, TP and SL don't include swap or spread.
They provide only Long positions signals.
Take profit can reach from 100 to 300 pips.
Traders need to use 15-20% of all their free funds for all open positions "and no more than 5% for each deal".
Traders have total control of their funds at all times.
Maximizing profit depends on the trader's experience with the Forex market.
Implementation of the order depends on the trader.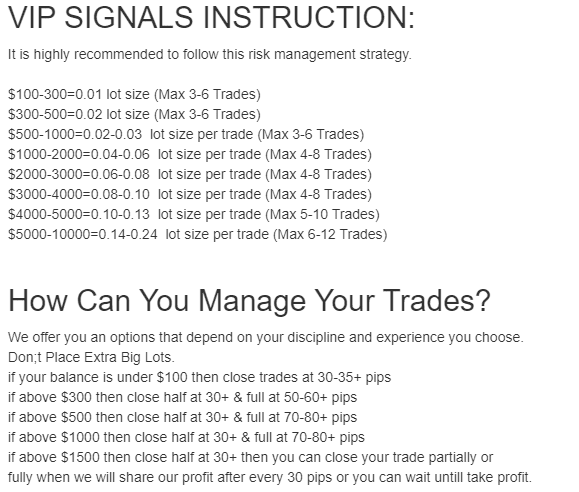 Price and Refund
We could not find information about the pricing or subscription of the Gold VIP Signal on the website. That means for you to subscribe for the signals, you have to directly follow them through their WhatsApp link which is provided on their website. There is no information on money back guarantee therefore if you still wish to pay for this signal service, do it at your own risk.
Trading Results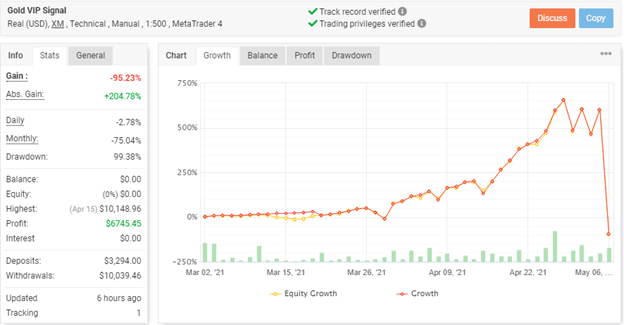 This account's initial deposit was $3,294. It had a profit gain of $6745 in 437 trades before the funds were withdrawn to give it a drawdown of 99.38%. Its current balance is $0. The total lot used was 60.40. The average winning percentage in this account was 79%.

The signal trades all instruments including currency pairs, indices, cryptocurrency and metals.
Some signals were executed without stop loss.
Its most traded currencies were XAUUSD (Gold) and the average trade length was 20 hours and 24 minutes.
Backtest Analysis
The signal provider does not give any backtesting reports on the website. Therefore it's a red flag for this trading system.
But we have analyzed the trading results presented on myfxbook to see the overall performance of the Gold VIP Signal.
Customer Reviews
From the screenshot below, we can see that there are no reviews published on the Forex Peace Army platform therefore no star rating.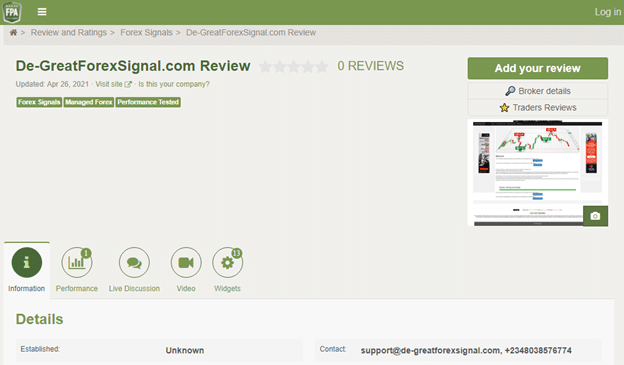 We could see the same case on the TrustPilot platform.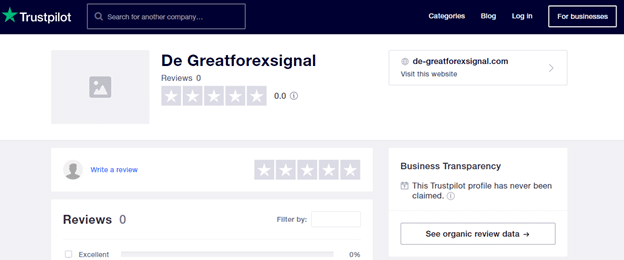 Vendor Transparency
There are 15 team members behind Gold VIP Signal who are based in Singapore, South Korea, Nigeria, Bangladesh, India and Switzerland.
They can be contacted through their "Contact Us" page on their website via phone call, whatsapp or email.