GOLD EAgle is a Forex expert advisor that was launched on 26th September 2020. It claims to close a series of orders consistently in profit by using a mathematical strategy. Since many EA vendors make false claims about their systems, we need to independently analyze this robot and its various performance factors in this GOLD EAgle review.
GOLD EAgle: to trust or not to trust?
GOLD EAgle is sold on the MQL5 website where the vendor has explained how the robot works and provided links to live signals. We also have a link to the user manual, along with some vendor recommendations. There are multiple screenshots showing the trade setups and a video showing the functionalities in detail. However, there are no backtesting and live trading results for this robot, which makes it difficult for us to gauge its profitability. Because of this factor, we don't think this is a trustworthy EA.
Features
This is a robot that only trades in gold using a grid strategy and signals from the TrendLine Pro indicator created by the same developer. Experienced Forex traders generally do not recommend using grid strategies since they can be extremely risky, especially when the market turns volatile. When there is a sudden price change, it can adversely affect your trading outcomes. You can purchase this EA for $249, which is not exactly cheap. There is a 1-month rental option that costs $49. The vendor offers a free demo version but there is no money-back guarantee.
GOLD EAgle has a mobile trading panel that you can use for initiating trades manually and managing the auto-trading functions. The vendor mentions the EA having a Drawdown Reduce Function, but does not provide any explanation for it. When you purchase the robot, you get a user manual containing the recommended set file. In the EA settings, you can use the candle filter and HTF parameters to switch between conservative and aggressive trading styles.
This robot also has a news filter and to activate this you need to add a link in the EA settings. By doing this, you can avoid trading on days where major news announcements are scheduled. The vendor recommends using the Visual Mode in Metatrader to historically test the EA before you start trading with it. It is also recommended that you only use a Hedge account for GOLD EAgle. After completing your purchase, you can email the vendor to get an invitation to the user support chat.
Unverified trading results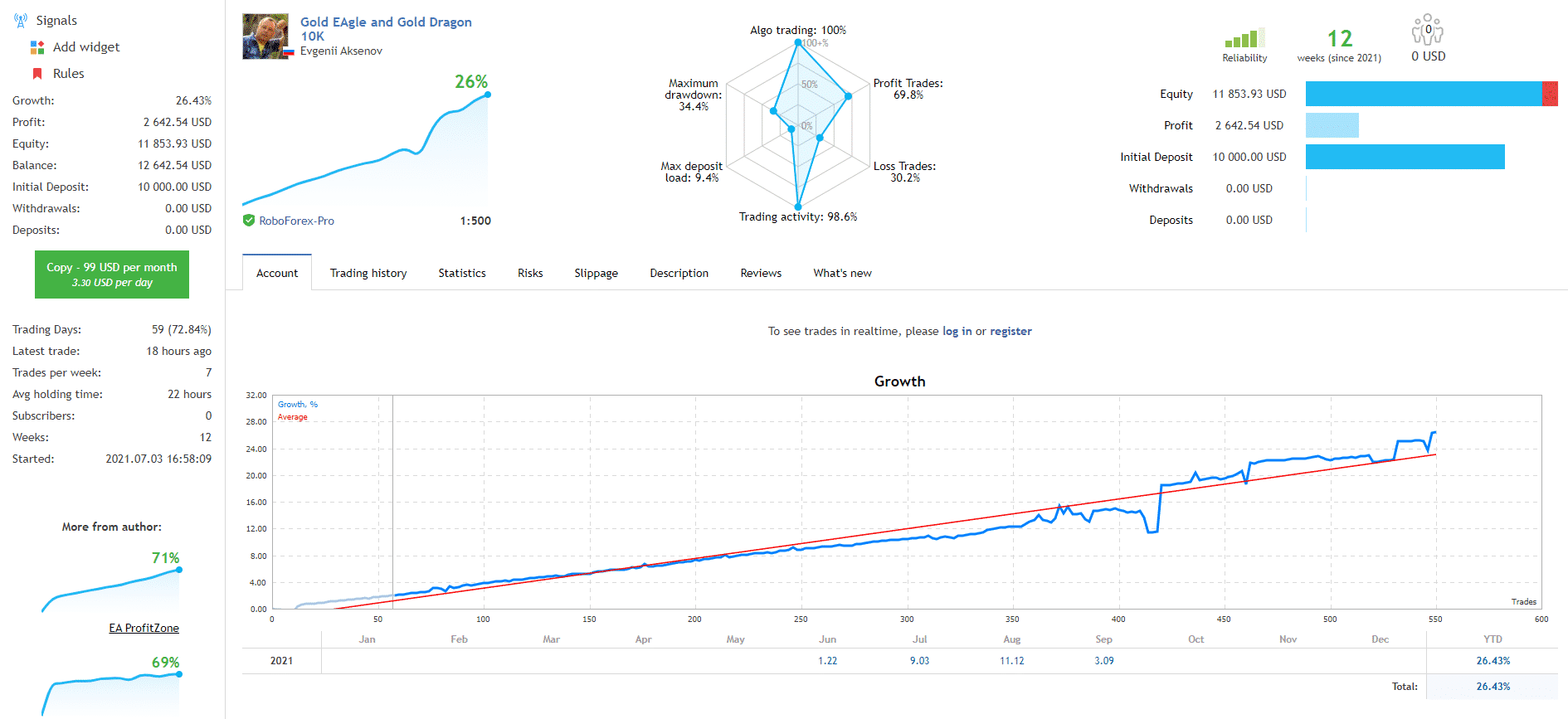 On the MQL5 website, we have a live trading account for GOLD EAgle that has been active for only 59 days. Apart from the short trading history, the fact that this account is not verified by a third-party website means we cannot consider it authentic. Reliable EA vendors always upload their results on websites like Myfxbook, FXBlue, and FXStat and this is considered a mark of authenticity since they have no opportunity to modify the results.
To date, GOLD EAgle has placed 550 trades through this account, winning 69.81% of them and generating a total profit of $2642.54. The maximum drawdown is quite high at 34.4%, which tells us that the EA follows a high-risk trading strategy that can lead to heavy losses. This account has a profit factor of 1.67.
Unfortunately, there are no backtesting results for GOLD EAgle. It seems the vendor does not wish to reveal the historical performance of this system, which is not a sign of reliability. Backtests are important because they are conducted over a long time period, thus pitting the system against different market conditions. Most traders would shy away from this system due to the lack of verified trading statistics and backtests.
Vendor transparency
The developer behind GOLD EAgle is Evgenii Aksenov, who is based in Russia. His MQL5 profile tells us that he has 3 years of experience in the Forex market and has created 34 products related to Forex trading. Apart from this, we know nothing of his background or the people he works with. Other EAs developed by this person include Joker EA, Galaxy EA, Genesis EA, FIBO Trend EA, TrendLine GRID, and Gold Dragon.
Customer reviews

At this moment, there are no user reviews for this robot on third-party review websites. On MQL5, there are several reviews where customers talk about their accounts blowing up. One of them has also claimed that this is a scam service.