Ganon Forex Robot is trading software that belongs to the Forex Robot Trader company. The presentation includes information about features and strategies in general but it lacks trading results and backtest reports. The devs have a low reputation based on written testimonials on Forex Peace Army. Let's analyze and check everything out.
Ganon Forex Robot: to trust or not to trust?
We would like not to trust. There are reasons that the system doesn't have actual trading results, but it has many negative testimonials.
Features
Let's talk about what we've got on the plate. The presentation informs us about features and settings that can be useful.
The system covers us with execution orders completely automatically on our terminal.
There's an exclusive Strand Theory.
It trades based on the trend and counter trend strategies.
The system was developed by the owners for six years in a row.
There are two modes applied that vary by the number of open trades.
We can work with all cross pairs.
The installation process takes several minutes.
We may start trading and being profitable without previous trading experience.
The developers provide us with text reports.
There's no guesswork behind trading.
It has an ATR trailing stop that secures profits from market moves.
The robot works 24/5 on the markets.
There are the following features: stop losses, take profits, trailing stops, and money management to protect our account from being blown.
We can work on Standard, Micro, and Mini accounts.
It has a well-designed UI.
It uses a hyper mode for more tardes or a normal mode for bigger trades.
The robot is perfect for any account size.
Price
We can purchase a copy of the system for $79. It includes 60% OFF. We have never seen an original price of $199 running. The developers decided not to support our purchase with a refund policy.
Verified trading results
The presentation doesn't include backtest reports. So, there's no final report that would explain us how the system worked with the past data. Usually, the report also shows what broker is the best for this solution. We have no details about win rates, profitability, drawdowns, profit factor, and so on.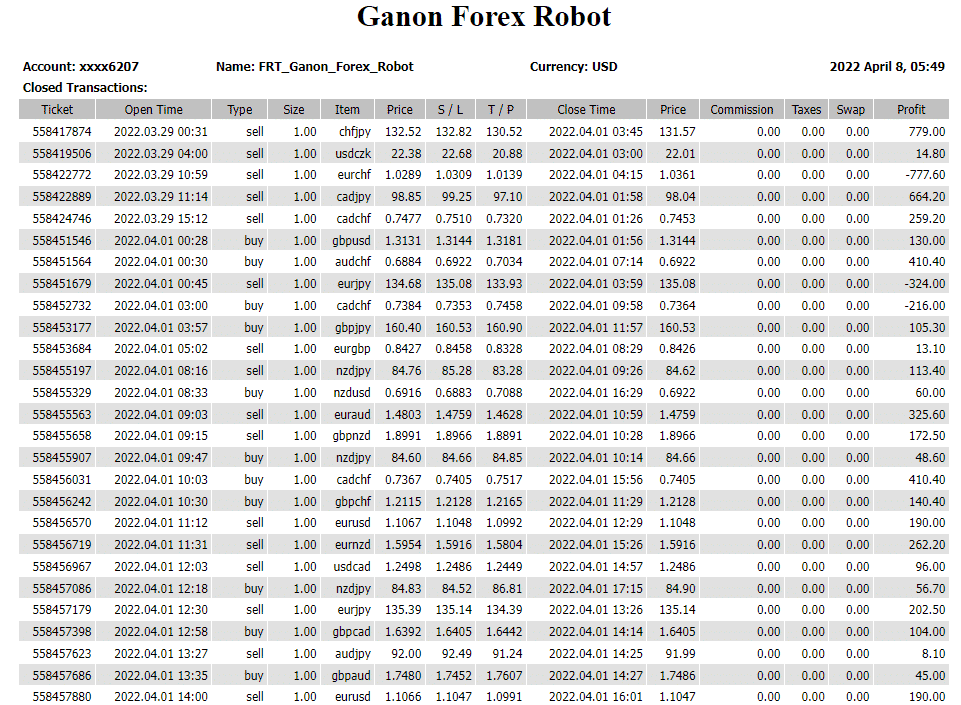 The developers provide us with monthly reports that cannot be verified. They know that we want to check the trading activities verified by Myfxbook or FXBlue. The core reason is that we can trust third-party verified data.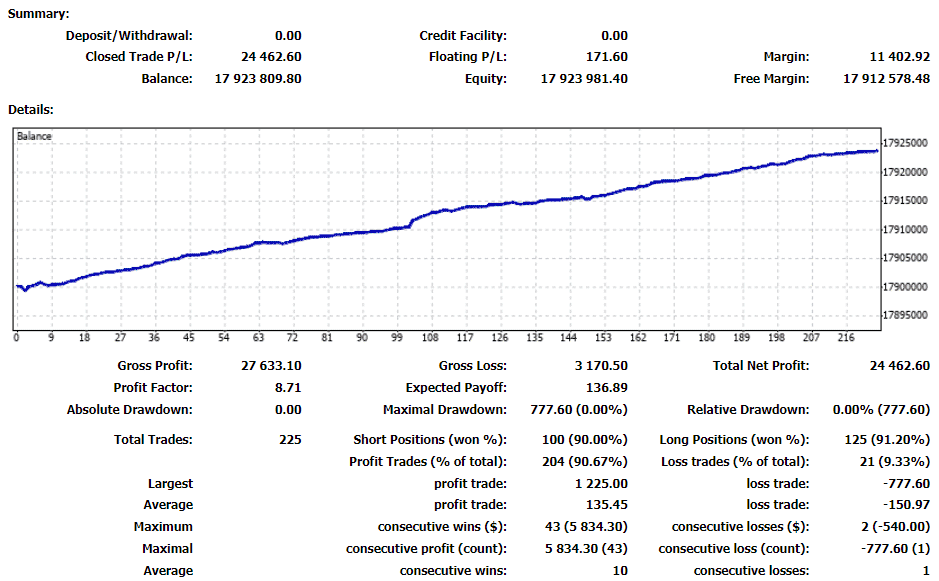 Ganon Forex Robot has been working on a $17,912,578 account. According to the account number, it can't be a real one. It has managed to provide it with a gross profit of $27,633. The profit factor is 8.71. It has executed 225 orders on the account in March 2022. The win rate for shorts is 90.00% and 91.20% for longs.
Vendor transparency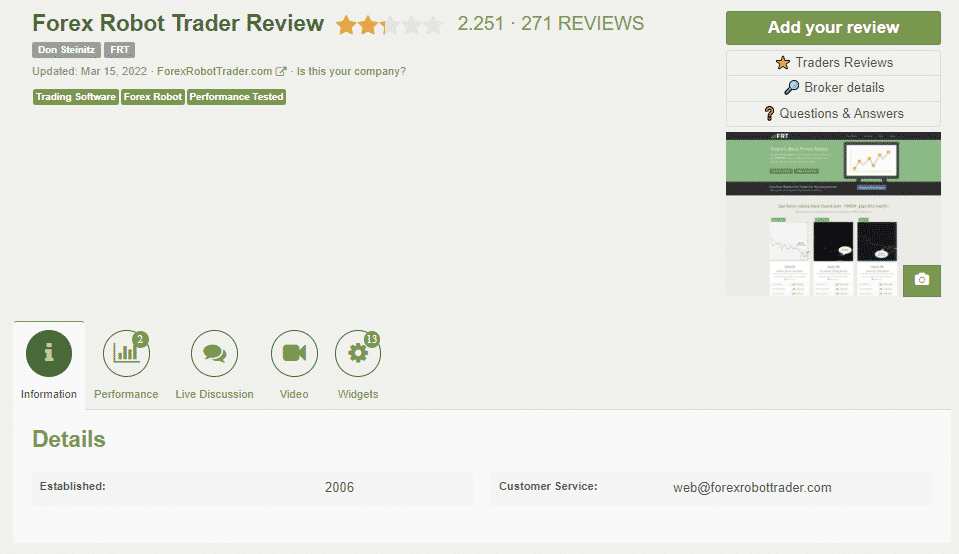 The developers created an account on Forex Peace Army to let people write reviews about their trading solutions. So, we have 271 reviews with a 2.261 rate in total.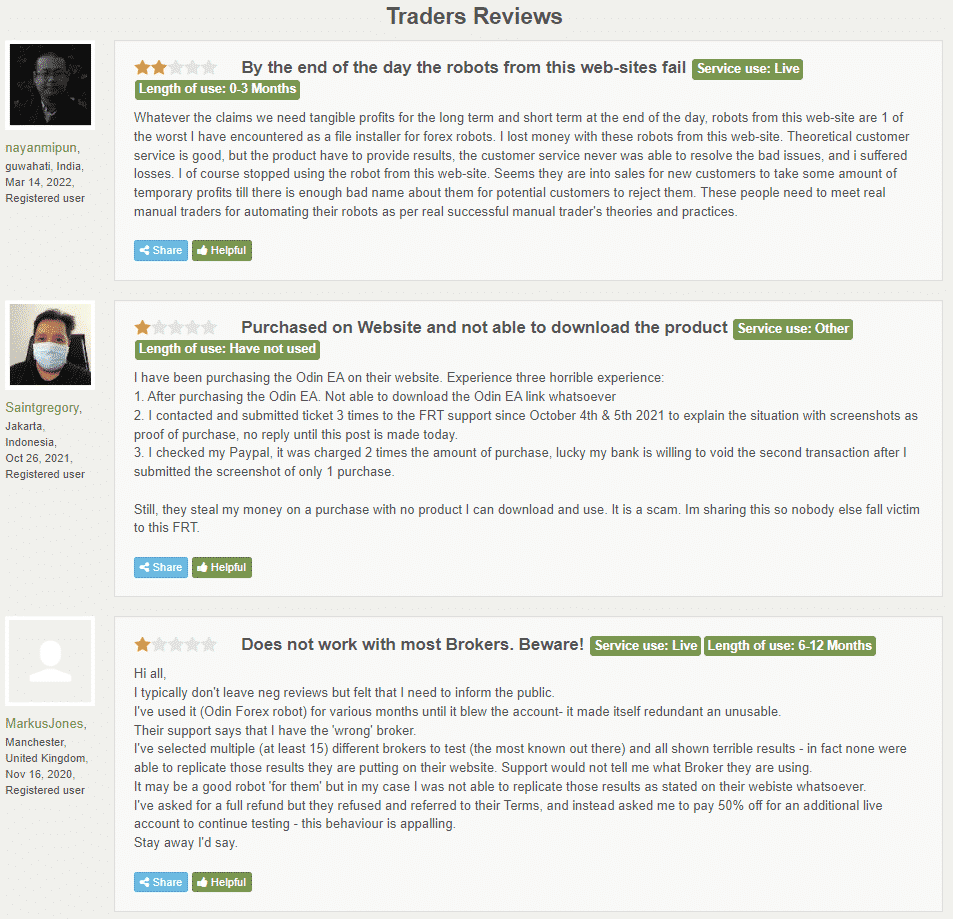 We may note that there were many former clients that weren't satisfied with the service quality and the robot profitability.