Galileo FX is a trading software that analyzes market information in real-time and places trades automatically based on the settings of the trader. It claims to have up to 95, 82% accuracy in all market conditions. Can we trust the developer?
Galileo FX: To Trust or Not to Trust?
To use this software, you are required to attach it to a chart on MT4 or MT5, adjust the settings until you are consistently profitable. However, for best results, the developers advise that you let the EA run without interruption for a minimum of 5 hours a day.
Although the robot promises a high win rate, we don't trust its performance capability. Trading the Forex market is not a walk in the path and any system that claims to generate almost 100 percent consecutive wins is unreal.

Its comparison table above is only meant to make it look good over other EAs or manual trading.
Features
Galileo FX is a fully automated software that trades any currency pair on any timeframe using MT4 and MT5 platforms.
The software has no minimum capital and it works on any broker.
The EA's strategy is based on high-probability consecutive signals. It analyzes market information in real-time and places trades on autopilot. Galileo FX helps traders by removing human error from their trading and by analyzing market data 24/7 to find and execute trades.
The robot can be set to be more conservative (lower risk) or more aggressive (high risk/reward) and let it run 24/ on autopilot.
The robot is available for purchase in three versions at different prices namely Personal ($199), Plus ($399), and Pro ($699). Each package includes 130+ settings, free updates, 24/7 support, and 1 live account and unlimited demo. The Personal package offers $1,000 of monthly income, the Plus package guarantees $5000 of monthly profit, and the Pro version is advertised as the one providing unlimited profits. Frankly, all this stuff looks odd and unprofessional to guarantee these monthly results, at least because there are plenty of factors that influence the FX market and hence the income we get when trading.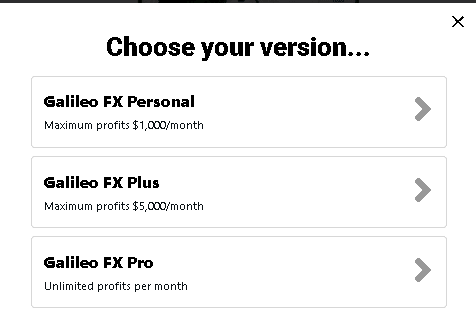 The customers can get in touch with the support through their Facebook Group, email, or live chat on their website.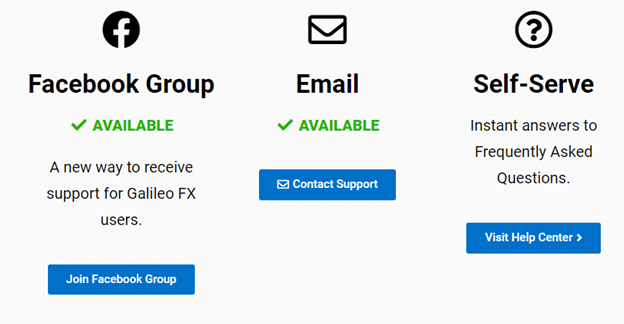 Other features of the robot are:
Fully automated trading software
Automatically find and execute trades
Loss protection with stop loss settings
24/7 support
Over 130 settings
It is capable of trading multiple currency pairs at once
Comes with installation guide including videos
Free lifetime updates
Backtesting Results
The screenshot below shows backtest results on the EURUSD pair. The EA made a profit of $4398.40 from a deposit of $10,000 in 9 trades. The win percentage was 77.78% while the drawdown was 4.65%.
The developers state that they used very consecutive settings that require 24/7 trading.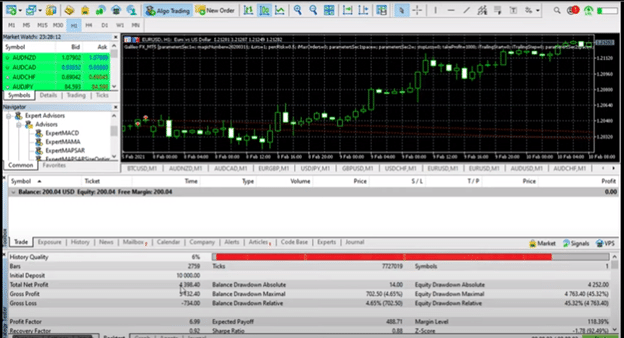 The trading was done on a demo account.
Unverified Trading Results
The developer does not provide live trading results on either myfxbook, fxstats, or fxblue. It's a red flag for the Galileo FX robot.
Vendor Transparency
The information about the identity of Galileo FX robot developers is not revealed. There is not much information given about the identity of the vendor. We are only provided with a location address which is Galileo FX, Suite 1892, 64 Mount Street Lower, Dublin, D02 TH77, Ireland.
We are also informed that the EA is in full compliance with all major U.S and Global regulations, and is 100% accredited as a trustworthy provider of trading software for investors and traders. Well, we cannot verify this unless we see registration and regulations documents.
Customer Reviews
Based on the customer reviews on the Trustpilot platform, the positive reviews outweigh the negative ones and this may be a result of the EA offering some sort of payment for good reviews.


We also found some reviews from the developer's website as attached below. However, we don't consider them as we cannot verify their authenticity.