FXZIPPER is a Forex EA that uses a scalping strategy to earn 6-12 pips with every trade. The vendor claims that unlike other scalping systems, this is compatible with all brokers and works on demo as well as live trading accounts. Of course, we cannot consider this a trustworthy Forex robot unless we thoroughly assess each and every aspect of it.
FXZIPPER: To Trust or Not to Trust?
The presentation on the official website is pretty brief but to the point. We have been provided with a brief overview of how the system works, the pricing details, and the features that come with the robot. Live trading results and backtesting data have been furnished by the vendor, and there is a contact form using which you can get in touch with the service team.
Our first impression of this Forex EA is quite positive since they have supplied ample proof of its profitability. We can tell that it is not a scam system and is possibly capable of earning your profits in the live market.
Features
When you purchase the FXZIPPER Forex EA, you get access to a lifetime license for a single account. You can use both the MT5 and MT4 versions of the software and set it up as per the instructions outlined in the user manual. The vendor provides free updates whenever applicable and you can also access 27/7 customer support.
Using the scalping scheme, FXZIPPER gains a small number of pips from every trade, thus keeping the orders active for an optimum amount of time. The average time a trade, which is placed through this Forex EA, remains in the market is between 15 minutes to 3 hours.
Sometimes, due to price fluctuations in the market, a signal might lose its profitability and in that case, the trade is postponed by the system. This ability to avoid trades with low profitability allows the Forex EA to close most trades in profit. Using this robot, you can trade in different pairs like EUR/CAD, EUR/CHF, GBP/AUD, GBP/CAD, GBP/USD, USD/CAD, AUD/CAD, and AUD/USD.
Verified Trading Results
From the live trading results provided on the official website, we can determine that this is a profitable system. It has managed to generate a net gain of $594.49 from deposits of $500.52, which makes the absolute gain 118.76%. FXZIPPER has decent daily and monthly gains of 0.17% and 5.13%, respectively, while the drawdown of 13.33 is quite low compared to other automated systems.
The trading history of this account looks particularly promising, with 610 out of 742 trades having been closed in profits. It has won 81% of long trades and 82% of short trades, with the average win being 7.74 pips/$3.41. The profit factor stands at 1.40, which is quite competitive, and overall, it looks like a profitable and reliable robot.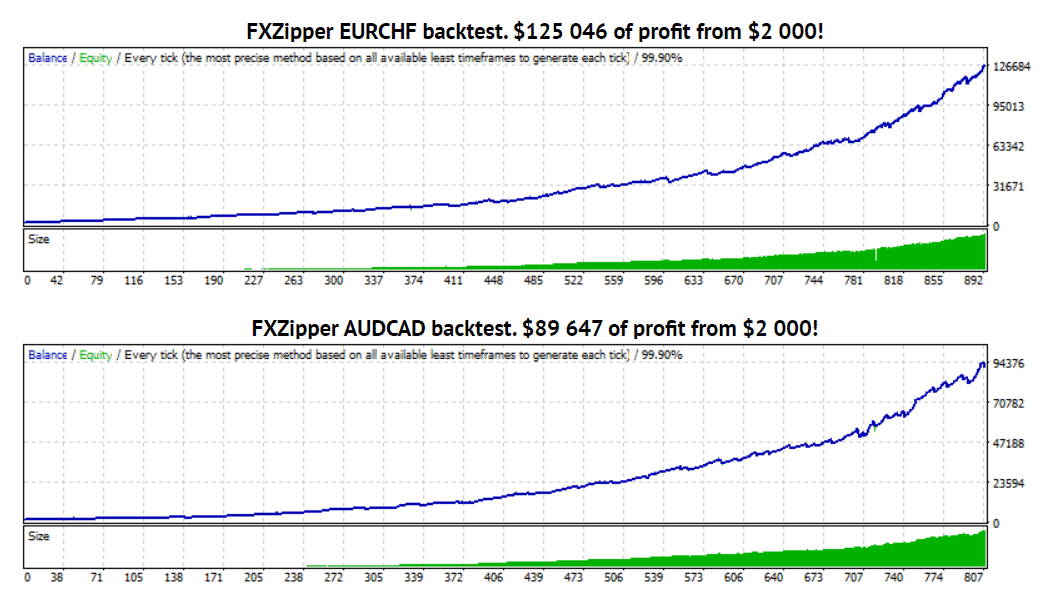 Backtesting results are provided for all the pairs, and here we can see the results for the AUD/CAD and EUR/CHF pairs. In the first scenario, a profit of $89,647 was made from $2000, while in the second one, $125046 was generated using the same amount. After studying the backtesting data and live trading results, we say with confidence that FXZIPPER is a trustworthy system capable of earning regular gains.
Moneyback Guarantee
FXZIPPER is available for $345 and the vendor offers a 30-day money-back guarantee for this product. This is a positive sign because it displays the confidence the vendor has in their system, so you can safely invest in it without worrying about not getting a refund if things go south.
Vendor Transparency
One thing that disappoints us about this Forex EA is the lack of vendor transparency. There is little or no information on the official website about the creators of the robot or what their credentials are. We don't know whether they have developed similar systems in the past or whether they have the required knowledge and expertise to develop profitable systems.
Lack of Customer Reviews
There was no FXZIPPER review on third-party websites. This comes as a bit of a surprise since there is every sign to indicate that this is a legit and profitable Forex EA. It could be that FXZIPPER has yet to build a reputation for itself.