FXTrends is a new signals service provider promising 90% winning trades and 1000 pips per month. It claims that it is the best signals service provider 'since 2010 till today'. Through their strategies, they claim to beat the competition in the market, yet the main question is how they plan to do this.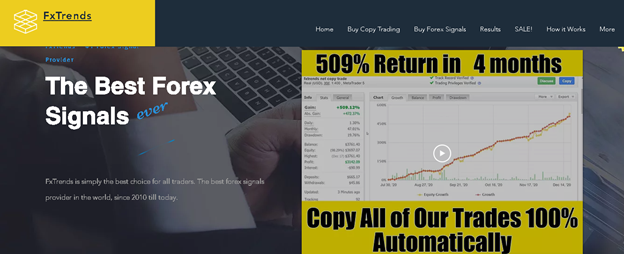 In this FXTrends review, we will discuss this signals service provider and let you know whether it is a viable service or not.
FXTrends: To Trust or Not to Trust?
Although there are many advantages of this system, there are a lot of drawbacks as well. We advise the dev to provide a detailed trading strategy description to tell traders more about the system and how it works. We'd like to know who stands for FXTrends to trust them and be certain they are not scammers.
Features
Their FXTrends presentation includes a brief product description, live trading result verified by myfxbook, pricing details, and FAQ page.
The dev claim that:
They are the best signals providers since 2010
Their service has super high verified performance and was 'created with to mathematical precision'
Their signals service provides 1000 pips monthly
FXTrends provides 4-7 trades per day
Signals are delivered during New York and London Sessions
Traders can choose their lot size
Signals service ensures a 90% winning rate
FXTrends is easy to use
In addition to this, they point out six main reasons why traders need to buy their signals service provider:
Affordable prices that suit any budget
Reliable service that ensures every trade sent to traders is a profitable one
They believe that their 'impeccable performance is second to none in the industry'
They claim they provide 100% genuine clients testimonials
They promise relaxed trading without the need to try out various configurations and indicators
24/7 customer support (they provide support in English and Spanish)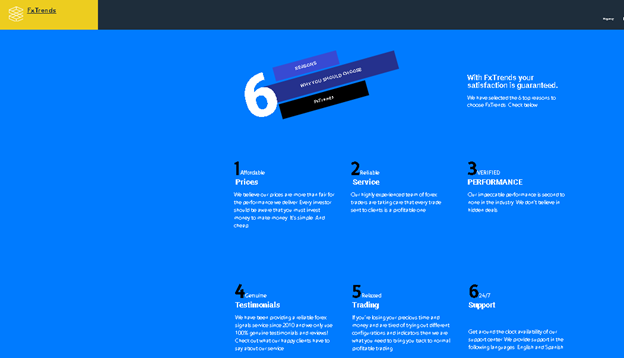 They provide a step-by-step installation guide on their website. To set up their signals receiver we have to download it, register the receiver part, choose a trading terminal, and start receiving signals.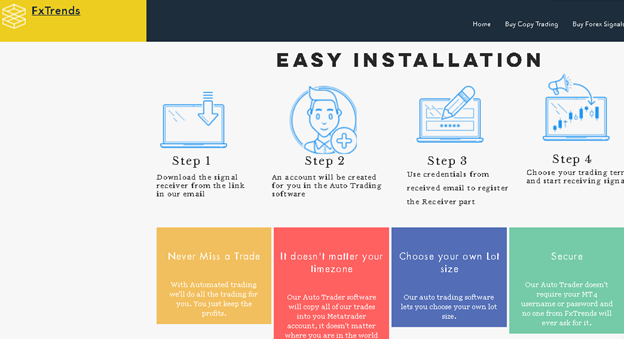 Trading Strategy
The devs say that they provide details of Entry price and Take Profit via their Telegram channel. VIP members are provided with money management advice (recommendations on what lot size to use). They inform traders when to close trades or lock profits. Unfortunately, we have not found any details concerning their trading strategy approach. We'd like to see more transparency from the vendor.
Their Forex signals are available to buy for $19, 99.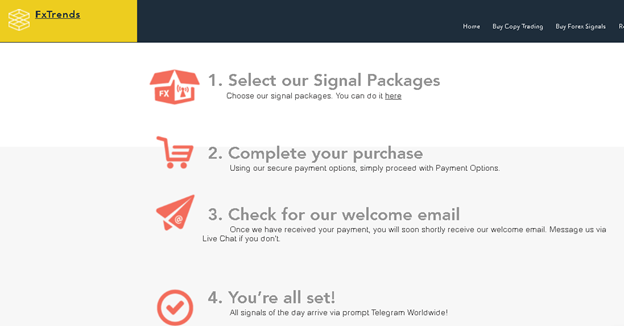 Trading Results
There is a live trading account on the FXTrends website.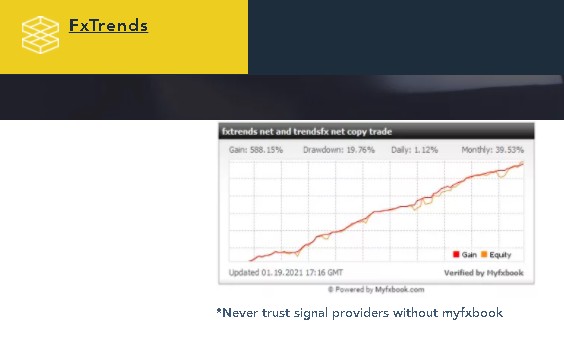 This is an active Real USD trading account that works with an XM broker on the MT5 platform. It trades with a 1:400 leverage.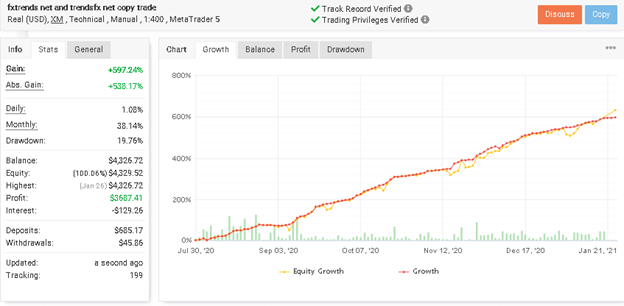 The account was added on Jul 30, 2020, and deposited at $600 (total deposit equals $685.17). For 7 months of trading, the robot has obtained a 597% gain, with a monthly gain of 38, 14%, and a peak drawdown of 19, 76%. The robot has brought $3687 of profit.
It traded 711 trades and 21520 pips (on average 3074 pips per month). Average win (71, 09) in pips is lower than average loss (-102, 91). Its win rate for long positions is 74%, e for shorts it is 76%. It has won 538 out of 711 trades, which represents 76%, not 90% as was promised by the vendor. The profit factor is high and equals 2, 92.

It trades with minimal trading risks:

It trades multiple currency pairs, but the most profitable one is EURJPY – $ 830.79.

Unfortunately, 2021 trading results are not as impressive as the ones of the previous year: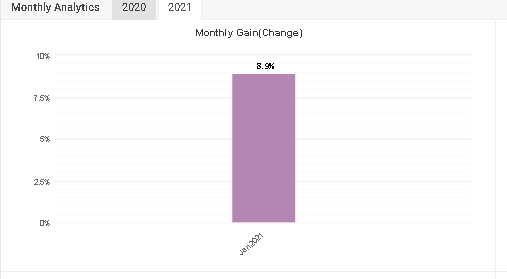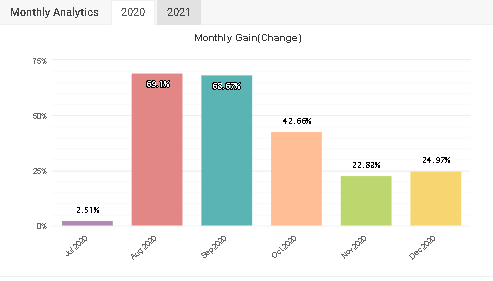 No Details about the Vendor or Team
We do not know who the developers are or where their main office is located. To get some sort of information, we've started a live chat on their website and asked them who the developer of FXTrends product is. However, we did not get an answer.
Customer Reviews
The service has a 4 out of 5-star rating based on 40 reviews on Trustpilot.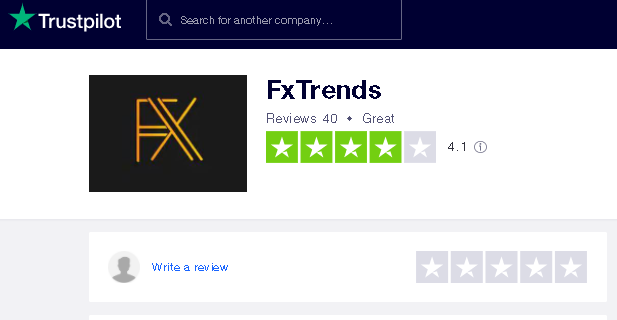 Most of them are positive ones. However, we do not like that many reviews were published the same day:
Most of these customers are new users on the web. It seems that these reviews are manipulated and were purposely written to attract new customers.