FxHT DailyTrend EA: to trust or not to trust?
We will explore FxHT EA's features, its pricing as well as its performance. Our goal is to establish whether it is legitimate or an outright scam. This shall be based on such factors as vendor transparency, the bot's performance, legitimacy of the results, and unbiased user reviews.
Features
FXHT DailyTrend EA is a fully automated bot that is capable of autonomously trading the markets 24 hours a day, five days a week. It can work with any broker or account type, which makes it suitable for any forex trader. There are no minimum deposit requirements, but it does require a minimum lot size of 0.01 lots. For leverage, the minimum allowable is 1:30. Once these are satisfied, the bot can proceed to trade any highly volatile pair.
Notably, this EA does not apply such dangerous techniques as martingale, hedging, and grid trading. As its nomenclature suggests, it utilizes day trading techniques. Though its recommended timeframe is not specified, we can take this to mean it works on shorter timeframes of less than a day. It also has allowances for the user to tweak its settings to their personal preferences. For any questions or feedback, you can reach support through email.
Trading results
Unfortunately, we could not find any back-test results of the EA on its official website.

There was no such results on other authoritative third-party websites like TrustPilot and Myfxbook either. This raises red flags as, without this data, there is no way of gauging the bot's profitability.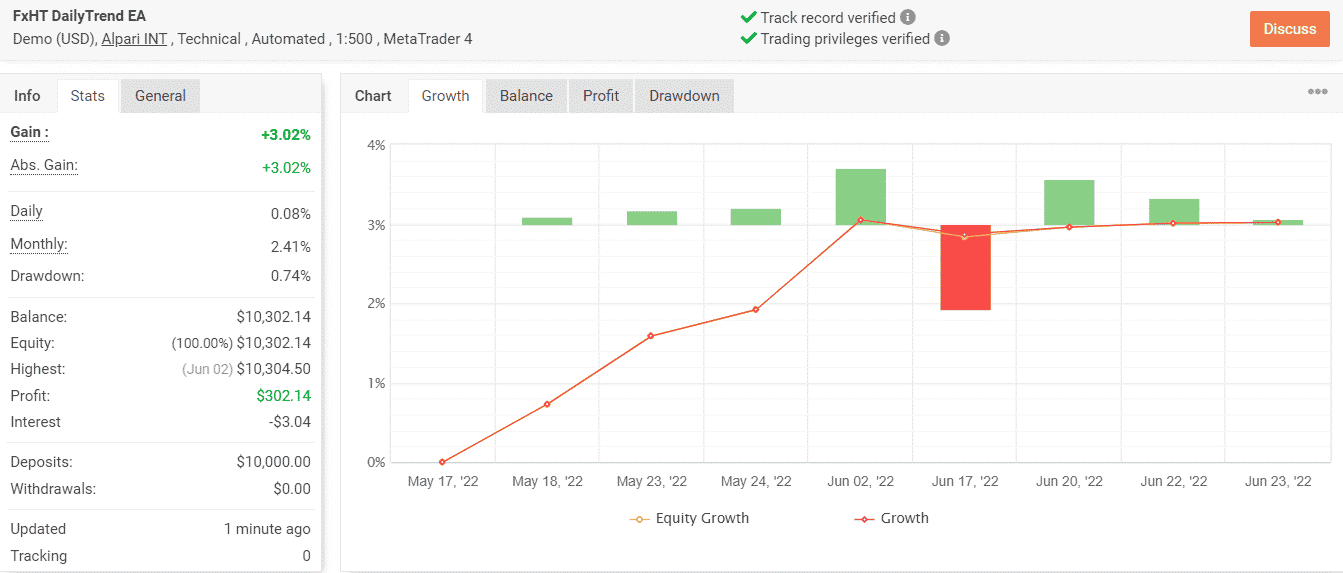 On Myfxbook, however, there is a live test of the bot done on a demo account, as shown above. This test ran from May 17th, 2022, to 23rd June, 2022. It began with an initial deposit of $10,000, and after about two weeks, this had grown to $10,302. This was a gain of 3.02%, translating to a daily gain of 0.08%. This was achieved by making 13 trades in total, 10 of which were long trades and one a short trade. The bot's profit factor over this period was 3.28.

These results showed impressive profitability, coupled with a low drawdown. However, due to the brevity of the test period, we cannot conclusively use the results to gauge the profitability of the bot.
Low drawdown
From the live test on MyFxBook, the maximum drawdown was 0.74%, which is quite low in comparison to the gains obtained. The drawdown had a tendency to decrease.

Pricing
According to the FXHT website, the bot is priced at $190, plus shipping costs. There is no mention of a money-back guarantee, which raises doubts about the EA's reliability. However, for a lifetime license, this fee is affordable in comparison to industry standards.
User reviews
Try as we did, we could not find client feedback on the bot on trusted third-party websites. FXBlue, Forex Peace Army, and TrustPilot offered no mention of the brand customers. There are no user reviews on FXHT DailyTrend EA's website either. This leads us to think the bot is not as tried and tested as the developers would like us to believe.
Vendor transparency
The company behind FXHT are the creators of several other EAs, like the FxHT MultiCurrency EA and FxHT Rotterdam EA. The DailyTrend EA is known for its versatility. It can work with any broker or account type in the market.