FXGoodway is one of the automated trading robots that fit the needs and budget of mostly every trader. This EA helps to decide when to open or close positions on your account. In the upgraded version of FXGoodway, there are two sets of settings: Set1 (basically the old version of EA) and Set 2 (includes new settings, which are available in the Statistics section), so you can choose the one or use both of them for trading. This forex robot promises to "bring the maximum profit with minimal risks", but whether it is the truth or not, you should learn all the details and analyze it to make the right decision. FXGoodway review will analyze this trading robot and advice if it is a trustworthy, reliable, and safe trading robot to invest your time and money in.
Is FXGoodway a Good Choice?
To decide whether FXGoodway can be trusted or not, we have prepared an informative review based on reliable sources to analyze its trading statistics, performance, transparency factors, and the other important factors around FXGoodway.
As a result, we have given FXGoodway a very low mark.
This assessment and verdict are based on:
a)

Lack of transparency and information

b)

Negative changes in terms

of drawdown

c)

Can only be used on accounts with a minimum trading balance of $700

d)

No information concerning daily, weekly, and monthly trading performance

e)

Open trades are private

f)

FXGoodway shows not real vendor results

g)

Lack of customer reviews
a) Lack of Transparency and Information
You will find no information about the developer of this forex robot on its website. There are no details about how long FXGoodway was tested. There is no word to tell us if its developers have already created any other robots. Lack of transparency represented to its traders makes us suspicious about this forex robot, as we have not found the answer who the developers are.
However, the good thing is that the balance and profit charts are unlocked. It means that there is no intention to hide information about the performance of the forex robot. So, its traders can find enough useful information and get more valuable details about the software.
b) Negative Changes In Terms of Drawdown
We have also noticed changes in terms of drawdown with the FXGoodway Set_1 robot. Let us review the statistics from 12, 2018 till February 27, 2020. Its drawdowns have constantly been less than 5, 33%. However, we have noticed negative changes that started on February 28, 2020. It can bring serious risk to any trading account and increase the risk of ruin.
c) Used On Accounts with a Minimum Trading Balance of $700
To trade, a trader should maintain a minimum trading balance of 700 dollars. This obligation is high for most traders, especially beginners.
d) No Information Concerning Daily, Weekly, and Monthly Trading Performance
The strange thing is that there is no information concerning the profitability of FXGoodway. There is no information about its daily, weekly, or monthly trading results. You can only view trading results for a year.

e) Open Trades Are Private
The developer of FXGoodway software has chosen to keep the open trades private. It can be unnerving for a Grid strategy where every trade affects the account. This lack of information and transparency is a red flag for the FXGoodway robot.

f) FXGoodway Shows Not Real Vendor Results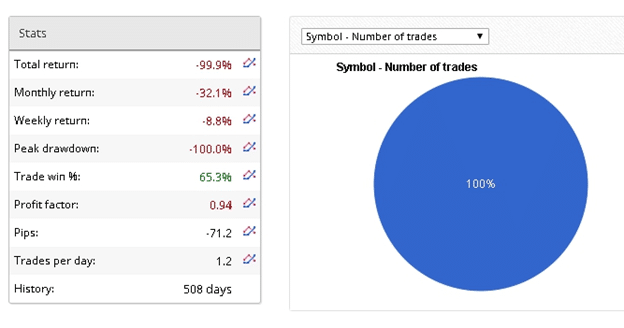 FXGoodway shows not real vendor results. However, FXblue.com is not a legitimate third party verification site, thus we cannot provide a 100% guarantee the results are true.
g) Lack of Customer Reviews
Strangely, but FXGoodway's developers have not provided any customer reviews on their official website. Taking into account that this EA has been in the market since 2017, the lack of customer reviews is weird. We have found a few customer reviews on forexpeacearmy.com, asking about the work of this EA. However, these reviews do not give a clear picture of how real customers have made the grade in the markets with this automated robot.

Conclusion: Is FXGoodway Worth Its Price?
This FXGoodway robot bot would be worth paying attention to if it were completely free. Because of its high cost, current data, and poor customer feedback, we are not in a position to recommend FXGoodway here and now. This is unreasonable to pay for an automatic adviser based on the Grid trading system. Taking into account several points of deficiency, which will interfere with successful operations on the traders' accounts, we cannot recommend FXGoodway as a reliable and trustful trading robot.
However, if the FX Automater team improves upon the software performance, trust with the community, and provides us with some reasonable proof that their automated software does work and its price tag of $365 is worth it, we will reconsider our judgment.