FXCIPHER is a Forex expert advisor that works on both Metatrader 4 and Metatrader 5 and is compatible with multiple currency pairs. There are 2 presets for this robot, and according to the vendor, both of them are extremely reliable. Of course, this is a claim that we need to verify independently in this FXCIPHER review.
FXCIPHER: to trust or not to trust?
The presentation on the brand website is too brief and there is not much information available on the system. There is a stark lack of vendor transparency, which brings the reliability of the EA into question. Moreover, it seems to be using a risky strategy that leads to high drawdown, so overall we don't think FXCIPHER is a safe investment to make.
Features
This is a fully automated Forex trading system that works with NFA regulated and FIFO compliant brokerages. It trades in five currency pairs, namely EUR/USD, USD/CAD, AUD/USD, EUR/JPY, and GBP/USD.
You can purchase FXCIPHER by paying a one-time fee of $295. This gives you access to a single software license, a user manual, 24/7 support, and free updates. The vendor offers a 30-day money-back guarantee in case your account has a drawdown exceeding 35%. Here, we should mention that we have no idea through what medium the company provides support to its users since there is no contact information on the official website.
While trading with this robot, you have the option of selecting one of the two preset modes. One of them has been optimized since 2010, and follows a conservative approach, while the other one has been optimized since 2017 and trades with a high profit target. The second preset mode also requires a lower starting balance. We think the vendor should have elaborated a bit on the preset modes since it is not possible to understand how they work from the information available.
FXCIPHER uses two in-built strategies for trading the Forex market. In certain cases, it will switch between strategies in an attempt to lower the risk. The vendor has provided no explanation for the strategies, so we are not too sure about the risk-management functionality. It is important for traders to understand how the trading strategy works because it allows them to gauge the profitability. Some of the more tech-savvy traders might use the strategy-related information to make adjustments to the EA settings and build their own trading schemes.
FXCIPHER uses stop losses with each trade. The drawdown limiting feature lets you set the maximum drawdown you want for your account. If it exceeds the value, the EA can force-close the trades.
Trading results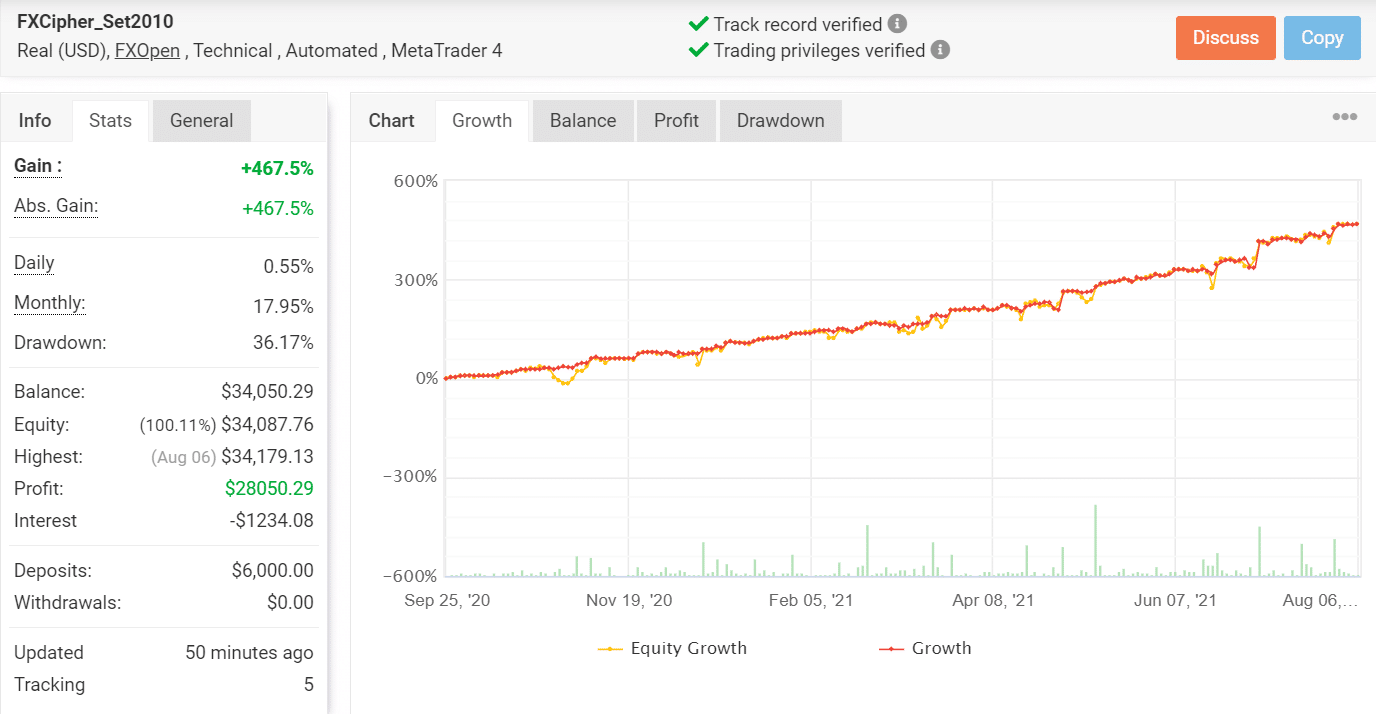 This is a live trading account on Myfxbook showing the results for the 2010 preset mode. The account has been active since September 25, 2020, and currently, the net profit generated through it stands at $28050.29. However, it has a very low win rate of 49%, having lost 345 out of 675 trades. This means the EA suffers losses quite frequently, and as a result, it has a high drawdown of 36.17%.
The account has a profit factor of 1.61 and a time-weighted return of 467.5%. It generates a gain of 0.55% every day and 17.95% every month.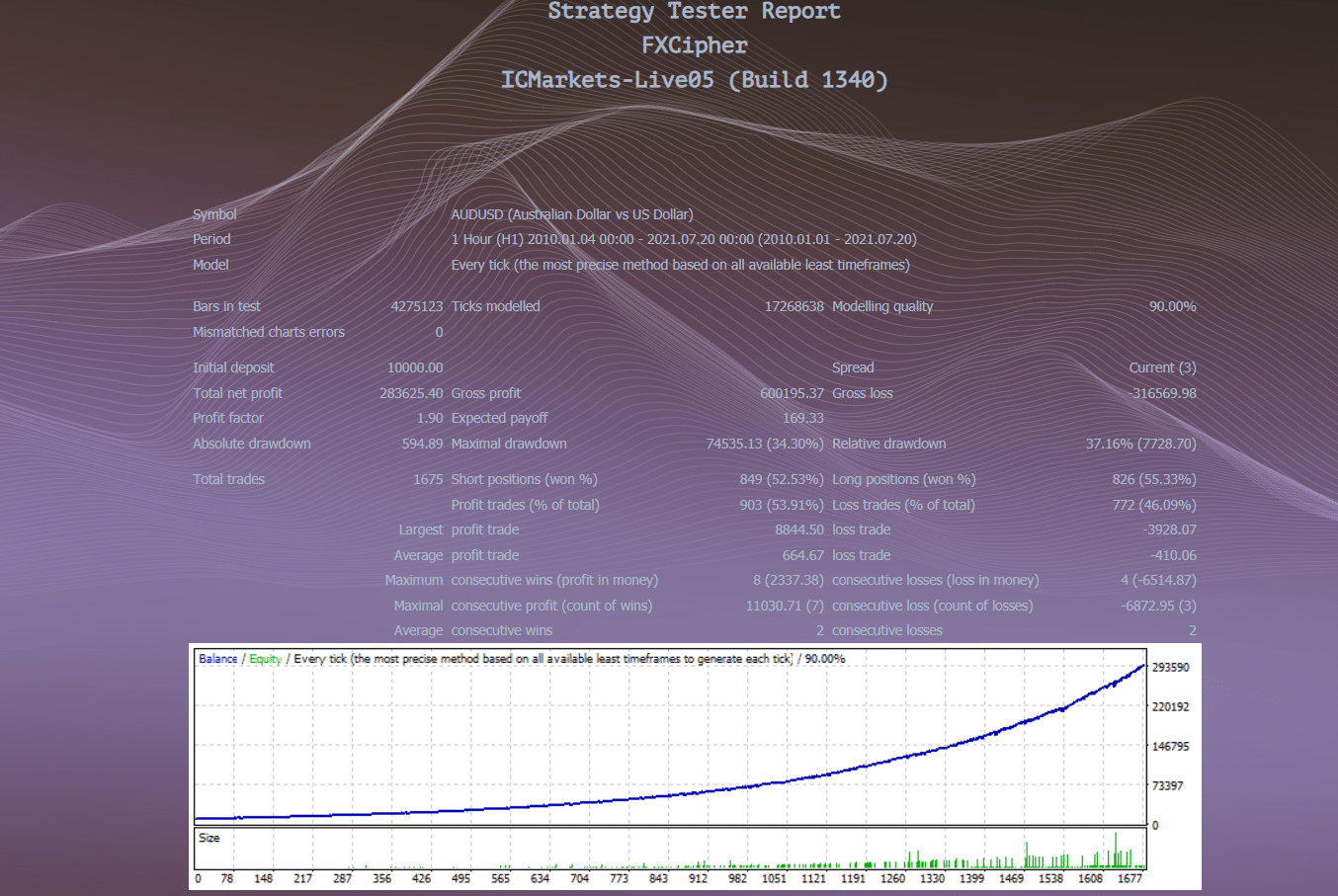 This backtest was conducted from 1st January 2010 to 20th July 2021 with 90% modeling quality. FXCIPHER started with a large deposit of $10,000, and after winning 53.91% of the trades, it managed to generate a net profit of $283625.40. Here also, the profitability is a bit low compared to other expert advisors.
Another similarity with the live trading results is the high relative drawdown. For the backtest, the drawdown is 37.16%, which is slightly higher in comparison to the live statistics.
Vendor transparency
On the official website, we don't have any information available on the vendor. No serious Forex trader would consider purchasing a system that is sold by an unknown vendor. There is no official address provided on the website, and we don't know who the developers and traders are.
Customer reviews
We were not able to find any customer reviews for this EA on websites like Trustpilot, Quora, Forexpeacearmy, and Myfxbook. Therefore, it is clear that the vendor does not have any kind of reputation in the Forex automated systems market.