Max Robots Review
Today's Forex robot review is dedicated to a new EA – FXCharger. It is an innovative robot, designed to provide traders with automated trading that runs on the MT4 platform. FXCharger EA is built to open trades every day. FXCharger also includes an intellectual take profit and comes with special settings that suit both experienced traders and newbies.
In this FXCharger review, we will have a closer look at this Forex EA and discuss its pros and cons, key features, risk factors, vendor transparency and more to decide whether it is worth its price.
Is FXCharger a Good Choice to Invest?
The key question was whether FXCharger is a good robot to invest money or not? After a detailed review of the software, we have decided to give this EA a very low mark.
Here are the main reasons why this software has received this low rating from our team:
Good trade results, but poor results in 2020
No detailed trading strategy insight
Negative reviews from customers
High price
High drawdown
High deposit required
Lack of vendor transparency
Features
This robot looks like a unique trading tool. The software opens trades every day. The take profit of each order is always different because the FXCharger robot adjusts to the current market conditions. Historically, FX robots that try to use trading technology like this end up unsuccessfully. In this review, we will see whether this robot can make it work, and in case it cans, it would be a very adaptive trading software in the Forex marketplace.
The developers of FXCharger EA tell us that:


You can purchase 2 versions of the advisor: FXCharger Basic and FXCharger Max with the minimum investment deposit is $1000. FXCharger Basic is available to buy for $385. It works on EURUSD currency pair and includes: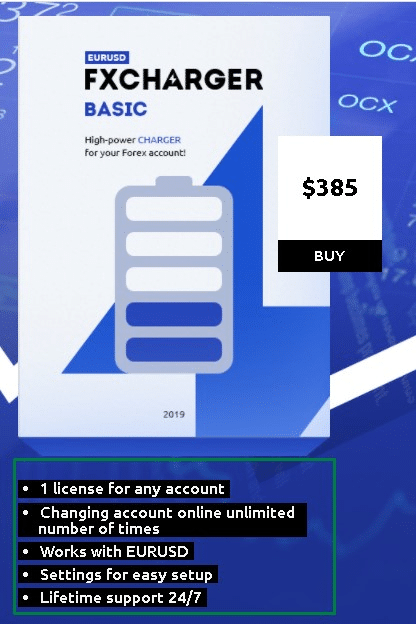 The FXCharger Max EA is available to buy for $495. It works on EURUSD, AUDUSD, and EUR/GBP currency pairs and comes with: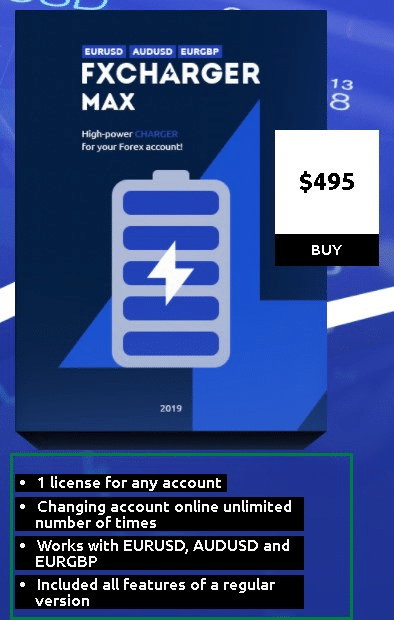 Trading Strategy
We have not found a detailed description of the trading strategy of this EA. The developers tell us a few sentences about the work of the software, but do not disclose detailed information about what kind of strategy is used in this expert advisor.
Trading Performance Data
The developers are providing verified trading results for both FXCharger EAs on their sales page. The screenshots and trading performance of these EAs show that the most recommended currency is AUD/USD because it shows the stable income and minimal trading risks: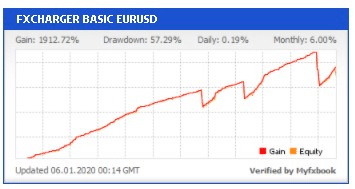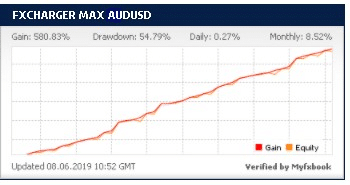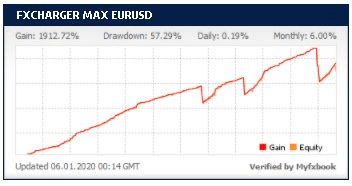 Let's analyze the trading performance of both trading accounts of both currency pairs.
1) FXCharger – EUR/USD
This is a real trading account that is working on the MT4 platform and trading USD currency. It launched on March 09, 2016, and since that time it has been showing a +1912.72% gain with a drawdown of 57.29%. It deposited $2000.00 and gained $38254.33 of profit.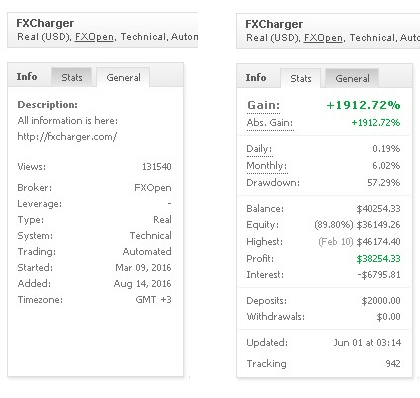 For 4 years and 3 months, the account has traded 564 deals and won 339 trades, which represents 60%. Its average ($335.28) win equals the average loss (-$335.13) with the average trade length of 5 days. The best trade is 100.0 pips, while the worst trade is 2 times more and equals -283.7pips. Its profit factor is 1.51.

Its monthly gain charts show that the majority of gains came in 2016-2017s, showing the best returns of over 65% and the lowest returns of around 1-2%: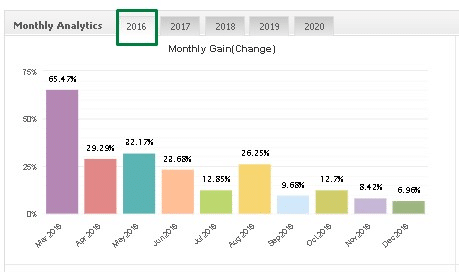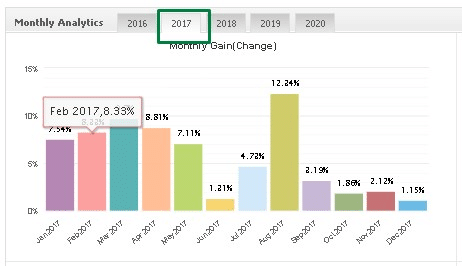 This year the system is not showing impressive trading results. In 2020, it has losing months at 15%-16% and winning months anywhere between 1% and 11%: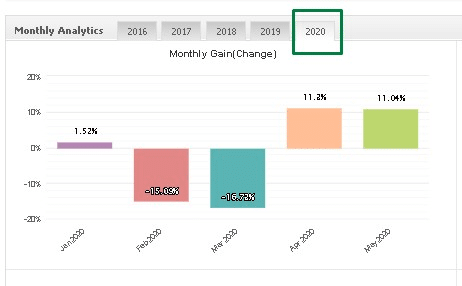 2) FXCharger – AUD/USD
This FXCharger_AUDUSD is a real trading account that works on the popular MetaTrader 4 platform. It is trading AUD/USD currency and is working with the FXOpen broker. It started trading on May 21, 2018, and deposited $1500.00. For 2 years and 3 months, it has gained $8712.50 of profit with a +580.83% gain.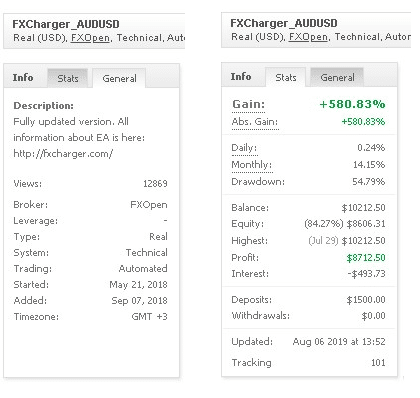 Its profit factor is higher than the one of the same account, but trading USD currency and equals 2.65. For 2 years and 3 months, it has placed 96 trades and won 58 out of them, which represents 60%. Its average win is $241.29 with a lower average loss of – $139.01. The average trade length is 8 days. The best trade result is 95.0 pips, while the worst trade is -172.0 pips.

What is similar for both trading accounts is the high drawdown, ranging between 54% – 57%. High drawdown is dangerous and may increase the risk of ruin of any trading account.
FXCharger_AUDUSD trading account is showing a relatively stable gain chart performance that looks better than the one of FXCharger account trading USD currency: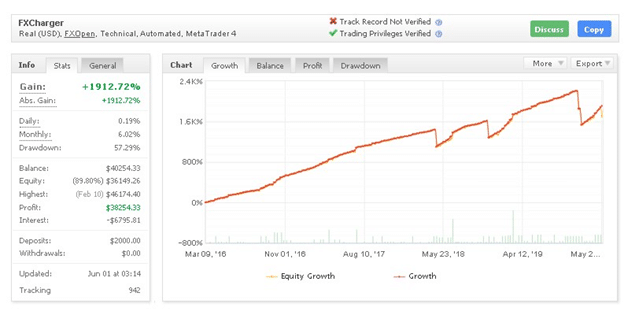 The majority of gains of the FXCharger_AUDUSD account came in 2018 in 2019. It is strange, but there is not a monthly gain statistic to analyze for 2020. Oddly, because we see that account is live and regularly updating. Taking into account that it is August, we cannot understand why there has been no trading activity from the beginning of 2020 up to the current days: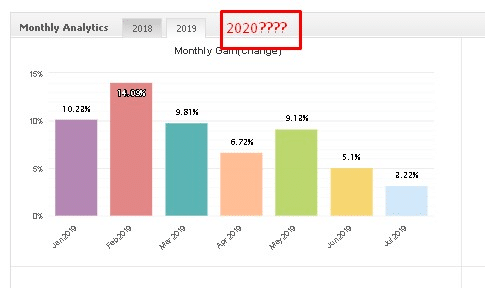 Negative Reviews from Customers
Despite the large gains, the software has gained a lot of negative feedback from customers. On the forexpeacearmy.com we have found 4 customer reviews, with 3 0ut of them claiming that it is fraudulent. Every trader is claiming about poor customer support. They also add that the vendor ignores their claims: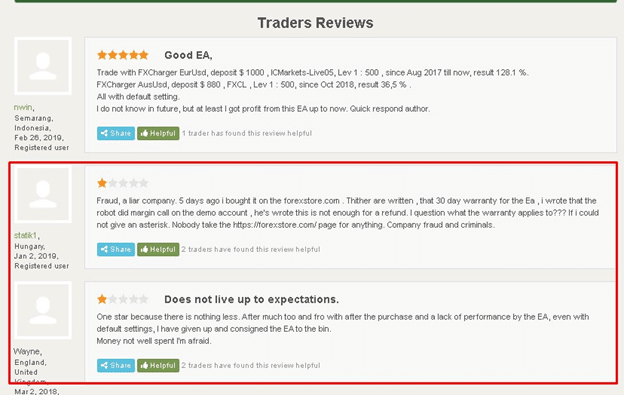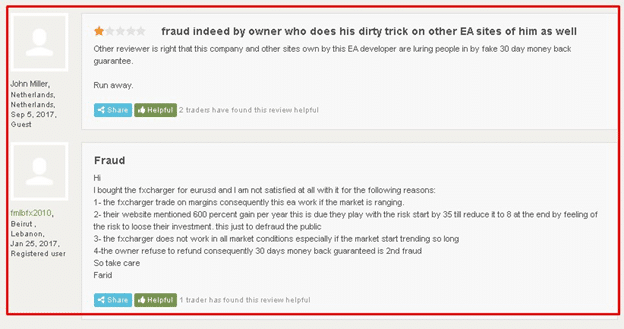 Despite the fact that the vendors are offering a 30-day money-back guarantee, their promises look like simple meaningless words.

Our arguments are based on multiple customer reviews, claiming that the ForexStore team does not provide refunds. One of the traders was told that a margin call on his demo account wasn't enough:

It is not a good sign, but we hope that the developer of this EA can clear the air on some of the above-listed issues.
Vendor Transparency
The one thing we know is that the FXCharger EA is powered by ForexStore.com. We know nothing about the developers, their location, or experience in the Forex marketplace. Therefore, we have decided to conduct additional research and find any information about the website at whois.domaintools.com. In result, the one thing we have found was the website IP location, – Germany: