FX Quasar is a trading solution that works on a real account. The robot is powered by a Forex Store trading advisor. The store promoted it on social networks a day ago. The presentation is short and not very useful. The main claim is "Cosmic Forex Advisor."
FX Quasar: to trust or not to trust?
It's hard to trust the system that is based on an aggressive Martingale will work stable for a long time. So, it's completely up to you.
Features
The robot has a short list of features. The devs decided not to tease us with great explanations of how the system works.
The system knows how to help us with automatic trading on our terminal.
It can be applied to MT4 and MT5 terminals.
It follows NFA rules.
The system allows trading on any broker that we want.
We can trade with it on any account type.
It doesn't run indicators data from the terminal to spot trading opportunities.
It works with a price action trading strategy.
The system works with six various sessions.
Three of them for Long and they're for Short directions.
It decided, based on them, when to open a trade.
There's "a special risk limiting system, which will protect you from losses that you are not ready to bear. This will let you secure your investment and allow you to regain losses."
The devs didn't provide us with extra intel.
Price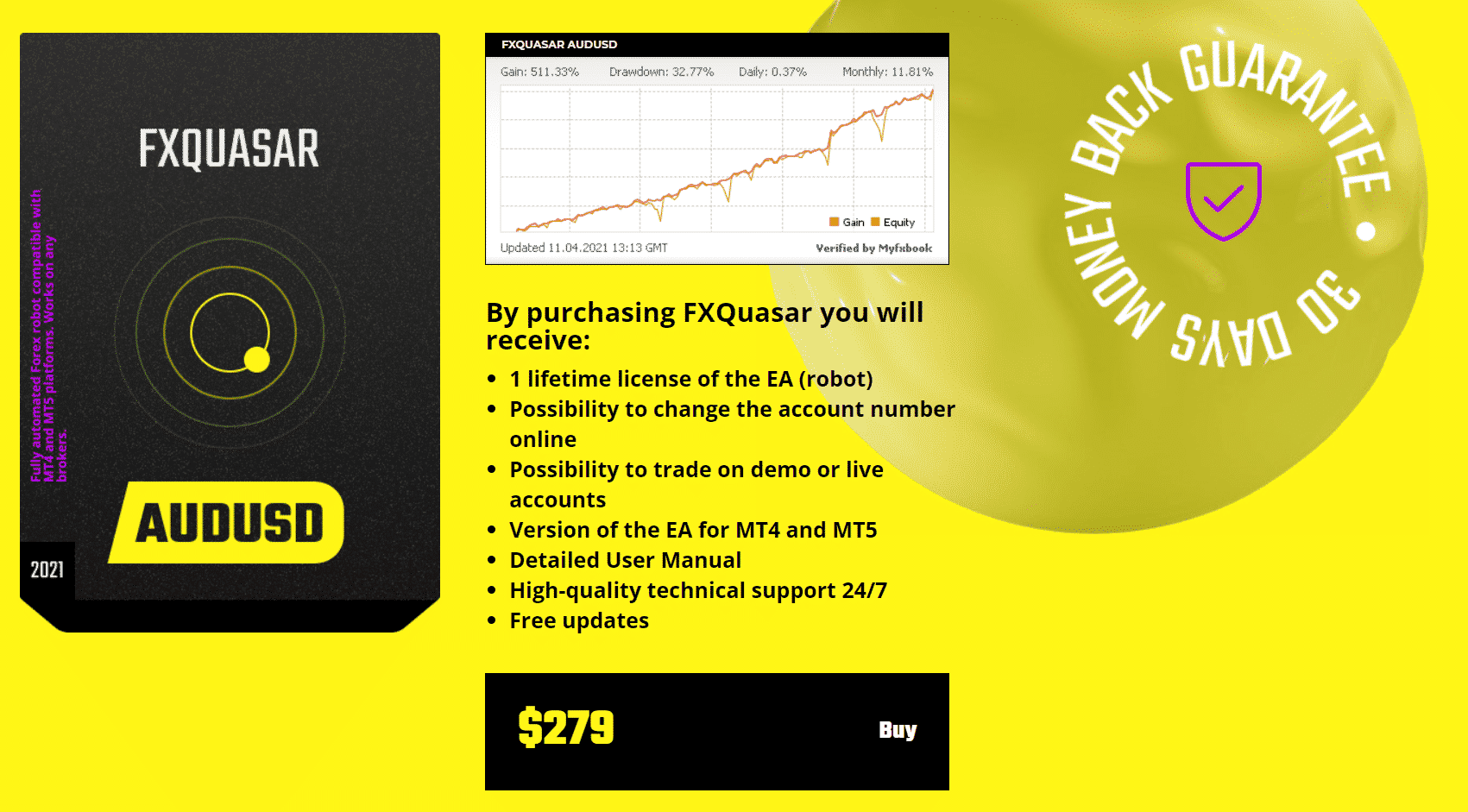 A copy of a robot is available for $279. The offer has no discount. The pack includes free account switching, detailed user manual, 24/7 support, and free updates. There's a 30-day refund policy.
Trading results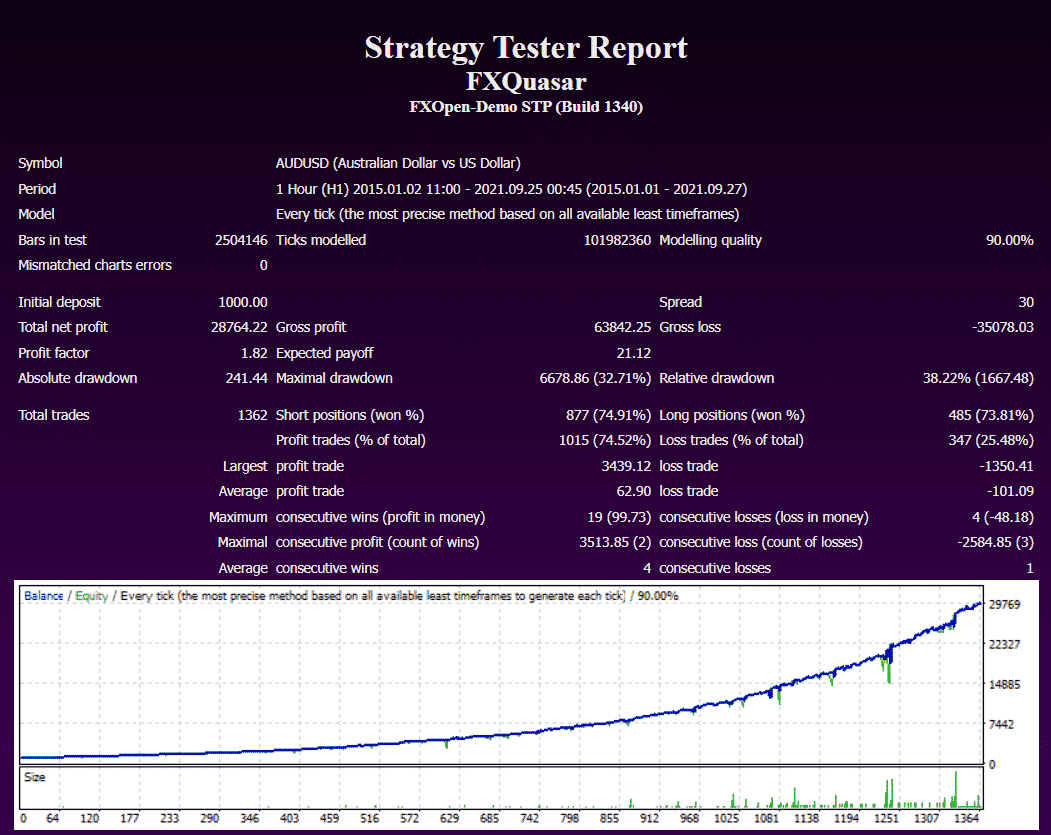 The presentation includes reports where one of them is AUDUSD on H1. The data period was chosen from 2015 to 2021. The modeling quality is 90,00% with 30-pip spreads. An initial deposit was $1000 that has become $28,764 of the total net profit. The profit factor was 1.82. The maximal drawdown was 32.71%. There were 1362 deals with a 73-74% win rate.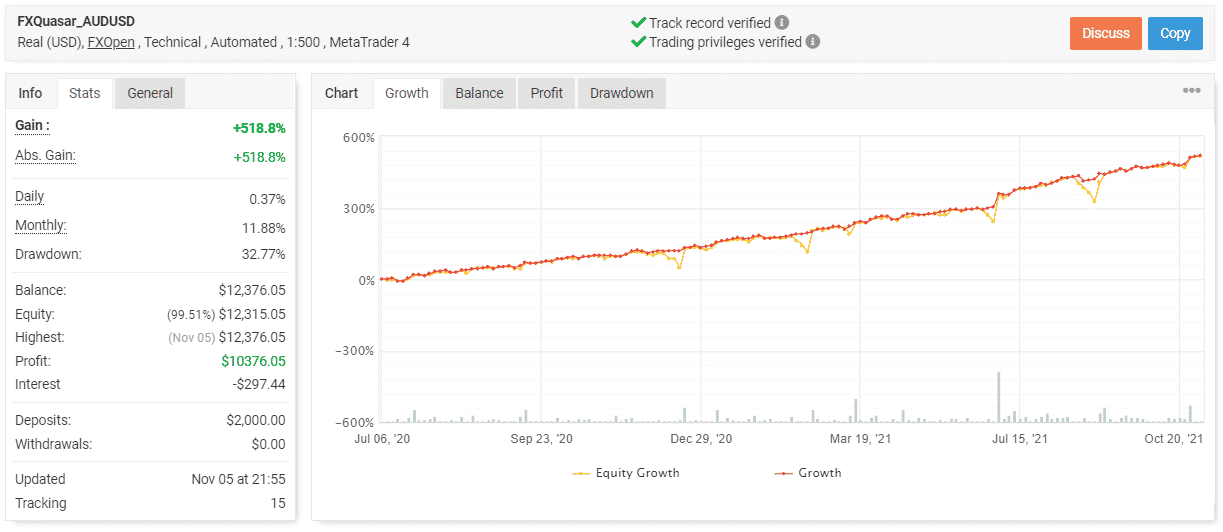 The presentation also includes a widget that helps us to understand what's going on in the market where the robot applied. It has been running a real USD account on FXOpen, a well-known broker, automatically with 1:500 leverage on MT4. The account was created on June 06, 2020, and deposited at $2,000. Since then, the absolute gain has become 518.8%. An average monthly gain is 11.88%. The maximum drawdown is 32.77%. It's quite a high number. It means that the system works with high risks.

The system has traded 317 orders with 827.2 pips. An average win is 39.00 pips when an average loss is -101.68 pips. An average trade length is 4 days. It's such a long distance.

We should expect that the short direction will be traded more frequently than the long one.

We should decide if we want to work with medium risks as the system runs the account.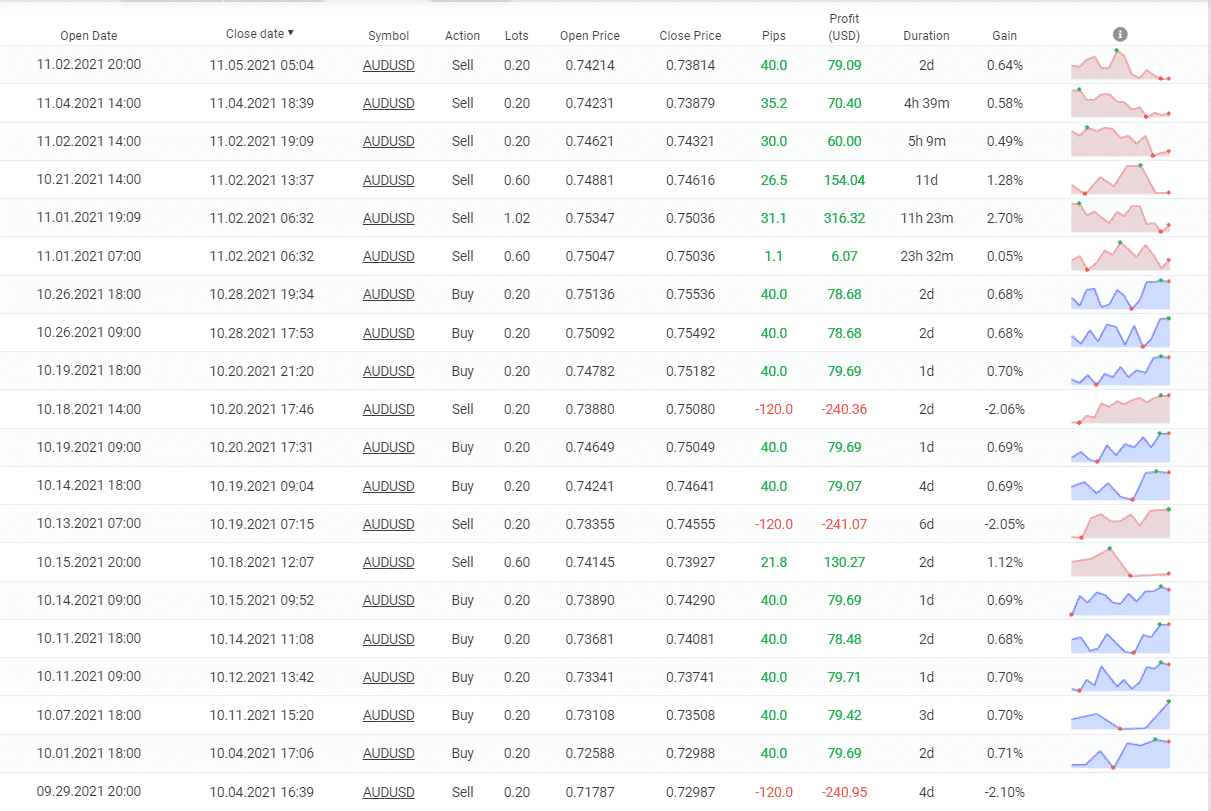 The advisor works with x5 Martingale when it's needed.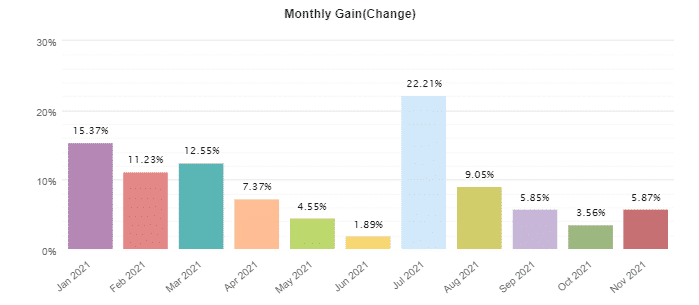 The profitability varies from month to month.
Vendor transparency
The company has no transparency. It's typical for a powered by Forex Store solution.