FX Profit Pips is a Forex signal provider promising an accuracy of 80-90%. As per vendor claims, this system allows you to increase your returns on the Forex market. However, we need to thoroughly analyze the performance of the system before deciding whether it is profitable or not.
FX Profit Pips: to trust or not to trust?
Although the presentation looks professional from the outside, we can see that many vital pieces of information are missing. The vendor has not shared any links to verified live trading accounts, and there is not enough information on the parent company. Overall, we don't think FX Profit Pips can be trusted with your live trading activities.
Features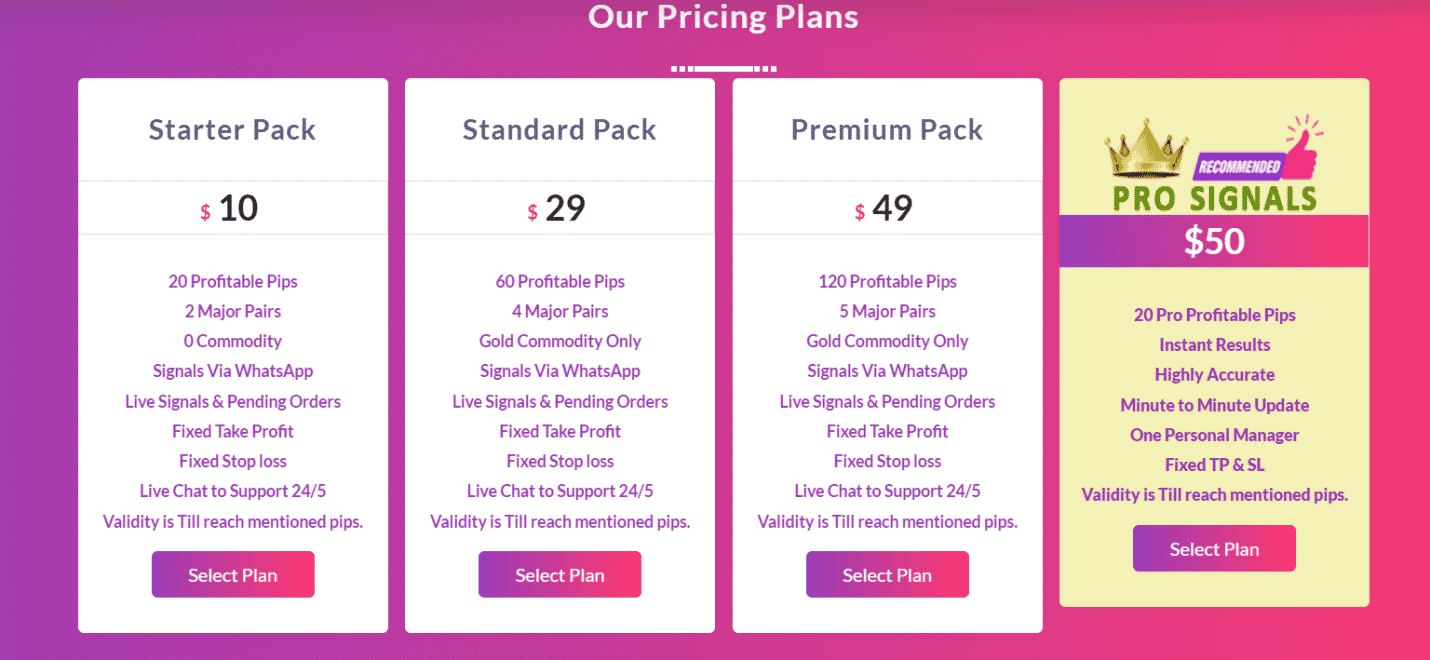 There are four pricing plans for FX Profit Pips. The starter pack costs $10 and offers trading signals for 2 major pairs. With the Standard Pack, you get signals for 4 major pairs in exchange for $29. The Standard pack offers 5 pairs and 120 pips for $49. Finally, there is the Pro Signals plan where you have a dedicated personal manager and instant results. There are also some free plans you can explore, and if you need a refund, you can drop a mail at [email protected].
FX Profit Pips sends you trading signals via WhatsApp and SMS. You can get signals on currency pairs consisting of NZD, AUD, CAD, GBP, EUR, USD, and Gold. It also provides you with live chart analysis, using which you can copy trades at the market price. The system operates from 5 PM ET Sunday to 5 PM ET Friday, 24 hours a day. This includes most US holidays as well. It follows the trading sessions of New York, London, Tokyo, and Sydney.
According to the vendor, there are a total of 56 experts working for this company in 11 different countries. Every trade comes with a stop loss and a take profit. The Forex analysts first send the signal to the Admin group, after which the 12 members of the admin team categorize and send them to the Client Support Team. Then the traders receive the signal from the Clients Support Team.
You receive a signal when there is a trading opportunity, when the order is changed or if the order needs to be closed at a different value. If you require any support, you can use the email and live chat options.
Unverified trading results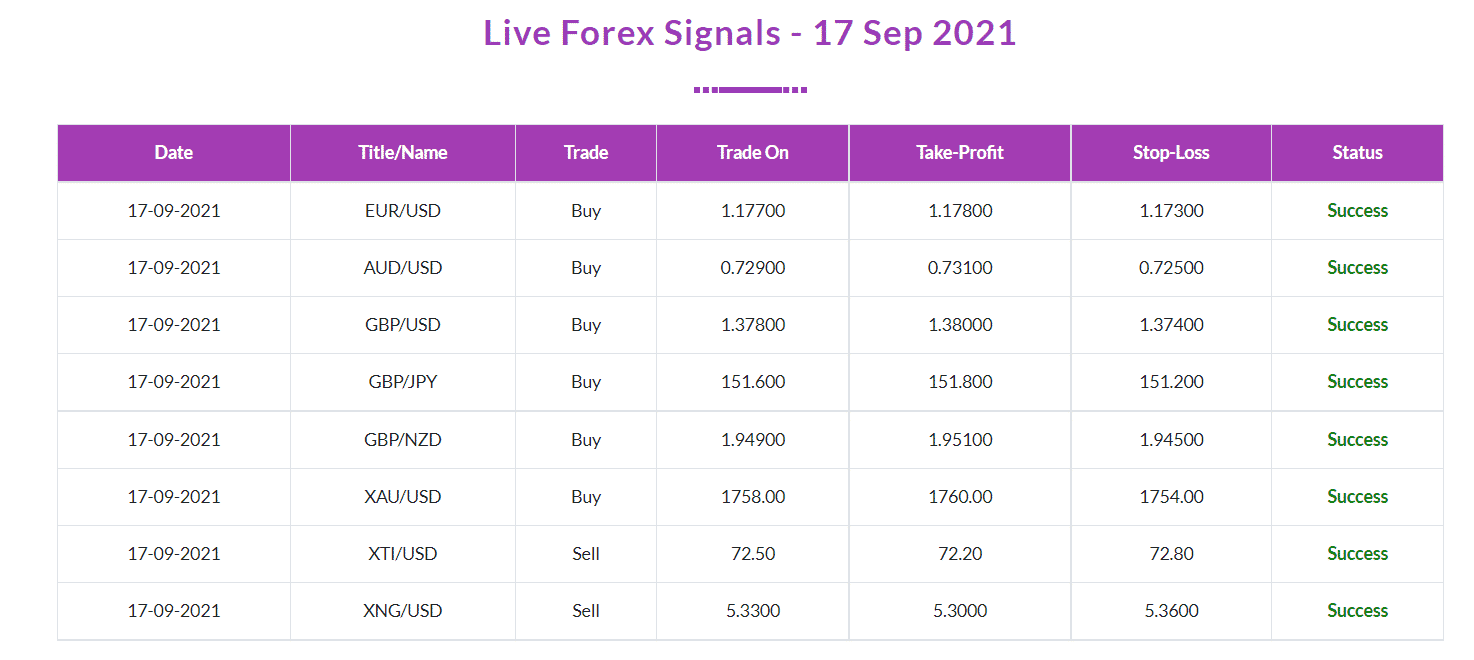 The vendor has presented the results for the live signals on the official website. Here, we can see the date, the pair traded, trade type, time, take profit, stop loss, and status. However, we don't think this is the proper way to share trading results.
Forex traders always look for results that are verified by third-party websites like Myfxbook, FXSTat, and FXBlue. They reveal important performance parameters like profit factor, win rate, drawdown, etc and these enable us to form an objective opinion about the system's profitability. Since we don't have these figures for FX Profit Pips, we cannot consider it profitable.
Also, the vendor can easily manipulate the results shared on the official website. They can cherry-pick trades to make the system appear more profitable. This is not possible when the results are shared on third-party websites.
Many vendors test their systems with historical data. Backtests are carried out over long time periods, thus exposing the system to different market conditions. Since this is a signal provider and not an expert advisor, the vendor has not shared the backtesting data.
Vendor transparency
There is no available information on the parent company behind FX Profit Pips. The vendor has not revealed the identities of the Forex analysts and traders, so we don't know if they have the required experience for generating Forex signals. We don't have an official address for the company headquarters either. Overall, there is a stark lack of vendor transparency and this is not a sign of a reliable service provider.
User reviews 
There are no customer reviews for this signal provider on third-party websites like Myfxbook, Quora, Trustpilot, and Forexpeacearmy. This tells us that not many people know about this system as of now.