FX Hunter Wealth is a Forex signal provider providing alerts through the Telegram app. The person behind this Forex system goes by the name of Dave FX Hunter and he is an experienced trader who used to work for a Forex broker. He claims to know the secrets of big Forex players and how they manipulate the market prices. Moreover, he has won several competitions hosted by sites like MQL5, Forex Factory, and Tradingview.
Now, there are many such automated systems available on the market today and they all make tall claims about huge gains and such. But, we cannot trust a system based on mere words, and to judge the efficacy of a Forex signal provider, a detailed analysis of the various aspects must be performed, which is done in this FX Hunter Wealth review.
FX Hunter Wealth: To Trust or Not to Trust?
The official website of FX Hunter Wealth has several sections like Signals, Fund Management, Order Flow, Blog, etc. We can see that the vendor has outlined the main features of the software, along with some video guides that explain how the signals are generated and how to use them. Some information regarding the fund manager, Dave, is provided, along with a link to a live trading account where you can view the results.
Our first impression of this FX Hunter is great, simply because it doesn't seem to withhold any information. This is always a positive sign and it tells us that FX Hunter Wealth is an authentic service that you can trust.
Features

In order to use the services of FX Hunter Wealth, users must join the Telegram group. Here, they receive pairs' analysis, free market advice, and free educational resources. While their trades are ongoing, customers will also receive guidance on how to manage them.
You have four options while purchasing this system and these are the monthly, quarterly, half-yearly, or yearly plans costing €49, €129, €229, and €399, respectively. We think 49 Euros per month for a licit signal provider that gives us ample proof of its trading outcomes is quite reasonable.
FX Hunter Wealth follows a manual swing trading strategy based on liquidity, stop hunting, Commitment of Traders (COT), volume, and market profile. The swing to mid-term trading has a target of more than 100 pips and all the Forex pairs are carefully monitored. With this strategy, you only risk 1.5% with each trade or 5% for each position set.
While the manual strategy has a maximum risk of 10%, the algorithmic strategies operated by the fund manager have a maximum risk of 25%. The minimum initial deposit of $2000 is a bit high compared to other similar systems. Support is provided by the vendor from Monday to Thursday, 9-17 GMT.
Verified Trading Results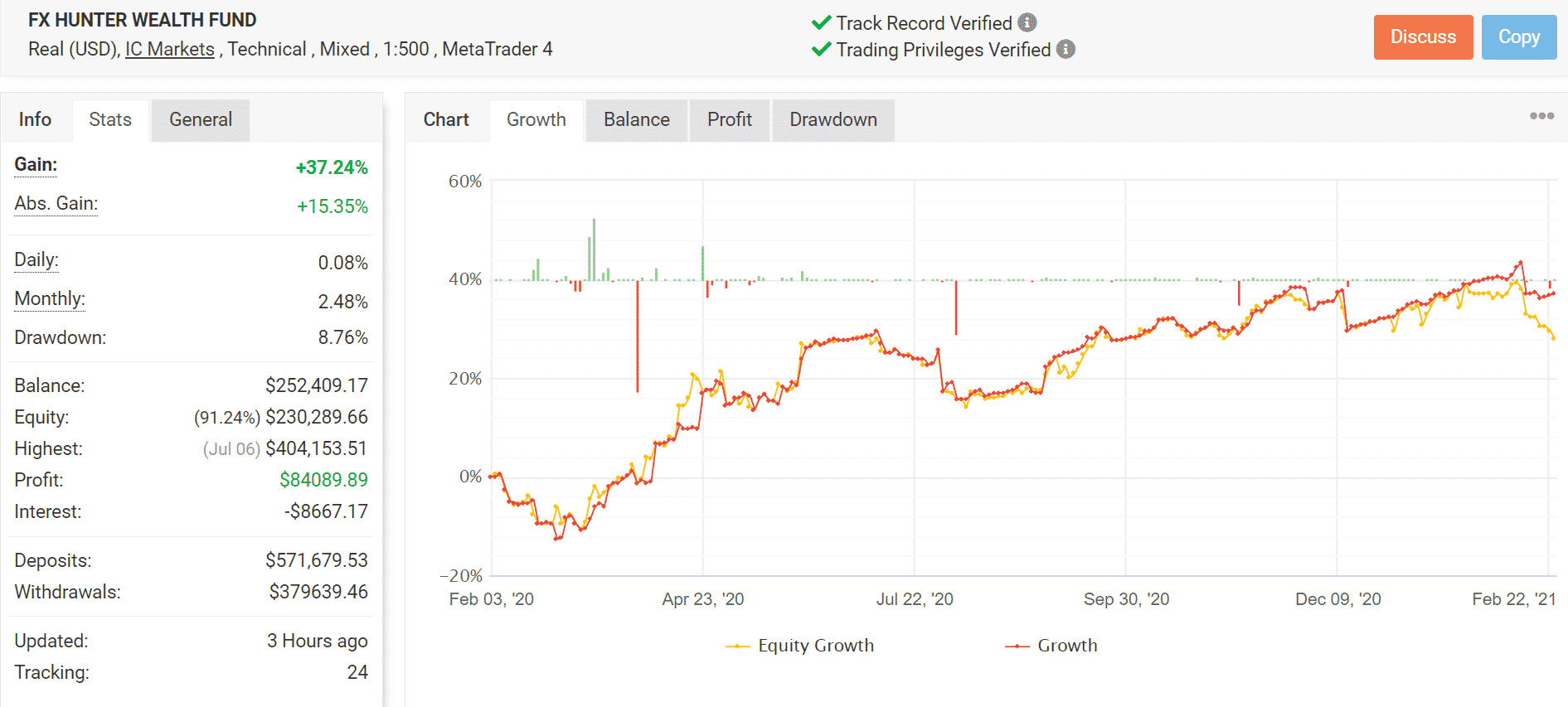 On the official website of FX Hunter Wealth, there is a link to a live trading account verified by Myfxbook. The account was launched in early 2020 and since then it has accumulated a total profit of $84089.89 from deposits of $571679.53.
One thing to note in particular about this account is the low drawdown of 8.76%, which tells us that the system has not lost too much money while trading. The daily and monthly gains stand at 0.08% and 2.48% respectively, while the absolute gain is 15.35%.
To date, 2237 trades have been placed through this account, out of which 1472 have been won and this represents profitability of 66%. While we think the Sharpe Ratio of 0.03 is a bit low, the profit factor of 1.22 is quite decent and it is what we expect from a reliable Forex EA.
Positive Reviews from Customers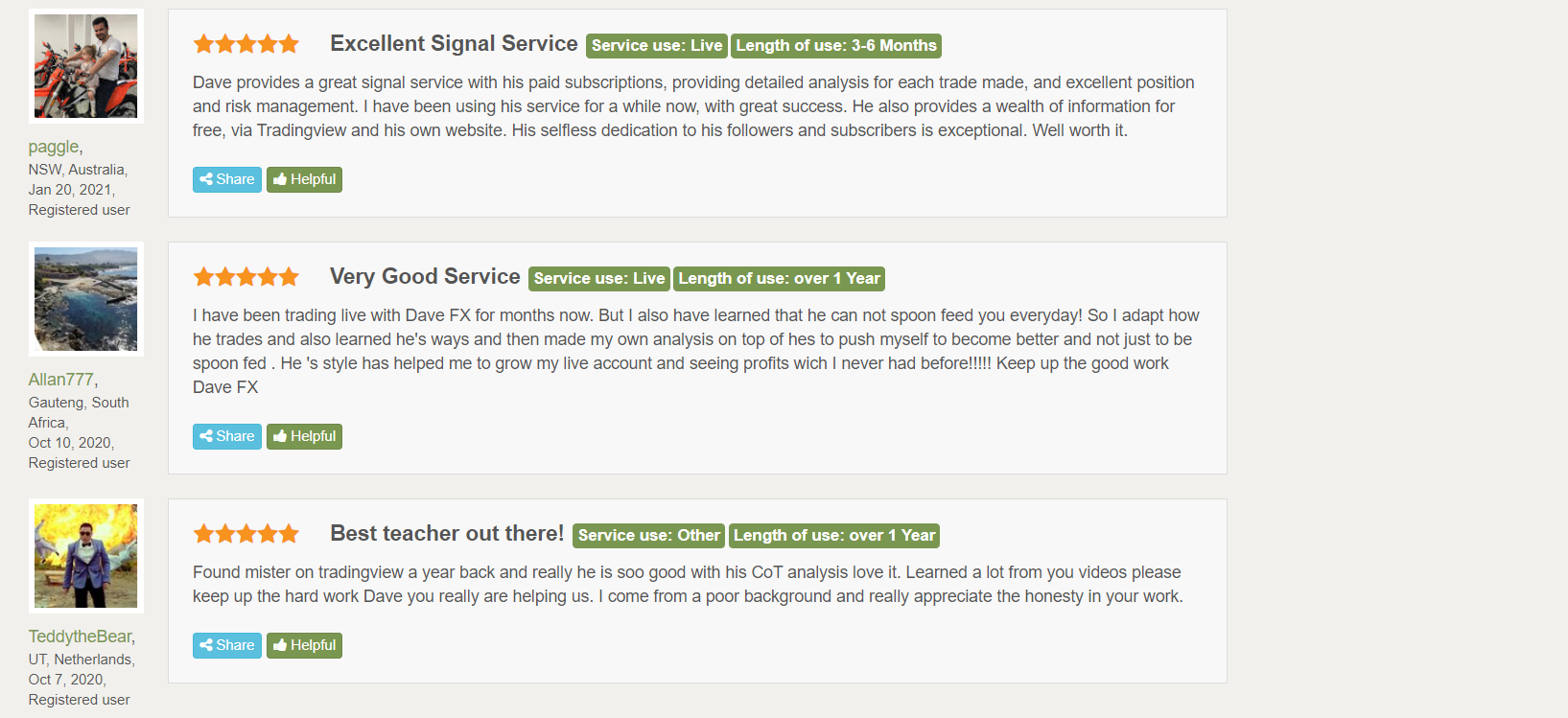 We found several customer reviews concerning FX Hunter Wealth on the Forex Peace Army website and as you can see, they are overwhelmingly positive. Customers have praised the trading analysis, position management, and risk control measures applied by the Forex EA. Furthermore, they have talked about how useful the learning resources provided by Dave are and how they have assisted them in becoming better traders.
From these customer reviews, we can gather that FX Hunter Wealth is an authentic service from which several people have profited. It seems to have a nice reputation since there are a total of 57 reviews on the Forex Peace Army website, the majority of which are positive.