FX Blaster Pro is a new Forex expert advisor, advertised as a revolution in the Forex marketplace. Its developers claim that their MT4 tool ensures stable and profitable trading, regardless market conditions. They add that traders can expect the highest results while trading with this EA. It sounds great, doesn't it? However, is the trading system as effective as described?
In this FX Blaster Pro review, we are going to analyze trading logic, strategy, risk factors, vendor transparency, price, and the other important information to decide whether this EA is worth its price.
Is FX BLASTER PRO a Good Choice for Its Price?
We cannot say that FX Blaster Pro is a good choice for its price. There is a lot to do before we may say that the software is worth your attention. However, taking into account that this EA is relatively new in the marketplace, the developers have a chance to improve their software and convince us to change our verdict.
We are not recommending FX Blaster Pro EA just yet because:
The main strategy used in this software is a grid strategy
Indistinctness in terms of drawdown performance
High price
Lack of vendor transparency
Features
FX Blaster Pro was released in March 2020. The robot was written on MetaQuotes Language 4.
The FX Blaster Pro website is a one-page website with brief information about the product. The developers tell us very little about their software and nothing about themselves.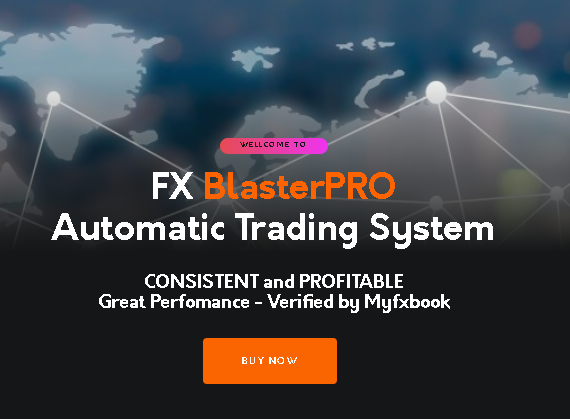 Most traders who have very little or no trading experience will be satisfied with the information provided on the sales page. However, lack of information can discourage experienced traders to invest their money in this expert advisor.
The devs want us to know that their trading system is also characterized by the following features: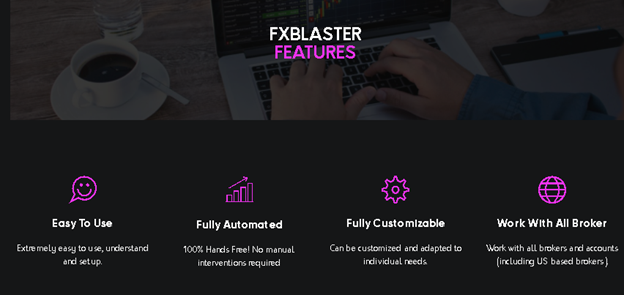 Pricing Plan
The software is available in 2 different pricing plans:

Once you pay for software, you receive a 1-lifetime license, free and regular updates, user manual, and full-time customer support.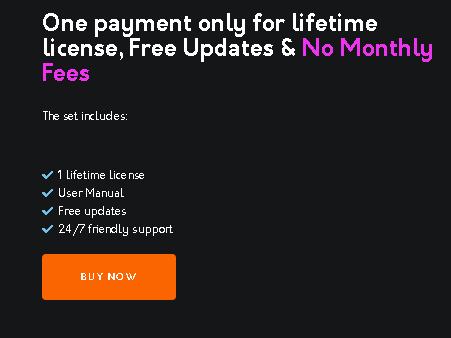 Users are provided with a 30-day money-back guarantee. The devs add that in case the drawdown is higher than 40% or in case traders are dissatisfied with the trading results of the EA, they can ask for a money refund. They also add that they not only guarantee a full refund but also a copy of FXBLASTERPRO.COM as compensation.

Grid Trading Strategy
FX Blaster Pro uses 3 different trading strategies, which tell the robot when to place orders and when to wait.
FX Blaster Pro is based on various indicator signals correlated by difficult methods with each other.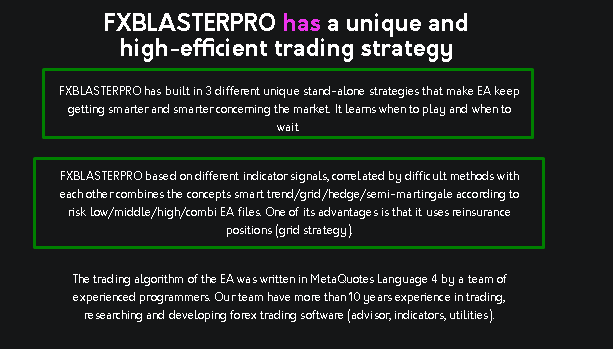 The robot is a grid trader. Every time we see that an expert advisor uses martingale or grid trading strategy, we advise traders to be very attentive and careful. Historically, robots that use the grid approach are very dangerous and can easily ruin any trading account.
Trading Performance Data
We are provided with two trading results verified by myfxbook.com on the FX Blaster Pro sales page. The first trading account is using high-risk settings, while the other one is trading with low-risk settings. Both of them are active accounts running on MT4 platform with Fort Financial Services brokerage.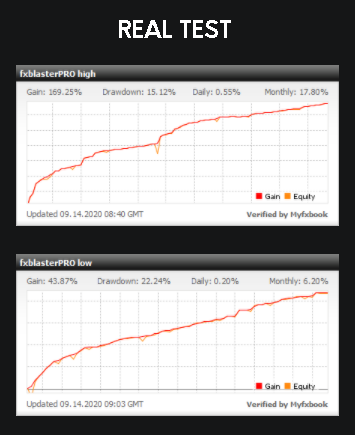 1) The FXBlasterPro high risk account started trading on March 17, 2020, and since that time it has earned over $1692 of profit. Its gain is over 169.25%.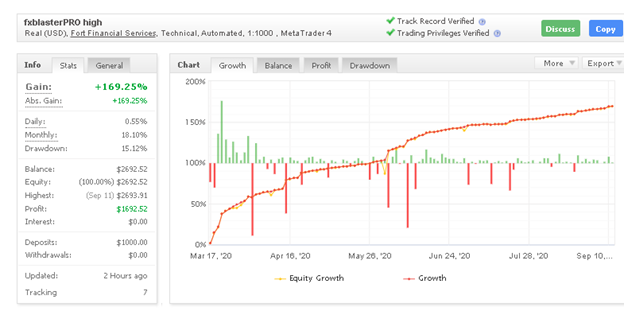 It has placed 2017 trades and won 346 out of 2017 trades, which represents 67%. The average trade length is 2 hours and 51 minutes. Its average win ($3.19) is mostly the same as its average loss (-$3.88). The profit factor is 1.65.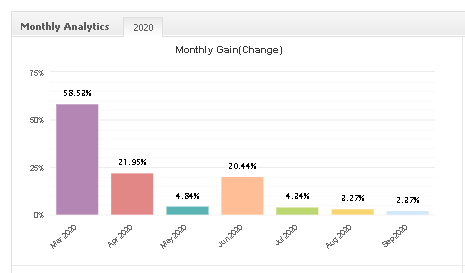 2 ) The FXBlasterPro low risk account launched the same day as The FXBlasteProhigh account did. Its gain is over 43.87%. For over 5 months of trading, it has earned $438.70 of profit. Currently, its total balance equals $1438.70: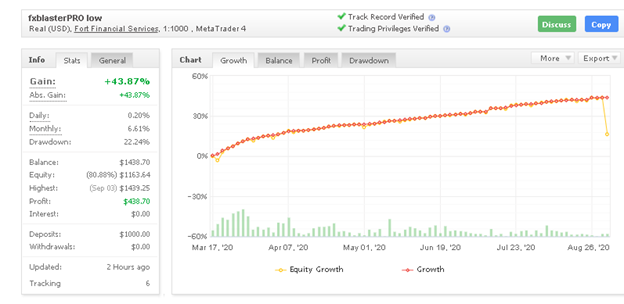 It has placed 844 trades and 3558.8 pips. We need to add that 720 out of 844 trades are winning trades. Its average loss is twice higher than an average win: -$2.98 vs $1.12. Therefore, its risk/reward ratio is 2:1. The profit factor is 2.19 and the average trade length is 9 hours and 42 minutes.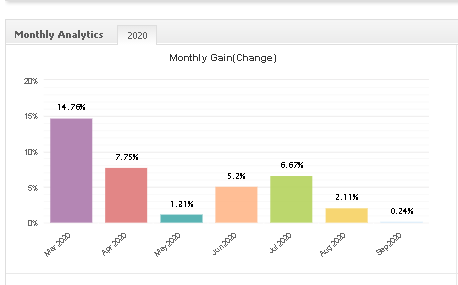 Oddly, but the FXBlasterPro High has a drawdown of 15.12% while the FXBlasterPro low shows a higher drawdown, which equals 22.24%: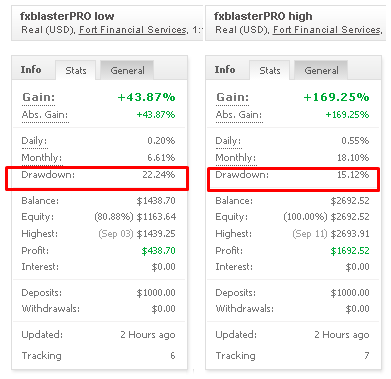 We need to say that the drawdown charts are not showing the same drawdown performance: it is showing a peak drawdown of 4,65% with low-risk trading, and the drawdown of 8,24% with high-risk settings: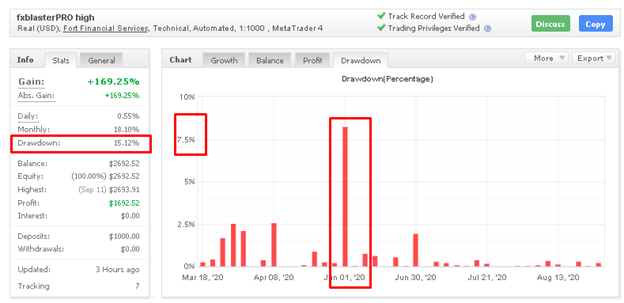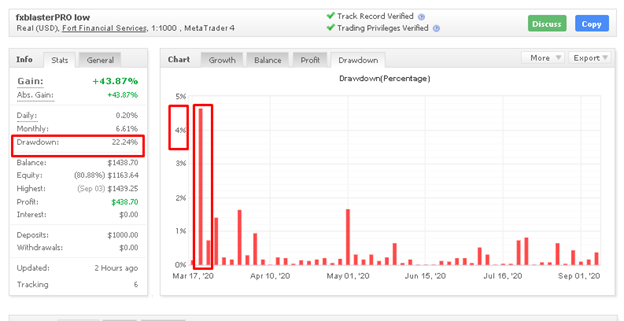 We may assume that these results are manipulated by the developers. In addition to this trading activity data for both trading accounts is hidden. Therefore, we have no proof to 100% trust the developers who are masking real trading results and trying to hide important information from us.
Trading activity data for both trading accounts is hidden. Therefore, we have no proof to 100% trust the developers who are masking their trading results.

Vendor Transparency
The devs of this automated trading software do not provide any information about themselves, their trading history, or where their corporate headquarter is located. They provide neither email address, phone number, nor social media contacts. The one possible way to get in touch with support is via a standard contact form on their contact page.