In this Funnel Trader review, we are going to discuss an automated trading robot created by Lance Hunter and his team of experienced traders. This EA claims to give you a great chance to make money "in rapid timing". However, does it work as well as its developers claim?
Funnel Trader site has an only one-page presentation, and there is neither "about us" nor "contact us" page. It is strange because every trader wants to know more about people who stand for the automated trading system.
Is Funnel Trader a Good Choice?
We have examined this expert advisor and have found that that it does not perform as its developers claim. This decision was made after we conducted a thorough analysis of the software performance data over the last 4 years and 4 months.
Our verdict has been given as a result of the following:
–   Average win rate is low
–   Significant drawdowns
–   2,65% of monthly profit
–   5 months traded in 2019
–   Huge losses on the EUR/USD pair 
–   Low-profit factor
Trading Strategy
Many experienced traders make thousands of dollars by investing their money in the Forex market. Traders buy and then sell different and, thereby, earn a pretty penny. It may seem amazing, but the strategy that at first seems to be easy might turn out to be very difficult for a trader. Analyzing and monitoring various factors to make the right decision at the right moment do not come naturally to everyone. Forex Funnel promises to help every trader to overcome trading difficulties and unforeseen rapid changes on the market.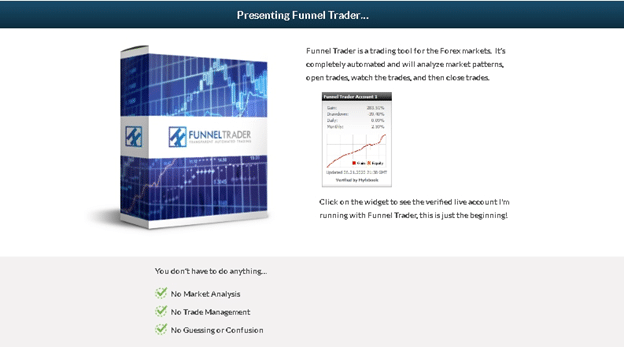 Trading Requirements
Funnel Trader works with all brokers. To start trading with this automated software, you need to have a capital of $500-$1000. In case you do not have this sum, you can start with a micro account.
Its developers say that this EA is a fully automated software. This EA analyzes the price direction of currencies for the next couple of hours and days. In case it decides that trade is unprofitable, the robot closes it.
Trading Performance Data
Let us have a look at the Real Funnel Trader account on myfxbook.com.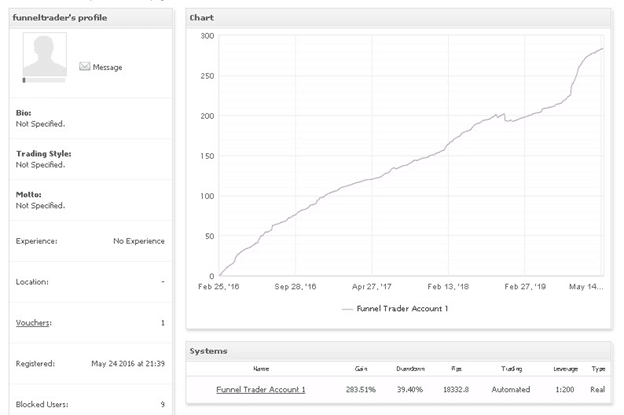 The profile has 1 account with a working robot.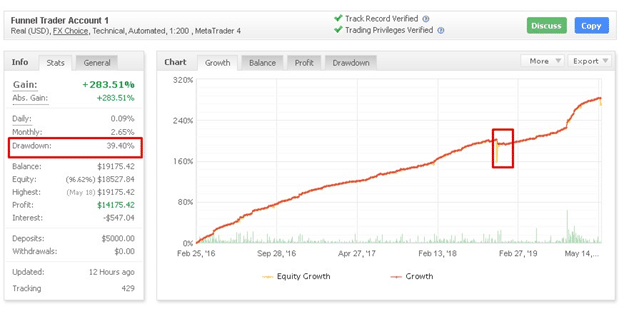 This account started on Feb 25, 2016. The robot runs a real UDS account with a $5K deposit, works with the FX Choice broker.  This EA trades with 1:200 leverage on the MetaTrader 4 platform.  During 4 years and 4 months, the robot could provide 283, 51% gain. Its monthly return equals 2, 65% with extremely high drawdown – 39, 40%. The screenshot shows a drop of equity growth from 281, 94% on May 15, 2020, to 270, 56% on May 18, 2020. This is not good for trading.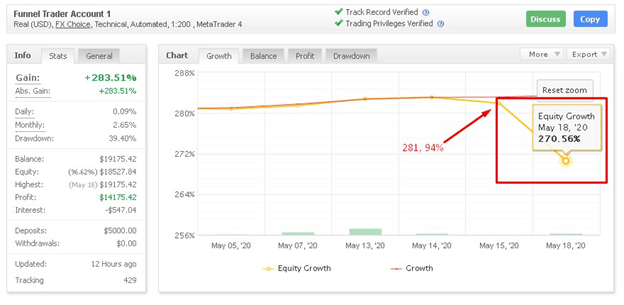 The EA traded 16960 trades with 18332.8 pips. The average win and loss in pips and $ almost equal $7, 08/$-7.63, the average win rate is low as well as is equal for both long and short trades. This low rare coefficient means that the patterns are not well-shaped. The profit factor of this robot is also low and is 1, 26 and the average trade length is 2 days.

Funnel Trader EA works with six different currency pairs (see the screenshot above). The most successful one is USDJPY, unsuccessful – EURUSD – $1194. 80.

The screenshot above shows that when the robot started trading, its best monthly gain was – 13, 67%. It is the best statistics from 2016 to 2019.

The 2017 results are worse.

The best 2018 monthly gain results are 4,95%.

The 2019 results are characterized by mediocre profitability. The robot traded only 5 months (January – December).

The 2020 results are the best ones. They show 15,1% of monthly gain – March 2020.
Conclusion: Is Funnel Trader Worth Its Price?
What can you expect from this Funnel Trader EA? It provides 2.65% of the monthly gain. Of course, you may get more and grow your gain profit if you do not trade EURUSD currency pairs. Taking into account high drawdown, low-profit rate, low average rate, and monthly profit, lack of information about the developers, we advise you to look for another EA. However, if you decide to try this automated software, you could test it for 30 days and in case something goes wrong, ask to back your money.