ForexSignals.com is described as a polished, easy to use, and extremely useful trading room. As the vendor puts it, more than 83,000 Forex traders globally trust the services offered. Nonetheless, we are skeptical about these claims. In this ForexSignals.com review, we explain the reasons behind our doubts. Let's get to it.
ForexSignals.com: to trust or not to trust?
We have carefully analyzed this service provider and concluded that the team is not trustworthy. This verdict has been given as a consequence of the following:
Inadequate strategy explanation.
Failure to provide past and current trading data.
Concerns over the inefficiency of the signals offered.
Features
ForexSignals.com services feature the following:
Educational materials and videos.
Direct live chat with pro-mentors and other like-minded traders.
Trading signals shared by the community.
Access to daily live streams that allow traders to review Forex pairs in real-time.
Trade discussions with other traders in the trading room.
Access to various trading tools to assist you to find market opportunities.
Trading strategies.
Customer support.
ForexSignals.com provides three different strategies to their clients:
Naked trading strategy
The approach mainly entails trading without the assistance of indicators.
FX propulsion strategy
This is an intra-day approach that applies potent technical indicators to spot movements in the market before they occur.
Trend surfing strategy
This is a form of swing trading style that is said to be supercharged by the company's Trend Surfing EA to assist traders to spot opportunities for trading on the charts.
Joining the trading platform comes at a cost. In order to gain access to the room for a month, you are advised to subscribe to the apprenticeship package that is priced at $97/month. However, you will not receive most of the services that are offered to those who subscribe to the other plans.
Then we have the committed package that costs 49.5/month, and it will allow you to access the trading room for half a year. Unfortunately, you will not receive some services such as a direct line to mentors, Trend Surfing EA, and a license key to Forex tester 5. Lastly, the vendor offers the professional pack at $47/month. This provides a 12-month access to the room.

Notably, a 7-day trial is available to traders that would want to test the platform before investing their cash.
Backtest results
Backtesting results are lacking in the sales pitch. We wonder why this is so considering that the website is loaded with lots of information regarding the services offered. Providing this data is a chance for the team to prove the workability of their strategies. Unfortunately, they have downplayed it. This is fishy. It is either their trading styles do not work as claimed, or they have never been tested.
Trading results
Live trading results are also missing. The company prides itself in having highly experienced mentors who have been trading Forex for decades. You would agree with us that it is quite suspicious that none of them is willing to show us how their signals are performing in the live market. It is highly likely that their strategies and signals are ineffective, and do not want to risk traders finding this out.
Drawdown
Since we have ascertained that trading results are unavailable, it is impossible to know the drawdown rate their signals generate.
Vendor transparency
ForexSignals.com was founded by Nick McDonald in May 2012 with the aim of providing traders with a platform where they could interact and learn from each other. Over the years, the site has grown to have 500,000 registered users and about 52 employees who work full-time. Three mentors are also part of the team and provide guidance and education to traders. The mentors are:
Andrew Lockwood, a veteran Forex trader with 30+ trading experience.
Mark Bennell, a Certified Financial Technician with 15+ trading experience.
Max Norbury, a Forex trader with 10+ trading experience.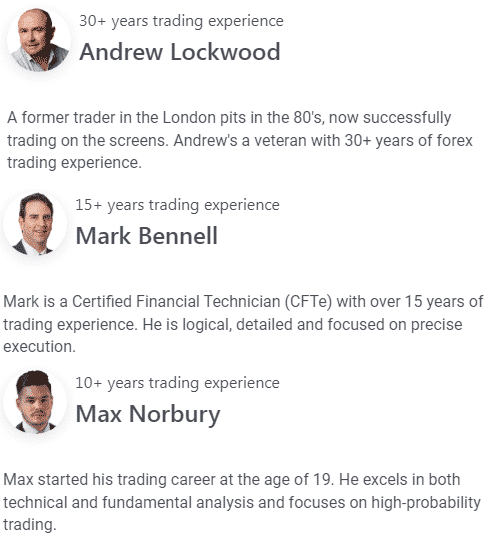 Customer reviews
There are lots of reviews about ForexSignals.com on FPA. Most of the customers seem to be satisfied with the vendor's services. This comes as a shock to us. We don't understand why traders trust this team while they have failed to supply tangible proof showing the true performance of their signals. At least some of their clients side with us. They mainly accuse the company of providing ineffective trading signals that hardly win trades.