Forex Trend Hunter is a fully-automated expert advisor that runs on the MT4 trading platform. The vendor claims that this robot has been specially developed for regular traders, but even pro traders have found success with it. They have also claimed that the EA has the potential of generating several hundred pips worth of profit for a single transaction. Before we reach a verdict about the system's profitability, we must thoroughly analyze all its performance aspects in this Forex Trend Hunter review.
Forex Trend Hunter: to trust or not to trust?
The presentation on the official website is not very detailed. The vendor has not clearly explained how the system functions or what kind of strategy it uses for trading the Forex market. Also, there is not enough information on the parent company or the developer team that built the robot. The lack of information is quite disappointing and it makes me think that Forex Trend Hunter is not to be trusted.
Features
This EA has a money and account management system. The vendor has not elaborated on this feature, but we can assume it has something to do with the adjustment of the trading lot size. Forex Trend Hunter has a loss recovery system. It involves the system placing additional trades to make up for lost trades. This is a risky technique that can further compound your losses.
You can use the robot with all kinds of brokers including those based in the US. It has a broker protection feature that hides your stop losses from unfair brokers. You can customize the parameters of the system to suit your individual trading style. The vendor provides free updates and lifetime support for all users.
Currently, the EA is available for the price of $55. This gives you access to 1 real and two demo accounts. The vendor offers a free trial where you can try the robot on demo accounts for one month. There is a limited-time offer for this robot that gives you two EAs for the price of one. The vendor offers a 60-day money-back guarantee for this system.
Verified trading results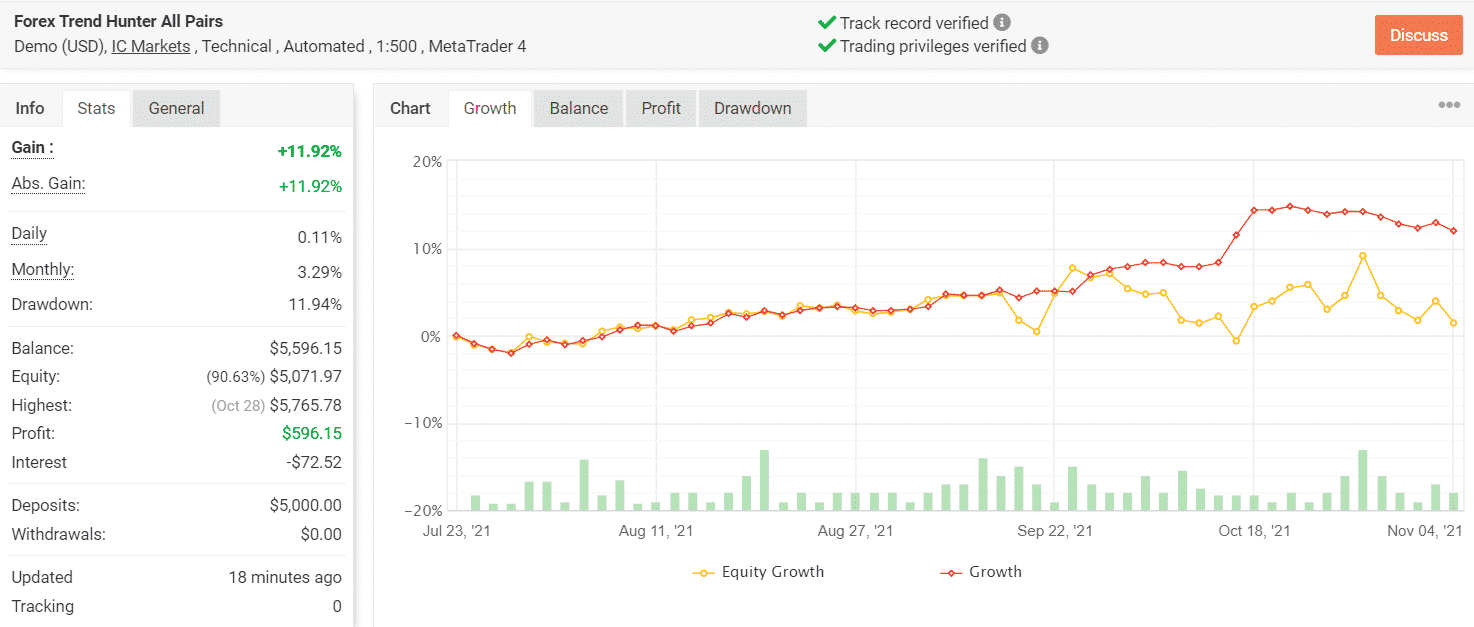 Here we have the live trading result for Forex Trend Hunter presented on a Myfxbook account that was launched on July 23, 2021. After placing 121 trades, the win rate for this account currently stands at 56%. This is not too impressive compared to other EAs. While the daily and monthly gains are 0.11% and 3.29% respectively, the drawdown is 11.94%. To date, the EA has only generated a profit of $596.15 through this account.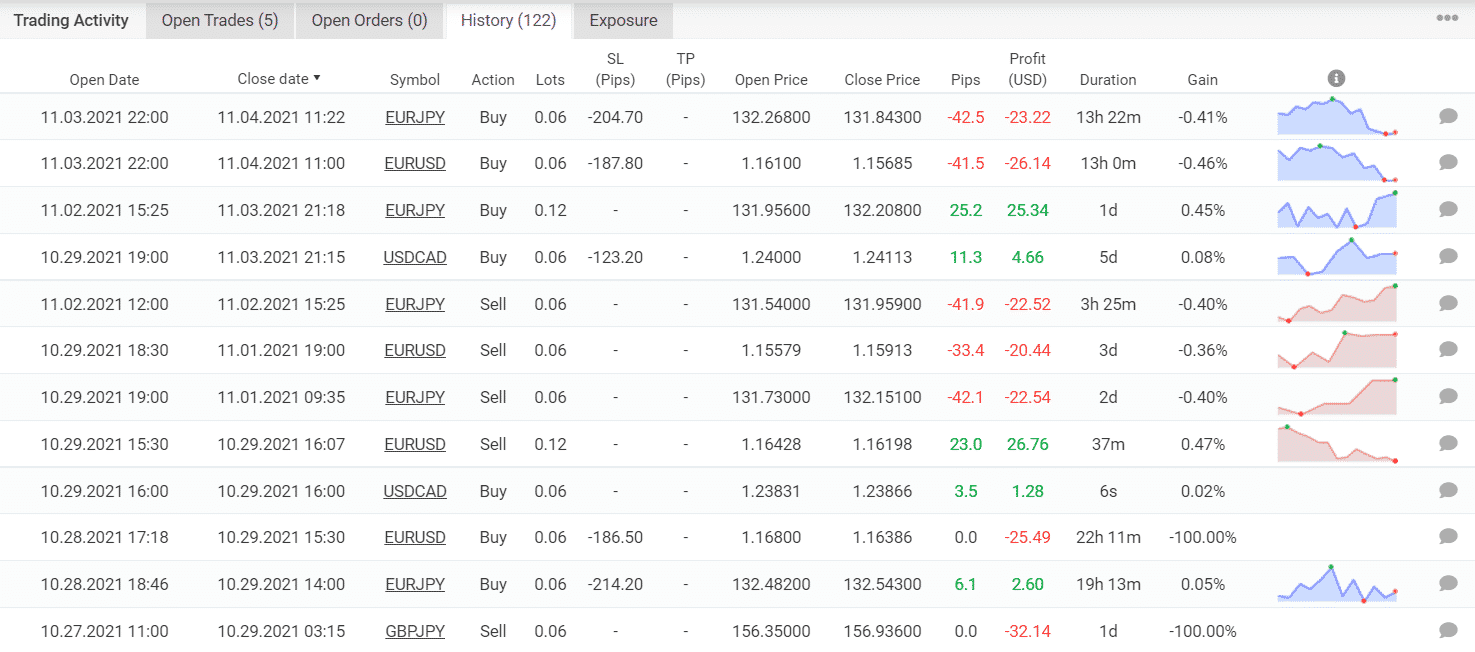 Looking at the trading history, we can see that the robot is prone to suffering consecutive losses. Clearly, it follows a risky trading approach. Therefore, we cannot consider it a profitable system.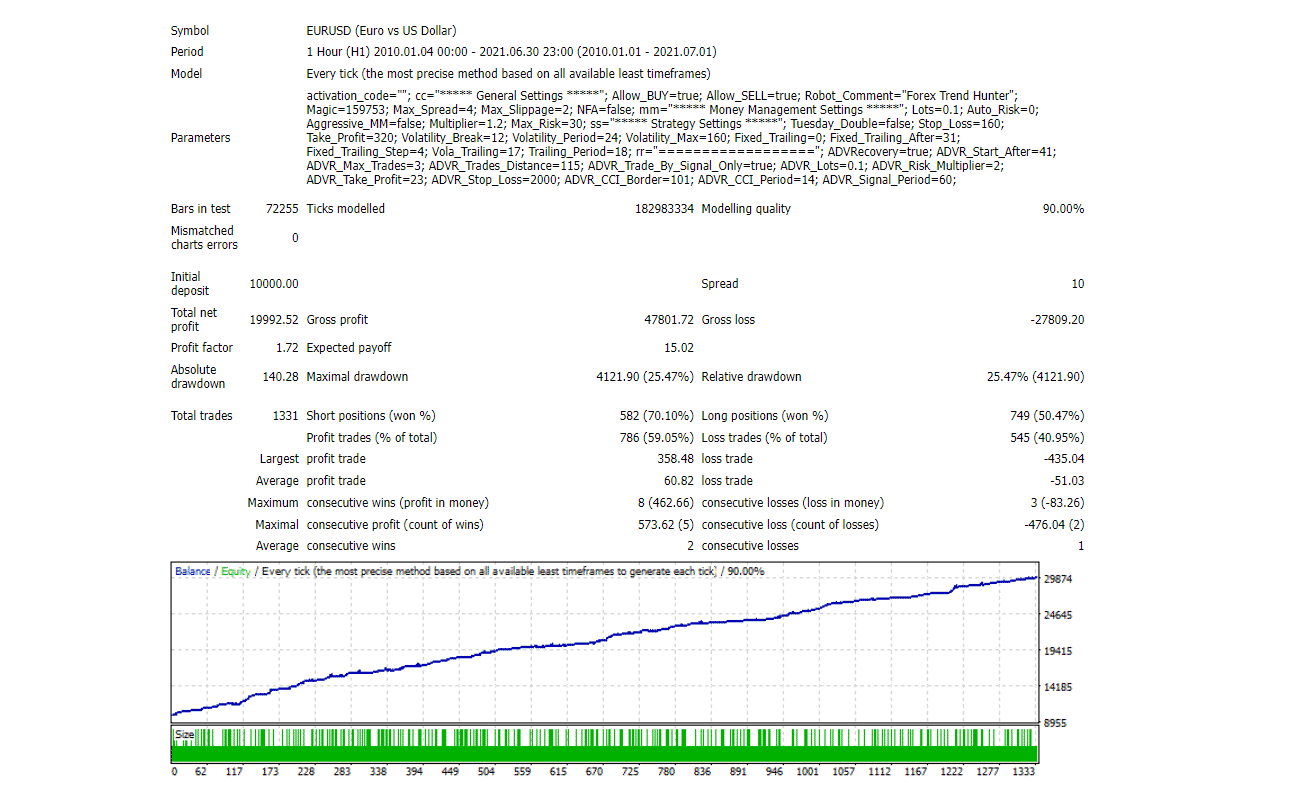 This backtest was carried out from 2010 to 2021 for the H1 timeframe. The EA placed a total of 1331 trades during the testing period, winning 786 out of them. This means it had a win rate of 59.05%, which is slightly higher than what we saw in the live results, but it is still not much. The relative drawdown was a bit high at 25.47%, indicating a risky trading strategy. There were 8 maximum consecutive profits and 3 maximum consecutive losses.
Vendor transparency
According to the vendor, the Forex trend Hunter team consists of experienced traders and developers. Some of them have around 12 years of experience. However, they have not shared the identities of the team members, so we have no way of verifying this. Also, we don't know anything about the history and background of the parent company. The lack of vendor transparency is a major red flag that will deter most traders from investing in this expert advisor.
Customer reviews
We were unable to find any user reviews for this EA on trusted third-party websites. Therefore, it is clear that the robot has no reputation whatsoever. Most traders look for authentic reviews to know the first-hand experience of other customers. The lack of user reviews is a tell-tale sign of a scam.