Forex Sugar is a fully automated expert advisor developed to work on MT4. Brian Jones is who created this automatic software to help traders trade profitably. It is a so-called trading navigator, which assists and guides traders along the perilous journey of trading. Brian Jones claims that this automated software is "a revolution in an automated trading environment". He also adds that anyone, even if you are a newbie without any prior experience can use this trading robot.
Is Forex Sugar EA a Good Choice?
In this Forex Sugar EA review, we are going to check out whether the above-listed statements hold any water. Therefore, we will deep into details to decide whether Forex Sugar EA is worth buying.
As a result of our review, we would not recommend Forex Sugar Robot.
Our verdict is based on:
Vendor transparency

Price

High drawdown
Trading Strategy
One of the most important trading aspects of this Forex Sugar robot is its ability to stop trading in case of rapid ups and downs in the market.
This EA uses "a combination of technical indicators with live news-events". Forex Sugar receives signals from indicators to open positions only in stable market conditions, which protects users' trading accounts from unforeseen volatility changes. This automated software is designed to avoid volatility swings, therefore its work stops and it does not trade during high volatility. It is built to utilize the news and the robot "pause itself for a certain duration during Low Impact News, Medium Impact News & High Impact News release". It can be either stopped or allowed to trade during any News release.
Forex Sugar EA works better in calmer and stable markets. Therefore, when the market is stable, the algorithm of the expert advisor sends signals to the robot to trade. In case the robot decides that the trade is profitable, it continues its work in that direction.

Traders can allow the robot to trade throughout all news, but we do not recommend doing it because it is one of the main aspects of the Forex Sugar strategy.
Vendor Transparency
Although the developer provides his full name, he does not provide any information about himself, who he is, or what type of trading history he has in the Forex market.  Therefore, we have no idea where the developer is selling his expert advisor from. We would like to know more about the developer because it is safer and better to buy trading systems from reputable and reliable sources.
Price
This Forex Sugar robot can be purchased for 299 dollars, which gives you "license for 1 real account  unlimited demo accounts" or pay for a second plan, which costs 799 dollars and offers "license for 5 real accounts and for unlimited demo accounts".  The second plan does not make a lot of sense, as users will not pay an additional 500 dollars for a plan with 5 licenses.  
High Drawdown
Let us have a look at the Demo trading account we found at fx.blue.com.
The account is showing a total return of 150.5% from May 13, 2020, until June 18, 2020, with a risk/reward ratio of 3.38. The average win is 280.94 and an average loss of 360.73. The trade length is 96.6 minutes and the worst drawdown is 32.8%.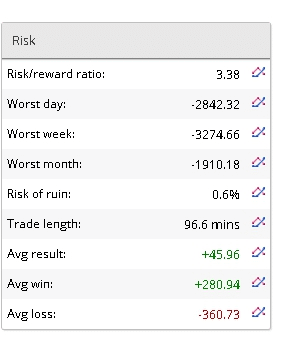 As you may see, the average loss is higher than average win what cannot make us say that it is good for trading.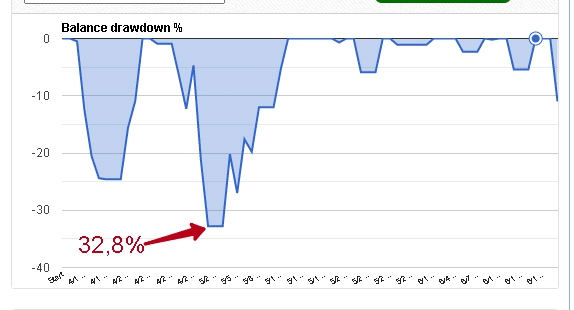 A high drawdown percentage is very risky for any trading account because it can increase the risk of ruin. The Forex Sugar robot does not have any built-in mechanism to cope with this problem.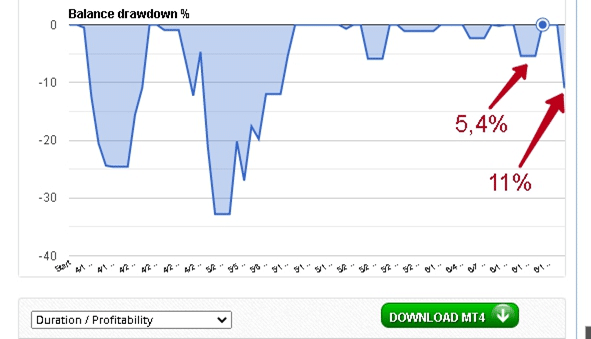 The screenshot shows that balance drawdown on June 18, 2020, is 11%, while on June 13, 2020, it was only 5,4%. This ups and down show us that trading account is under risk of ruin.
Conclusion: Is Forex Sugar Worth Its Price?
For now, we do not recommend the Forex Sugar robot. We would like to see more transparency from its developer. Moreover, due to its strategy and high drawdown, we do not think it has the best value for its price.