Forex Steam is a Forex robot that claims to have an active group of developers and a track record of more than a decade. The developer claims that it is a system with improved profitability and a high win rate of 90%. Although these claims sound sweet, they are unrealistic and cannot be trusted. In case you decide to invest in this EA, you will lose your money and, what is more, won't be able to ask for a refund. Is it what you want? The answer is obvious.
Forex Steam: To Trust or Not to Trust?
It is absurd to trust a system that shows no trading results and lacks transparency in terms of backtest reports. It shows hypothetical results in the form of a table that won't be able to achieve on your trading account.
Features
Forex Steam is an entirely automated Forex robot that trades mainly in pairs like AUD/USD, EUR/USD, GBP/JPY, GBP/USD, USD/CAD, USD/JPY, etc. While ample information is provided on the website about the Forex EA, we don't exactly know the kind of strategy the system uses. It would be great if the vendor could include some technical details about the trading strategy in the future since many individuals assess a system based on them.
This Forex EA trades in the timeframe of 0:00 to 6:00 GMT every day, using the Steam retrace technology to maximize wins and minimize losses. Since the system trades with a low level of risk, both experienced and novice traders can work comfortably with it. It also has a holiday filter that lets you avoid trading during holidays where the market is often affected by random and unforeseen events.
According to the vendor, Forex Steam has a built-in spread filter that makes sure the robot trades only when the market conditions are favorable. The dev also adds that since it has a trailing stop feature, you can secure bigger profits by shifting the stop losses behind the trades. If you don't wish to move the stop loss, you can use the break-even functionality. We do not consider all the above-mentioned claims trustworthy. The dev does not provide any proof to back it up.
Price
The robot is available in one package and comes for $117.99. It provides traders with lifetime access to the system and involves free updates, free installation, and 4 licenses. A money refund is not included. So, it's a one-way ticket.
Unverified Trading Results
Oddly enough, the dev failed to provide verified live trading results that could back up their EA profitability. According to the vendor, the system win rates were great in 2019 (83%), 2020 (86%), and 2021 (91%). If the system was so good, then why we don't see any live proof of its success?
Seasoned Forex traders don't want to invest in a Forex robot unless it has a live trading account that is verified by FXBlue or Myfxbook. All the reputed companies share their trading results on these platforms, and it is considered a sign of authenticity. Without verified trading results, we cannot verify the claim of high profitability made by the vendor.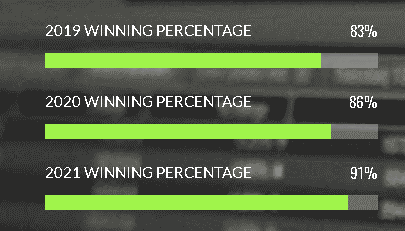 On the official website, the vendor has provided backtest trading results in tabular format. The backtest was performed for the EURUSD pair. Being deposited at $1000, its profit grow to over $12M. This result was achieved for 10 years using compounding. It means that its average annual profit was over 250%. Taking into account that the backtest can not be verified, it might be manipulated by the devs to attract traders and make them buy the product.
Vendor Transparency
As per vendor claims, the Forex Steam team has a combined experience of 25 years in the Forex market. Although the team members are spread all over the globe, the corporate headquarters of the company is located in Richmond, British Columbia, Canada.
The lead support member for this Forex robot is Paul Demonde, and he has been with the company for more than 6 years. Dmitri Kozlov, an expert MQL4/MQL5 developer, heads the coding team, while the marketing team is headed by Julie Zhang. Allan Brisebois is the chief market analyst and he has been a part of the team for several years.
Customer Reviews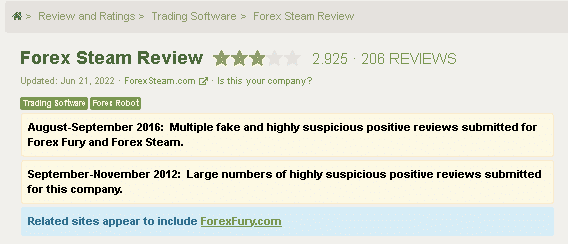 We have analyzed customer reviews on FPA and found that traders are not satisfied with the trading results they got with the EA. Based on 206 reviews, the robot has a low 2.9/5 rating. The company behind Forex Steam received 2 significant warnings in 2012 and 2016. FPA blamed the company for publishing multiple fake and suspicious reviews for this brand. Review spammers are not appreciated by Forex Peace Army. That is why we appreciate this website as only trustworthy reviews are published there. Testimonials written on the dev's website cannot be trusted. Historically, vendors buy, manipulate or concoct them to attract new users.