Forex Olympus was developed by Rita Lasker and the Green Forex Group, who have already created more than 30 products. Rita says that this Forex indicator was created to "make money from the comfort of your own home without anything standing in the way of your earnings". Forex Olympus is built to help traders "fully transform" their trading experience by providing them with an automated system that requires "almost no effort". The team of developers of this automated robot adds that this automated trading tool can help every trader to "trade better, faster, and smarter".
If you want to find out whether Forex Olympus is a good choice or it cannot be trusted, then you can find that within our Forex Olympus review.
Is Forex Olympus a Good Choice?
The key question is whether Forex Olympus is a software to trust or not to trust. After a thorough review, we have decided to give this robot a cautious passmark. Here are some reasons why this automated software received this appraisal rating from us:
– No strategy insight
– Unverified results
– Trading activity is hidden
– High drawdown
– Negative reviews from customers
No Strategy Insight
The developers of Forex Olympus do not divulge any real results about trading strategy. On their website, we have only found that they mention three different trading modes, so a trader can choose the one that perfectly suits his or her trading preferences and needs (see details below).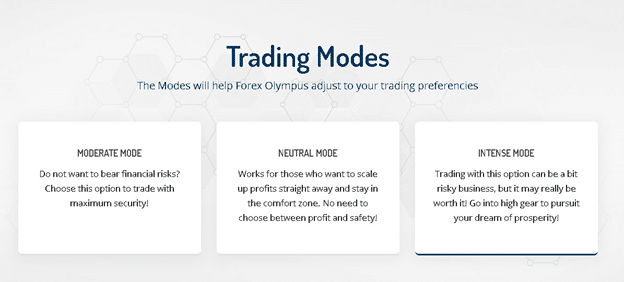 Although this automated software can be used in 3 different ways, the Green Forex Group tells us nothing about their methodology. We do not know what the trading tool is looking for from the markets
Unverified Trading Results
Rita Lasker provides 12 different screenshots of their software in action on their website. However, there is neither trading statements, no live trading results. This is a step back from the Green Forex Group. Traders want to see verified trading results to be certain in Forex Olympus' purchase. Vendors try to be smart and use screenshots of verified trading results to prove the transparency and viability of their product before it is released to the public.
We do not find ant screenshot with verified trading results on their official website. Therefore, we have spent time to find the one on myfxbook.
Now, let us analyze the trading results of the real Olympus account on myfxbook.com. What do we see? The account runs on the MetaTrader 4 platform. This trading account was created on December 09, 2019. It uses USD currency for trading. Since its activation, the account has registered a gain of + 56.63% with the initial deposit of $3000. Since December 9, 2019, up to June 30, 2020, it has obtained $238.67 of profit. In comparison with January 2020, monthly gain has grown from 8,29% to 20,93% in June 2020.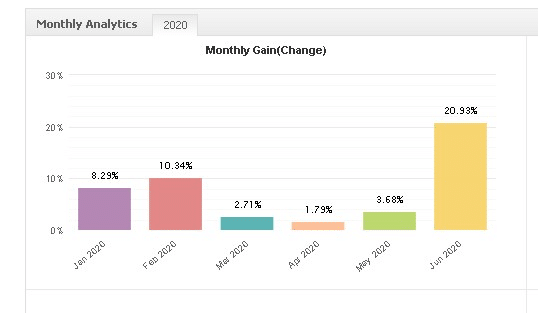 Trading Activity Is Hidden
The owners of Forex Olympus have not been very transparent because their trading activity is private (open trades and orders are hidden). It makes impossible to view any trading activity data.


What is it that Forex Olympus does not want the world to see? Are there some suspicious data that shows something sinister? Why does the Green Forex Team afraid to show trading activity? If they want to be more trusted, they need to be more transparent with their traders.
High Drawdown
We have noticed negative changes in terms of drawdown with the Forex Olympus software. The drawdown chart below shows that the drawdowns have constantly been above 11% from April 30, 2020, up to now.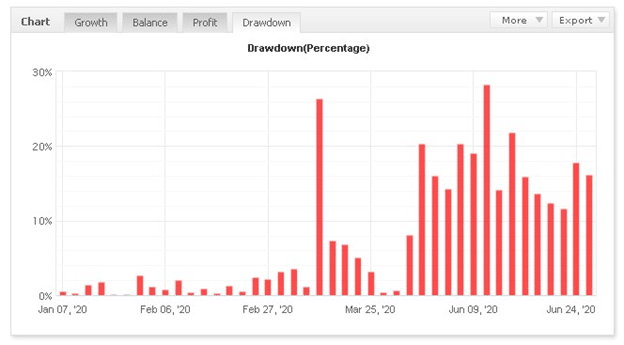 High drawdowns are too risky for any trading account because they increase the risk of ruin and money loss.
Negative Reviews from Customers
Customers' reviews are very important to us. They provide a clear picture of how the software works. We prefer to read reviews on third-party sites because reviews written on official websites could be falsified. The screenshot below was taken from worldwide-invest.org.

Vendor Transparency
The Forex Olympus long-term development team focuses more on creating new products than on updating the previous ones. Therefore, even if you hit it big with one of their products in the short-term, it will not last. They have already created up to 30 products (the largest of them are Forex Hercules System and Forex Avia Robot) within a short period and Forex Olympus will not be the last. Although we appreciate their reputation and consistency in the market, we would like them to do more to keep their programs profitable in the long-term.