Forex Heist EA is a new expert advisor promising to bring high returns "like never before". The developers claim that their product was designed to help traders trade with minimum risks even "when novel coronavirus collapses the world economy". To find out whether it is good trading software or just a scam, we have decided to provide you with a detailed Forex Heist EA review.
Is Forex Heist EA a Good Choice to Invest Money?
We do not recommend Forex Heist EA:
Mediocre explanation of trading strategy
Extremely high price
High drawdown
Negative reviews from customers
Lack of vendor transparency
Features
Their website presentation is short and simple. It seems that it was written for newbies or for those traders who have very little trading experience in the Forex marketplace.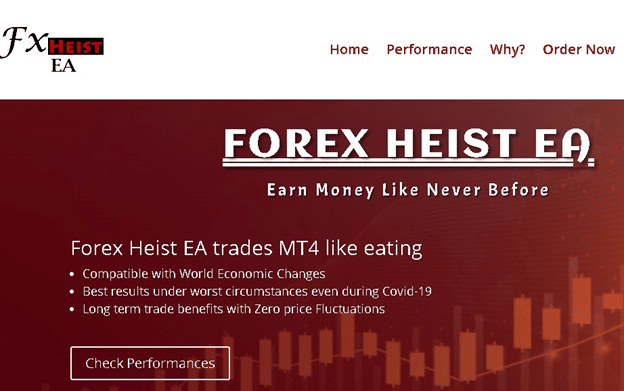 The developers of this EA point out the following features of their product:
Fully automated trading
Money management system
Following FIFO
Zero price fluctuations
100% verified trading results
Compatibility with any broker
Free installation
Regular and free updates
Hidden TP and SL
Full- time support
No hidden charges
We do not understand what the developers mean when they say "no hidden charges". Moreover, why did they mention "free installation"? Where did they see a paid one?
At the end of the presentation, we have found some information about the product. The developers do not provide detailed information about the Forex Heist EA, but claim that it "studies market trends, perform history analysis and keep an eye on economic flow & important news before placing any trade". Being based on machine learning models, it makes complex systems compatible and easy to use. Long story short, the information they represent to the public is a common thing for most Forex robots.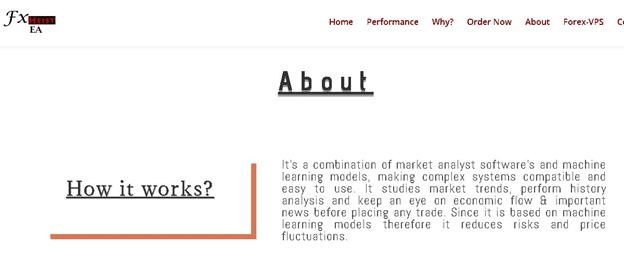 Extremely High Price
Forex Heist EA is available in 3 different packages:
Starter – costs $70 a month with a month for a single license
Standard – costs $100 a month with a month for a single license + VPS
Professional – costs $790 a year with a year for a single license
Premium – it is a lifetime package which costs $2000 a year with a lifetime single license
The Forex Heist team offers three "limited addition packages". The first costs $120/month and includes a double license for a month. Three months of single license cost $180/month. $330 is asked for a 6 months single license.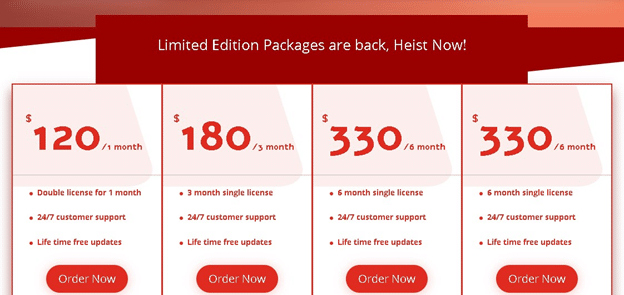 Mediocre Explanation of Trading Strategy
We know completely very little about the trading approach of this EA. The developers only say that their product is built on "machine learning models". The vendors of this trading tool claim that their software studies market trends, perform history analysis, and economic flow before it places any trade. The robot is said to trade with minimum risks even "when novel coronavirus collapses the world economy". The developers of Forex Heist EA tell us a lot about their product and nothing about its trading strategy.
Back Testing Results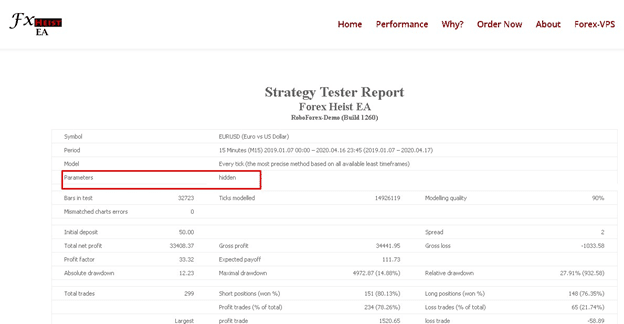 The FX Heist team provides backtesting results of their expert advisor. However, as you may see from the screenshot above, the most important (parameters) are hidden.
The backtesting started on January 7, 2019, and ended on April 16, 2020. It's a EUR/USD backtest on the M15 timeframe. The modeling quality was 90%. The initial deposit was 50.00 dollars and the total net profit was 33408.37 dollars. For 1 year and 3 months, the account has performed 299 trades with an average win of 147.19 and an average loss of -15.90. It had a high-profit factor: 33.32. The maximum drawdown was 14.88%. The backtesting results show that Forex Heist EA can have many consecutive losses.
Trading Performance Data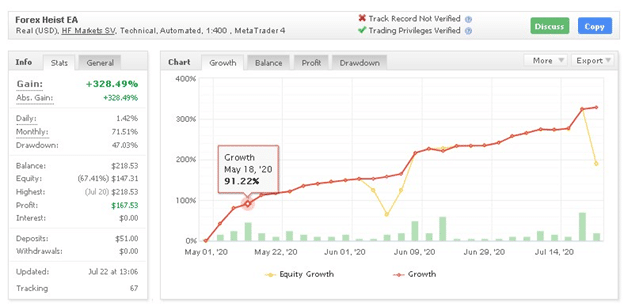 The Forex Heist trading account launched on May 1, 2020. This is a real and live USD trading account, running on the MT4 platform with HF Markets SV brokerage. It is trading with 1:1000 leverage. The account had been deposited at $51. It does not look optimistic and it seems that the one way the dev may earn money is not by trading in the Forex market place, but by getting a loan in the bank to deposit these 50 dollars to try to sell out some copies of their product. It looks like the vendor is not certain in the successful trading performance of the product.
The robot shows a good gain that equals +328, 49%. For 3 months, the account has earned $167, 53 of profit.
The drawdown is 47, 03% with a peak drawdown of 36, 35% on June 4, 2020.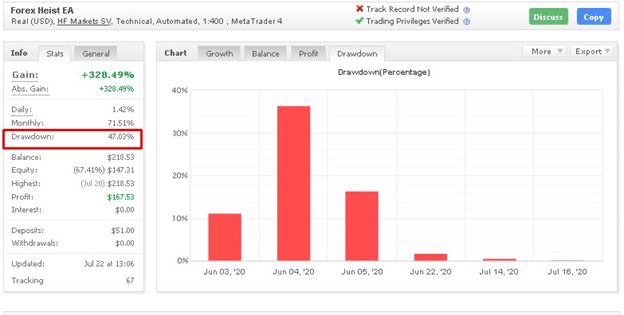 Since that time, the drawdown chart has slowly been dropping down. Oddly, but there is no drawdown performance chart from May 1, 2020, to June 1, 2020, as well as from June 16 to the current days.

The robot has traded 99 trades with 1593, 4 pips. It has won 84 out of 99 trades, which represents 85%. Its average trade length is 1 day. The average win ($2, 50) is mostly equal to the average loss ($2.84). Longs' win-rate was 84% and shorts win-rate was 84%. The profit factor is high and equals 4, 94.
The robot opens trades every hour, 5 days a week (from Monday to Friday).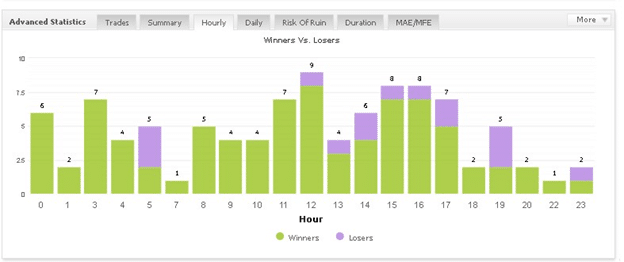 It trades only EUR/USD currency pair:

Currently, the EA is running with the lowest possible risks:

Negative Reviews from Customers
On the forexpeacearmy.com website, we have found 6 reviews from customers who have already tried this EA. All the reviews are negative ones. Traders provide software with 1 out of 5-star rating and complain about high drawdown, no response from the Forex Heist support, and big waste of money: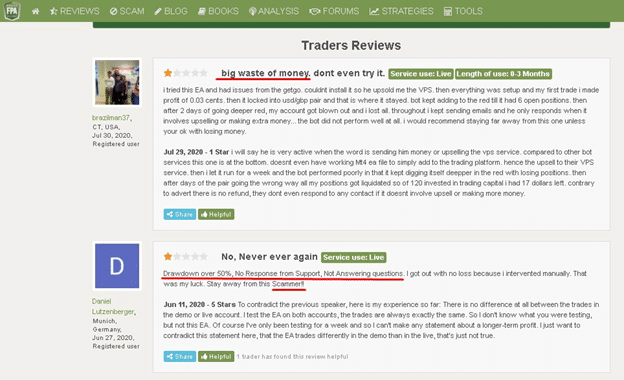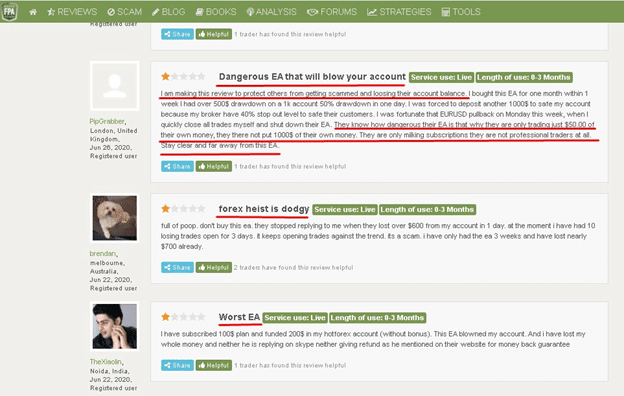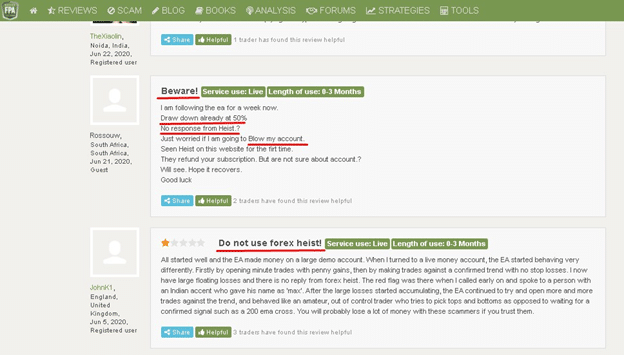 We have not found any positive reviews from customers. Therefore, this is a red flag for Forex Heist EA.
Lack of Vendor Transparency
The developers of this EA did not mention their names, location, or trading experience in the Forex marketplace. The one thing we know is that they are "professionals specialized in their fields":

Oddly, but years of effort, experience, and knowledge did not bring more money than $51.00 to fund the account. It seems that someone just tells a lie.
On whois.domaintools.comwe have found that the website was created on April 27, 2020.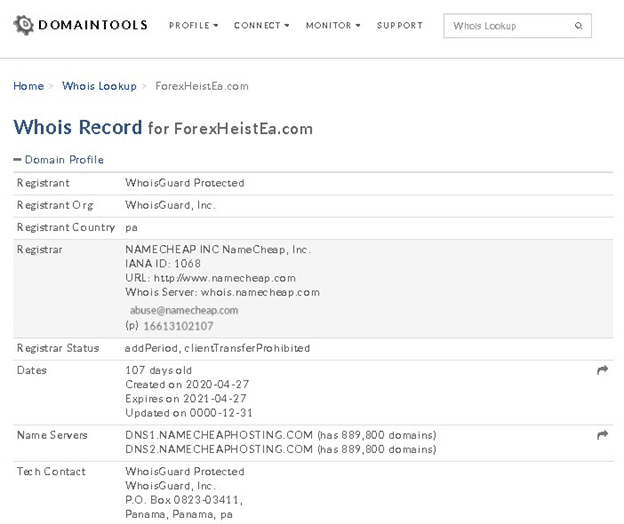 To get in touch with support, traders need to submit a contact form on their "Contact Us" page. In addition to this, the Forex Heist team offers other ways to connect via Facebook, Skype, Instagram, or Twitter.