Forex Avia Robot is one of the latest automated software developed by Rita Lasker and the Green Forex Team. Its developers claim that this automated trading tool can provide "Up to $500 Profit… Every. Single. Day". Although we have reviewed many different products by this vendor, mostly all their products lack very important details.
Today in this Forex Avia Robot review, we will be analyzing whether Rita has turned over a new leaf or is still using the same marketing techniques she has been using for many years. Although Rita claims that she does not want to make "risky attempts to squeeze out the maximum profit", it is interesting to see what their trading methodology is. We hope that this time they will pay more attention to updating their systems than producing new ones.
Is Forex AVIA Robot a Good Choice?
Forex Avia Robot presentation looks unprofessional and makes buy it asap. It was truly hard to find relevant intel across all those good-for-nothing speeches.
However, we've analyzed this EA from A to Z and found that this software is not a good choice for a trader:
There is no transparent insight on the trading algorithm

Unverified trading results

The average loss is 6 times higher than the average win

High drawdown
There Is No Transparent Insight On The Trading Algorithm
The Forex Avia Robot is based on "upper and lower points of the range, the stochastic and CCI oscillators determine entry points". They do not provide detailed information about their trading strategy but convince us that they are using these indicators and it is not difficult to piece together.

The EA also comes with "time-sensitive strategy", "super-precise trailing", "perfect visualization ", "take profit & stop-loss". They promise to provide "big easy money".

It looks like a scam because wise developers avoid this sentence. After all, they truly know it is impossible for several reasons (market swings, trading strategy, trader's experience, etc).
Unverified Trading Results
One of the most disappointing and lacking parts of mostly ever Rita's product is the lack of verified trading results. The Forex Avia Robot is not an exception. We have found a screenshot on their website showing the software trading from early November 2019 to early December 2019.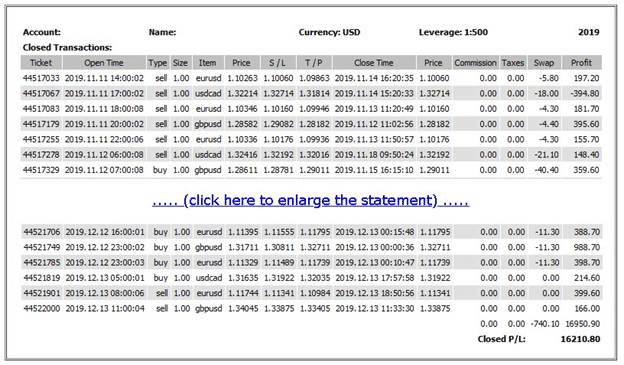 It is not enough to have a clear understanding of the trading results of this forex robot. Moreover, none of the provided results can be verified as it could be with myfxbook or fxblue.
Today vendors try to be smart and do their best to show the users why they are the best in the market. Moreover, in 2020 not having verified trading results is essentially the be-all end-fall in this market. It is not difficult to find a verified trading account on myfxbook or fxblue. The process takes only a few minutes to find it and attach it to the website. If a vendor does not do it, we may assume that they are trying to hide something.
Let's analyze the next screenshot: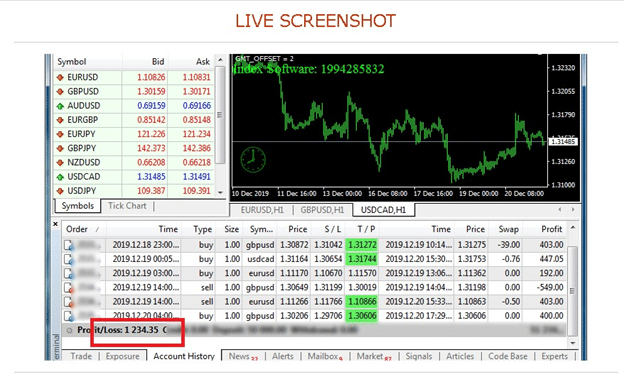 This is all we know about the trading results of this robot. However, we are not sure that exactly this expert advisor has reached these trading results for 2 days. The block where usually is placed EA's name was cut in Photoshop.
Trading Results on FXBlue
Now, we are going to discuss and analyze the real trading performance of a live trading account which we have found on fxblue.
The Average Loss is 6 Times Higher Than The Average Win
The real account started on February 18, 2019, and the most recent upload was on April 2, 2020. It trades EUR/USD and USD/CAD currency pairs. USD/CAD profit factor is 42, 49 that is significantly higher than the one of EUR/USD – 1, 76. The account is showing a total return of +36.4% from February 18, 2019, to April 2, 2020, with a risk/reward ratio of 1.83. Its average win is +134.65, while the average loss is -815.91, which exceeds the win rate 6 times. The trade length is 33.0 hours and the worst drawdown is -12.9%.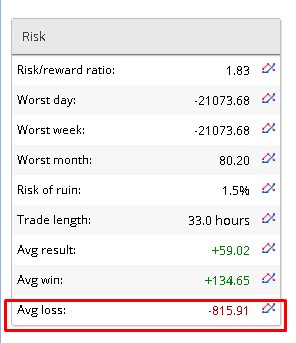 High Drawdown
A high drawdown percentage is very risky for any trading account. It can increase the risk of ruin. This EA has not any built-in mechanism to cope with this problem.

Moreover, the ups and downs of trading results are very bad for trading.