Euro Scalper Pro is a fully-automated provider of Forex signals that lets you place trades without any prior experience in the foreign exchange market. You don't need to pay any fees or charges in order to use this software, and it is easy to install and earn profits using this system. It promises to deliver highly accurate entry and exit signals while monitoring your trading account at all times without restrictions.
Euro Scalper Pro: To Trust or Not to Trust?
The presentation on the official website of Euro Scalper Pro doesn't look very professional at all. On the home page, just the main features have been highlighted, and a live video stream has been provided where we can see the live trading results in a list format. The trading strategy is explained very briefly, and there are separate sections for Reviews, FAQ, and Contact.
With respect to other similar systems, the presentation doesn't seem to be too professional, and moreover, the trading results have been furnished in an unusual format. We simply don't have enough data available on the official website, so our first impression is not too positive. To us, this does not look like a legitimate Forex signals provider.
Features
Euro Scalper Pro is a 100% automated Forex signals provider that has both free and paid versions. In order to be eligible for the free service, however, you need to open a new account on Metatrader 4 using the link provided on the website with the OctaFX broker and make a minimum deposit of $1000 or 1000 Euros. After opening the account, you can send an email to the Euro Scalper Pro team, after you will get access to the signals.
If you wish to use the paid signals, you have the option of choosing between the monthly and annual plans. The first plan requires you to pay $197 on a monthly basis, while the second one is priced at $1997. As per vendor claims, the second plan is provided at a discount of 15%. Users can cancel their membership whenever they wish.
Euro Scalper Pro only trades in the EUR/USD pair using a short-term scalping strategy while using a leverage of 1:500. In this scheme, the system looks for small price movements and tries to take advantage of them. Usually, this only leads to small profits. This system gives you full control of your funds so you can request or add money to your account whenever needed.
Trading Performance Data
On the official website, the vendor has provided a live streaming video where we can see the trades with price, stop loss, take profit, and profit specified. We don't think this is the proper way of displaying the live trading results for an automated system since there is no way to verify whether the results are genuine or not.
Seasoned Forex traders always look for genuine live trading results verified by a third-party source. Since they have not been provided, we cannot determine if Euro Scalper Pro supplies accurate signals. Backtesting data is missing on the website as well, which means we cannot check Euro Scalper Pro's performance based on historical data. Backtesting data reveals several important system parameters like profitability, relative drawdown, and profit factor, and since we have no way of finding these out, assessing the reliability of the signals becomes impossible.
Vendor Transparency
On the "About Us" section of the Euro Scalper Pro website, it introduces itself as a trading company supplying trading research and signals to large financial bodies, corporations, and individuals. It is mentioned that the research and analysis team has more than 40 years of experience in building efficient trading models for the Forex market. However, the identities of the team members are not revealed, and we don't have a physical address for the company headquarters.
Most of the "About Us" section is filled with fluff and we have very little information about the vendor. The lack of vendor transparency may serve as a deterrent for those who are very particular about company reputation.
Customer Reviews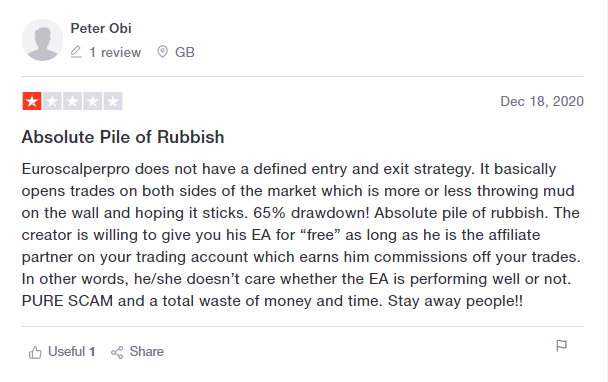 We managed to find a few user reviews for Euro Scalper Pro on the Trustpilot website, where the customers have heavily criticized the service. One user has mentioned that the system has a high drawdown of 65% and lacks a proper entry and exit strategy. According to them, the vendor is offering the EA for free just to earn some commissions.