Entry Points Pro is a system that provides a trader with signals to enter trades. After receiving the signals, the trader is advised to set a stop loss above the signal candlestick to reduce potential losses. Entry Points Pro was published on January 30, 2021. This means it has not been in the market that long. Well, let's see what this indicator can do and if you should trust it or not.
Entry Points Pro: to trust or not to trust?
Through our review, we have established that this software cannot be trusted. As we will discover later, there are a lot of red flags about this system that cannot be ignored. Our analysis found that the vendor hides important information that pertains to Entry Points Pro. Furthermore, we suspect that the data highlighting its performance is exaggerated to lure the trader into purchasing the product. Let's look at the various aspects of the software we have assessed.
Features
The price of this indicator is $125. It can be downloaded for free for demo purposes. The vendor does not provide a money-back guarantee.
The system's features are described as follows:
Is applicable to any financial assets: metals, stocks, Forex, indices, and cryptocurrencies
Uses the MT4 platform for trading
Can work with any broker
Provides timely entry signals
Has algorithms that enable a trader to find ideal entry points in the market
Offers signals for any direction
Provides exit signals but only for demo purposes
Shows the profit potential and stats for the preceding period
Does not overload the terminal and does not cause it to freeze
Works on all time frames but generates best results on the 15-minute time frame
Indicator panel is automatically displayed in the trader's preferred language
Visual and sound alerts are present
Filters out false signals, signals against the trend and other risky trades
Has a user manual
According to the developer, the software applies a trend strategy. It particularly tracks price directions and determines appropriate points of entry. The goal is to minimize risks and increase profits.
Trading results
The vendor of Entry Points Pro should be criticized for failing to demonstrate transparency in displaying backtest results. This data is essential as it can help us establish if the indicator can benefit the trader in the future based on how it performed in the past. Its absence should hence concern the trader.
Trading results for this indicator are available at myfxbook.com. We have described and evaluated them below: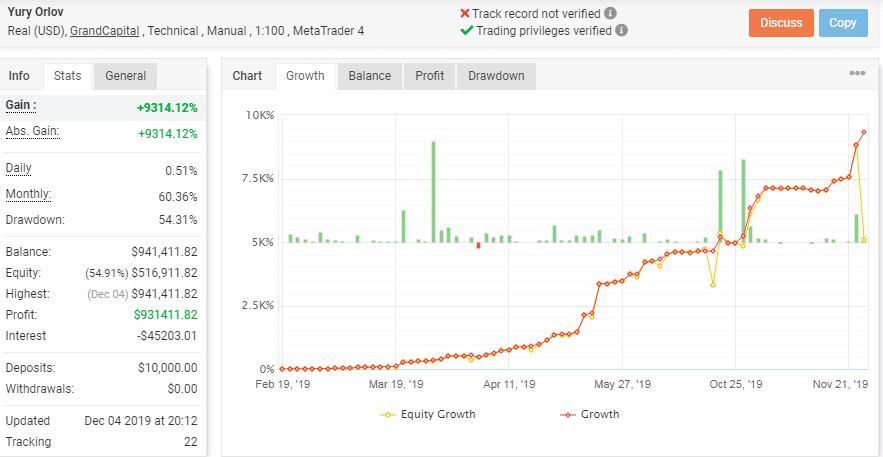 You can see from the statistics that this is a real USD account that operated with the GrandCapital broker using a leverage of 1:100. It is also obvious that the account has been dormant for a while as it operated last on December 4, 2019. During its active period, it managed to increase the deposit of $10,000 by 9314.12%. This is after making a profit of $931,411.82. We find this hard to believe. If the account generated such huge amounts of profits, then why has it stopped its operations? It doesn't make any sense. The rate of monthly profits (60.36%) was also high and far-fetched. 

A total of 272 trades were made. The win rates for long and short trading positions were 78% and 83% respectively. Info on lots is locked. It is possible that the account traded with large lots and this is what Orlov does not want us to see. The pips made were 6917.2. The average win was 37.08 pips when the average loss was -22.71 pips. The profit factor of 11.69 is high.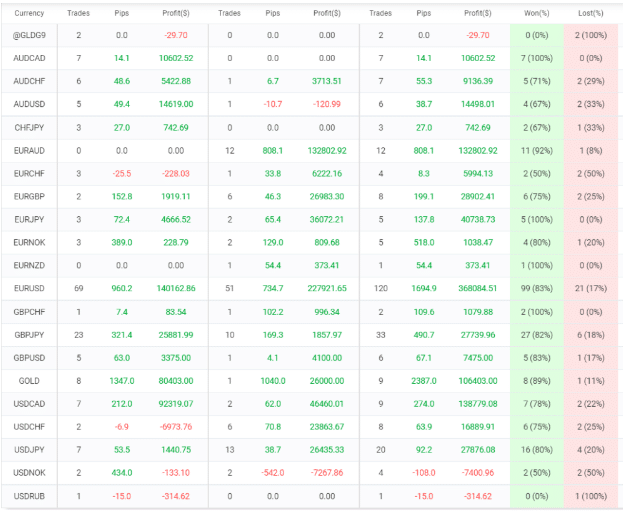 EURUSD is the mostly traded currency pair having made 120 deals.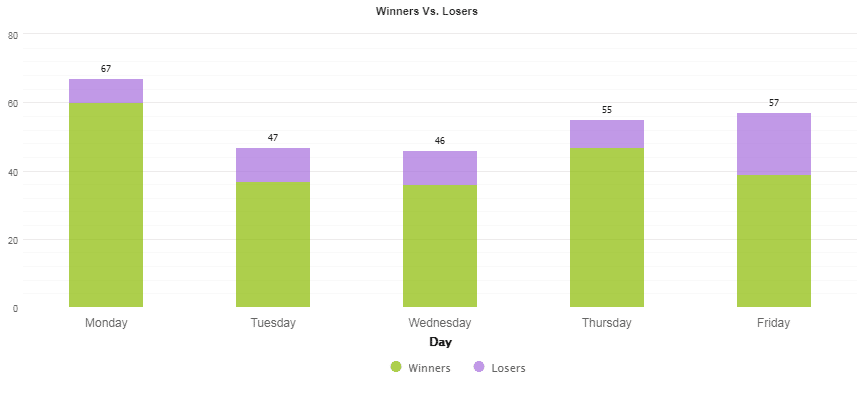 Most trades were carried out on Monday (67 deals).

The risk of losing the account is moderate.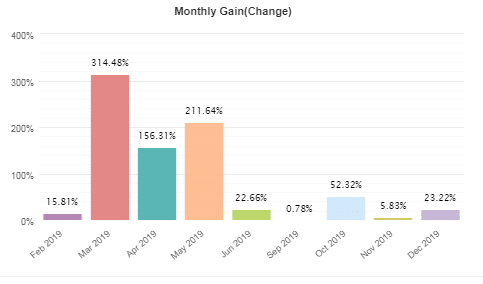 The month-to-month performance is beyond believable. This is especially true for March, April and May when the account made abnormal profits.
High drawdown
The drawdown (54.31%) was huge. This brings our attention to the risky approach the account uses in trading. The account is taking huge risks as it tries to maximize profits. Therefore, it may not survive in the Forex market for long as it may totally lose the ability to defend its position.
Vendor transparency
Entry Points Pro is being sold by Yuri Orlov, a self-proclaimed Forex trader. He is from Spain and claims to have been in the trading industry for over 2 decades. Entry Points Pro for the MT5 version is his other product. 

Obviously, Orlov's professional portfolio is too brief. Therefore, we do not know his achievements, skills and expertise despite his supposed long experience in trading. We subsequently find it hard to have confidence in his product.
Customer reviews
Many customers have shared their experiences with the indicator on the mql5 website. A majority of this feedback is positive. However, we have analyzed the several negative reviews to see what customers dislike about this product. Our assessment has revealed that some clients think that Entry Points Pro is a waste of money. Their feedback is shown below: 
We also noted that Orlov tends to label negative reviews fake. He even goes to the extent of insulting the disgruntled customers. This is so unprofessional. His attitude makes us think that he is threatened by such reviews because they reveal how phony his product is.