Elite Tactics is a fully automated Forex expert advisor, designed to analyze market conditions and trade with pending orders for the fastest execution. The developers of this trading tool claim that their product ensures minimal trading risks because every order is protected with stop loss, advanced filtering functions, and slippage protections.
To decide whether this product is as effective as advertised, we have prepared a detailed Elite Tactics review. Here we are going to analyze trading results, vendor transparency, risk factors, strategy, and the other important aspects to find out whether this EA is worth its price.
Is Elite Tactics a Good Choice to Invest Money?
Taking into account that it is a new EA we can neither recommend nor say that it is a bad choice for investors. We would like to see more transparency from the developers if they do want to sell out their product and obtain a good reputation among traders.
Features
This EA can be bought only through the MQL marketplace. It can successfully work either on the MT4 or MT5 platform. The vendors of this EA claim that it is protected with stop loss advanced trading functions and slippage protection to provide traders with smooth trading with minimal risks. You can adjust the software and your risk settings according to the account equity.
The recommended deposit to start trading with Elite Tactics is $100.
Price
This EA is available to buy for $ 245 through the MQL5 marketplace. It can be rented for $90 per month, $135 per 3 months, or for $170 per 6 months. The software also comes with a free demo account for those traders who want to test the software before a purchase.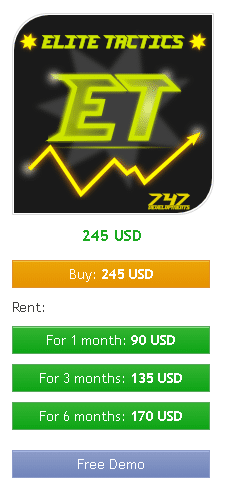 Trading Strategy
The developers of Elite Tactics claim that their trading tool does "not use any of the dangerous strategies like Martingale, Grid or Arbitrage". They add that their software: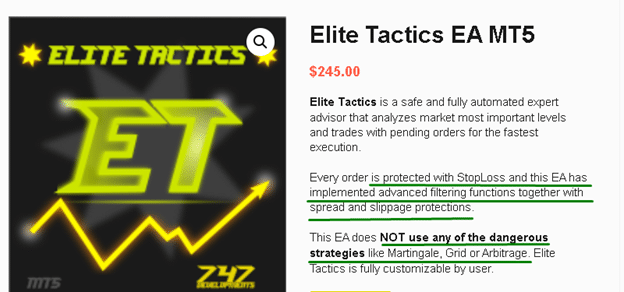 The information they provide about their trading approach is not enough to go on. They need to tell more about their trading insight and better explain how it works.
Trading Performance Data
Well, let's review how this trading system works.
This is a demo account, which is working on the MT4 platform with IC Markets brokerage. It launched on June 5, 2020, and since that time, it has shown a gain of +2. 5, with a monthly gain of 2, 50%. The robot is trading EURUSD, GBPUSD, and USDJPY currency pairs.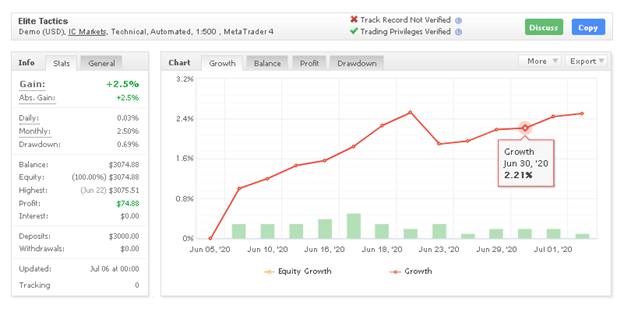 It has deposited $3000 and got over $74 of profit. Currently, its balance is $3074. For the trading period over 3 months, the robot has traded 34 trades and 102 pips. It has won 33 out of 34 trades, which represents 97%. The profit factor is high and equals 4.52. Its average loss (-$21.27) is significantly higher than its average win ($2.91). We have analyzed its profit chart and noticed that the worst trading result it has had during the whole trading activity was on June 23, 2020. That day its profit dropped by 0, 63% (from $75, 51 to $56, 68).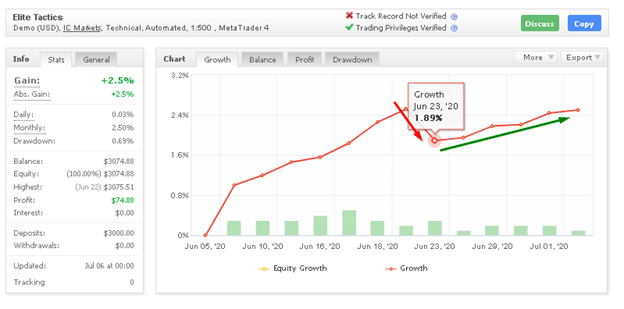 The average trade length is 5 minutes and the peak drawdown is 0.69%.

Its monthly chart analysis shows a dwindling performance in July and no trading activity in August: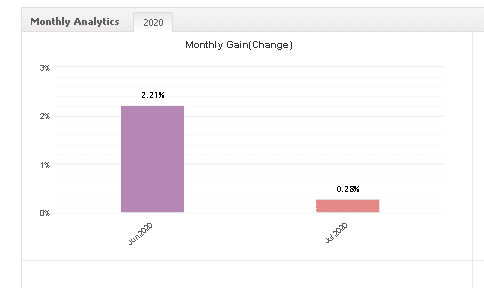 The EA cannot boast a good monthly gain, because its best trading results were in June 2020 and equaled 2,21% only. In July, the monthly gain dropped, and equaled 0, 28%.
Vendor Transparency
On the MQL5 website, we have found that the vendor of this EA is Radek Reznicek. The official website offering this product is 747developments.com. However, there is no information about the developers or their headquarter location. The one thing we know is that the products developed by 747DEVELOPMENTS are designed with more than 5 years of programming experience and more than 8 years of trading experience.
With the help of whois.domaintools.com, we have found that the 747DEVELOPMENTS website was created on March 31, 2020. Its web server uses the IP address 70.32.23.50, which is located in Ann Arbor, Michigan, United States.
To get in touch with 747DEVELOPMENTS, users need to visit their contact page or send a message via their social networks.