Easy Walker is a overnight multi-currency pair scalper expert advisor, which is designed to trade "during the Asian session, when the market activity is minimal". The developers of this automated tool provide us with backtest results and boast about 99% quality of their expert advisor. To check out the veracity of claims we have prepared a detailed Easy Walker review. We are going to conduct an informative analysis of this trading tool and help you decide whether this EA is what you need.
Easy Walker FX: To Trust or Not to Trust?
We do not recommend this EA to the public because it is not the software to trust. Our verdict is based on:
Extremely high price
Hidden trading activity data
Easy Walker is not compatible with any brokerage
Lack of detailed trading strategy insight
Features
The developers of this automated trading tool point out the following features of Easy Walker FX:
Supports EURUSD, GBPUSD, and EURGBP currency pairs
Trades with any leverage
Runs on M15 timeframe
Recommended brokers: ICMarkets, Pepperstone, Alpari ECN or FxOpen
Trading Strategy
Although they do not provide us with a detailed trading strategy explanation, there are a few things we already know. The team behind this EA tells us that in comparison with the other advisors, this one does not use any risky or dangerous trading approach. That is why the frequency of opening transactions is small.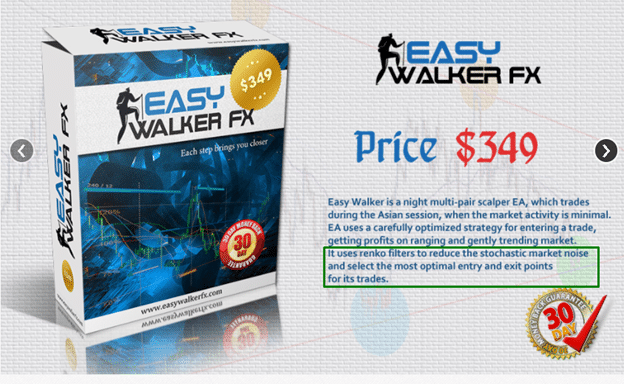 Price
This expert advisor is available to buy for $349. Its lifetime membership includes a 30-days money-back guarantee. Thus, if a trader decides that his Demo or Real trading account fails to provide successful trading results by the end of 30 days, he/she can easily ask for a full purchase price refund.
We do not like that the vendor fails to provide a detailed explanation of what traders get when they buy this software. However, we may only assume that the robot comes with free installation, user manual, and customer support. The one thing the devs tell us on the FAQ page is that only 1 license is valid for one trading account.
Backtesting Results
The vendors provide multiple aggressive screenshots that show the trading performance of their software from January 2012 to May 2014. The thing is, we cannot 100% trust the results, as they can neither be verified nor analyzed completely.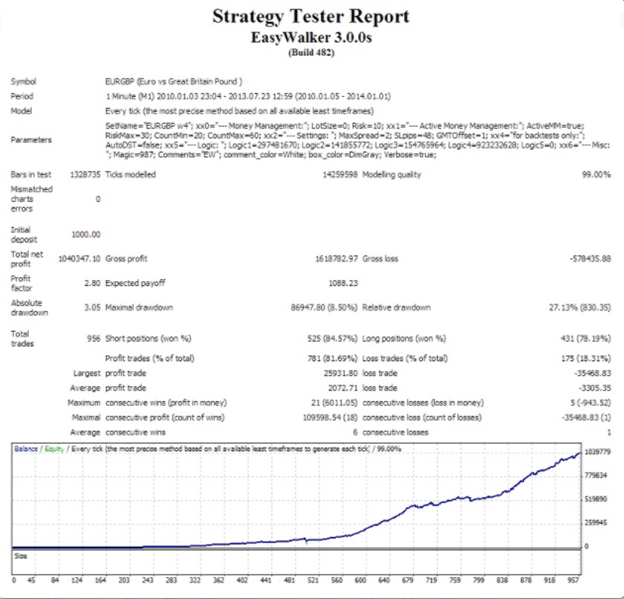 If these backtests were completely transparent, we could not rely only on them, because there is no data since 2019 till the current days. Therefore, we appreciate when vendors provide live trading results verified by third party websites (myfxbook or fxblue).
The devs of Easy Walker FX provide us with 7 trading accounts verified by myfxbook.com. However, one of them discontinued in 2019, two in 2015, one in 2016, and two trading accounts were removed from myfxbook.com. Only 1 trading account is active now. Well, let's jump to the trading performance of this robot.
Verified Results from Myfxbook
This is a real AUD trading account that is working on the popular MT4 platform and trading with IC Markets brokerage and a 1:500 leverage. The account was launched on March 15, 2014, and since that time it has obtained a gain of over 657.83% with a drawdown of 28.97%.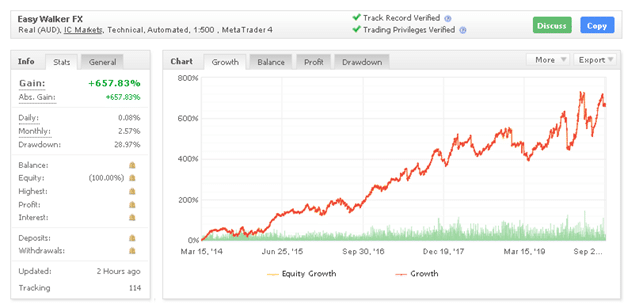 Hidden Trading Activity Data
Oddly, but the developer decided to hide trading activity data. Therefore, we can neither analyze its current balance data nor profit statistics. Strange for the developers who have been trading in the Forex marketplace since 2014. Locking this sort of highly important information is a red flag for Easy Walker FX. We cannot 100% trust the developers who demand over $300 per their EA and consider blocking trading activity data a good approach to prove the efficiency and high profitability of their EA. We never recommend those vendors who try to hide this critical data from their public.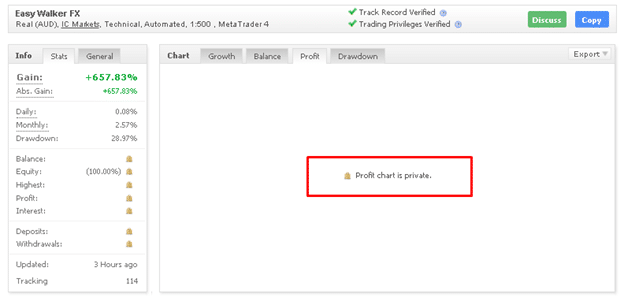 For over 6 years of trading, the robot has traded 5483 trades and 5798.6 pips. It has won 3941 out of 5483 trades, which represents 72%. Its average win result is 6,03 pips, while the average loss is higher and equals -11, 62 pips. The average trade length is 2 hours and 13 minutes. The profit factor is only 1, 13.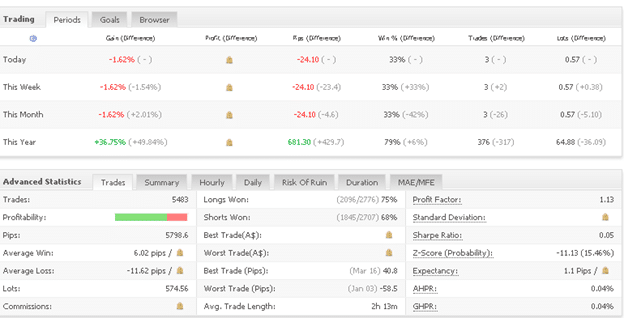 Vendor Transparency
This expert advisor was developed by the ArgoLab team, a company dedicated to algorithmic trading. Unfortunately, the developers tell us very little to no information about themselves, their location, or trading history they have in the Forex marketplace. However, we have found that this company has already produced a few commercial EAs that this is the first we have come across the website. We believe this is because this is a Russian based company, which is actively marketing itself to North America.
To get in touch with support, traders need to visit their contact page and fill out a contact form or email them directly at [email protected].