CryptoHero is a cloud-based crypto trading system that places trades 24/7 on crypto exchanges using an API. The platform also allows you to develop, test, and run your own trading bots in a matter of minutes.
How does CryptoHero function?
CrytoHero essentially automates your trades. So, it will assess the crypto market round the clock on your behalf to ensure that you don't miss an opportunity to make money.
CryptoHero review–positive aspects
A free plan is available
Provides backtesting and paper trading features
Caters for the needs of short and long term traders
Supports popular exchanges
CryptoHero review–negative aspects
No verifiable customer reviews
Time in business
This bot was launched to the market in early 2021 by the Novum group. Since then, the company has managed to include more features, and currently, the app is available on Android, Web, and iOS.
Reputation
CryptoHero comes across as a legit trading tool. Even though it hasn't been around for a long period, the system has captivated the attention of crypto traders across the globe. It is also one of the few crypto bots that provides price-friendly plans for users. In fact, you don't need to pay a dime to use its basic plan.
Supported exchanges
For now, CryptoHero integrates with the following exchanges:
Binance
Huobi
Coinbase Pro
Bitfinex
FTX
Kraken
OKEX
Kucoin
Binance.US
Mandala
Crypto.com
TradeStation
Indodax
Tokocrypto
Bittrex
Gate.io
UI of the CryptoHero
CryptoHero has an intuitive user-interface. All the information regarding the robot is presented in a simple manner. For this reason, anyone, including those new to crypto trading, can understand how it works and how to apply it to their trading.
Key features of CryptoHero
Find below the features included in the bot:
Trade parameters
Entry and exit conditions
Backtest strategies and simulated paper trading
AI Optimized bots
Long and short strategies
Technical indicators
How to get started on CryptoHero
You can begin using this software by linking your exchange or simulated paper trading account. Next, select the cryptocurrencies you want to trade from the list provided. Your balance data will then be pulled live from the exchange. It is up to you to stipulate the available balance to allot to the bot and indicate how it should handle the funds. Various options are available for entering and exiting a trade. You may enter using BB and exit with EMA.
How secure is CryptoHero?
The system is, in a general sense, safe. All the personal info you provide is kept on secure servers. Access to this data is restricted to the vendor's staff, service providers, and contractors on a strictly need-to-know basis. More importantly, the bot doesn't store your funds and only accesses them through your exchange.
Customer support
CryptoHero provides a number of channels for customers to contact the support team. These include Web Form, Email ([email protected]), WhatsApp, and Telegram. The team promises to try to respond to your question within 24 hours. A tutorial guide along with FAQs is also available to help traders understand how to use the product.
Are traders happy with CryptoHero?
The devs would want us to believe so. They have posted a few positive reviews on the official website, which claim that the system is easy to use and trades intelligently. There's no way of confirming the authenticity of these testimonials, though. Trustpilot and FPA have not reported any user reviews pertaining to this bot.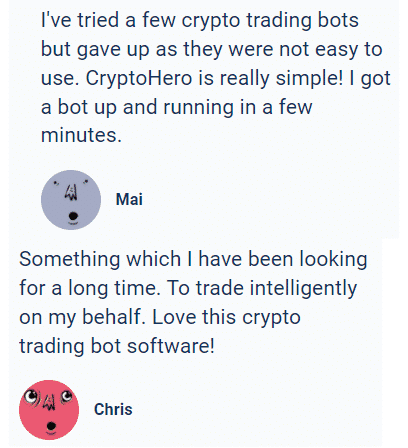 Pricing and fees
The platform offers 2 pricing plans. You pay nothing for the basic plan and receive these features; 1 active bot, AI optimized bots, long & short strategies, all technical indicators, and 1 connected exchange. The premium version, which costs $13.99/month or $139.99/year, offers more features, such as 15 active bots and 3 connected exchanges, plus the other offers present in the basic pack.
Is a free trial available?
Yes. The vendor avails a free trial for traders keen on confirming the efficiency of a product before investing any real money. Through this feature, potential customers can get a feel of how the system works and make a more informed purchase decision.
Languages supported
The app supports 3 main languages, including JavaScript, HTML, and Python.
What kind of traders is CryptoHero best suited for?
CryptoHero is a good choice for traders with varying needs. Therefore, if you are a trader who loves to work with long-term strategies, you don't need to worry because the bot will wait for weeks, months, or even years to find the best trading opportunity. On the other hand, if you have a preference for short-term strategies, the system will quickly assess the market and make the correct trading decisions for you within seconds.
Company information
CryptoHero is the invention of the Novum Group, which is a huge blockchain group of companies that operate in the media, hedge fund, and technology space. Mr. Christopher Low is the main founder of CryptoHero. He is described as a successful serial entrepreneur who has created a number of successful companies in his vocation.
CryptoHero verdict: should you give it a try?
CryptoHero is one of a kind in that it enables you to enjoy some of its features for free. It is also easy and intuitive for newbies who want to create their own bots and run them. Moreover, you can work with many exchanges and engage in short and long term trading. Unfortunately, with no verifiable user reviews, it becomes hard to gauge the actual performance of the system.