Centre Forex is a new signal service that claims that it is "one of the best & trust-able forex signal providers". The developers of this trading system are boosting 10 years' experience in the forex and commodity markets. They send forex alerts twice a day via Skype, Facebook, email, and their website. We do not know why the team behind Centre Forex signal provider is offering so many different sources, but it must be so that they want to catch as many of their prospective clients as possible. They also add that after logging to their website traders can view their Forex signals performance page or check your emails to review the latest signal notifications.
Today in this Centre Forex review, we will be analyzing this signal service and letting the community understand if this is a viable trading service.
Is Centre Forex a Good Choice for Traders?
This signal service is certainly interesting, but there are a few aspects that should be resolved as soon as possible:
The developer should provide detailed information about its personality
The Center Forex team should mention information about the website selling on their website
The developer should reduce the price for the Centre Forex signal and provide client trading results on their website
Features
Centre Forex offers managed account service and signals service, but in today's review, we will be talking about the signal service only. They have a system that produces many signals throughout the day. The analysts sort those signals and choose the best ones. They send "signals which offer at least a 1:1 Risk Reward Ratio" and stop losses of 30 – 100 pips alongside pre-defined take profit levels.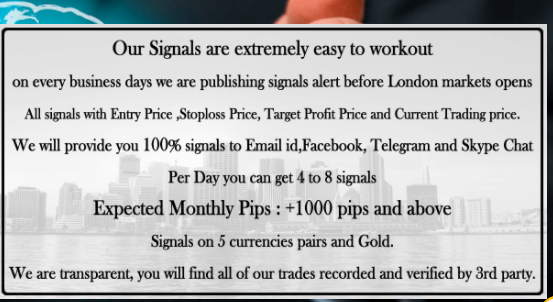 This is a good format and we expect all the signal providers to follow.
Price
The Centre Forex signal is available to buy for $250/month. To tell the truth, this signal provider is one of the most expensive ones we have ever seen. This price is not acceptable for most traders, because not everyone can afford himself to spend hundreds of dollars every month.

Payments are accepted via PayPal, Neteller, Skrill, and bank transfers.
Trading Strategy

They do not tell us a detailed description of their trading strategy insight on their website. Currently, they are offering only 5 pairs of signals: EUR/USD, USD/CHF, GBP/USD, EUR/JPY, and XAU/USD mostly. The developers add that there is no need to monitor charts for hours.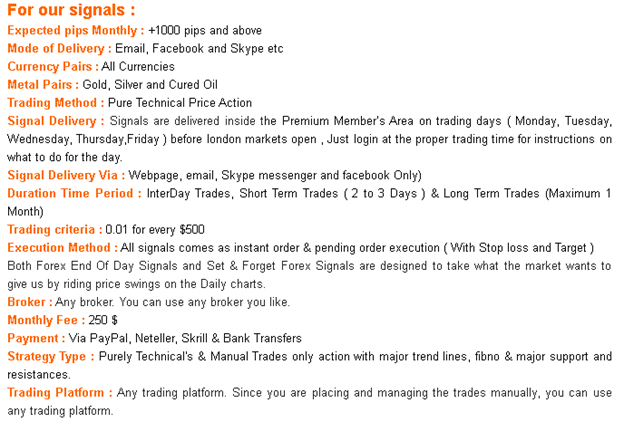 The vendors do not want traders to join their service if they are unable to handle losses, as losses will happen. To avoid serious losses, they recommend "not to risk more than 1 %-2 % of the risk in a single trade and maximum 5% risk in the overall portfolio".
Verified Results from Myfxbook
The devs of Centre Forex provide 1 myfxbook.com Demo account on their sales page. This trading account is working on the MT4 platform with Range Markets brokerage. The account was created on September 13, 2016, and since that time it has obtained a 4775.83% gain with a drawdown of 28.24%. we see strange, rapid, and insane gains in the last few months (from April 1 to the current days). As you can see from the screenshot above, its gain chart is rapidly growing and is showing incredible gain growth over the last few months: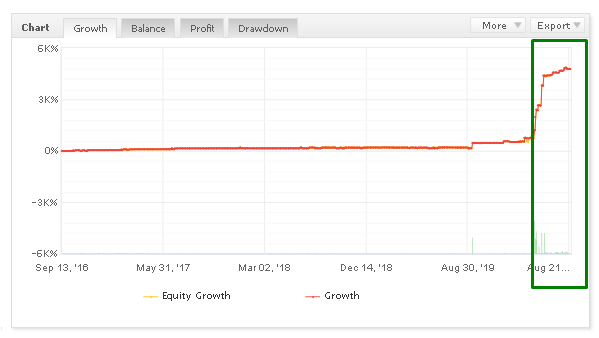 Over 4 years, the account has traded 2021 trades and 79692.3 pips with an average trade length of 1 day. It has won 1171 out of 2021 trades, which represents 58%. Its average win is 224.23 pips, while the average loss is -215.15 pips, meaning that the risk/reward ratio is 1:1. The profit factor is high and equals 3,74.

Although everything looks good, we feel some concerns in terms of its rapid gain growth. The system traded normally for years, demonstrating a gain of over 100%. On September 11, 2019, its gain was 153%, while the next day it made a sharp 459% gain, followed a year later by an over 4000% gain.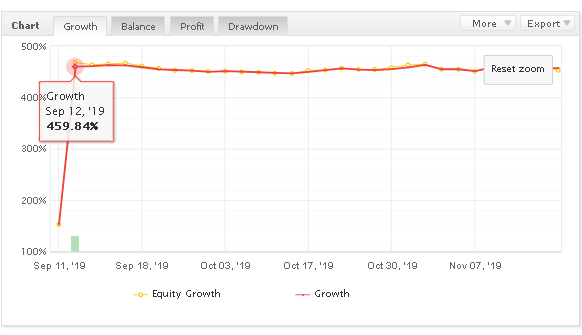 These gains are made with a few very large lot size trades that turned into very large returns:

One of the trades lasted 4 days and made 3900 pips:

It looks too good to be true.
We cannot rely on these trading results only and would like to see real traders' results to compare them and see if they match up.
Vendor Transparency
The developers of this signal service tell us that Centre Forex started in 2000 with their professionally experienced traders.

They tell us that they are 100% transparent with their clients, but we have not found any information about people who stand for this signal service. Therefore, we have decided to conduct additional research. On whois.domaintools.com we have found that the website was created on November 32, 2009. Currently, this website is available for purchase for $10K.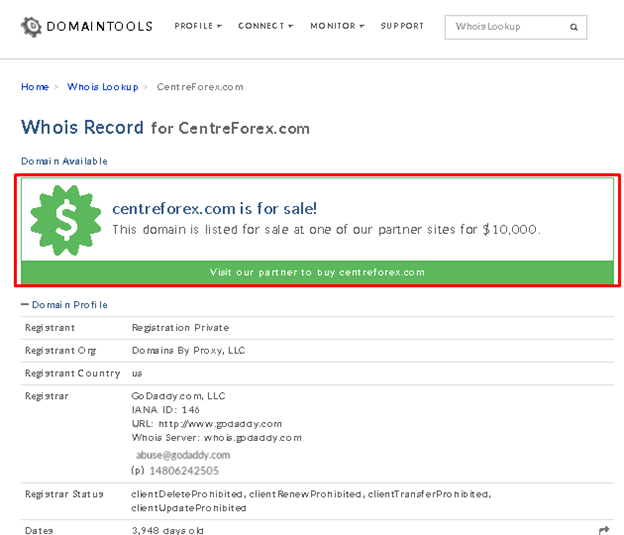 It means that the vendors are actively selling the website and that their service could seize to exist at any time. Possibly, they have some sort of plan to shift their clients to a new website, but there is no information about it on their website. We need the vendors to provide some sort of answer on what it is all about. Currently, having no explanations, we are unable to recommend this signal service to our clients. We do not want to tell our clients that Centre Forex is a good choice just to see it disappear a day later.
To get in touch with support traders need email  [email protected].