Cairo is a Forex EA that has a dynamic and fast trading algorithm and promises a win rate of 99% in a backtest. It was released on 19th January 2021 and is capable of running on both the MT4 and MT5 trading platforms. Although the vendor promises a high win rate and fast execution, we can't just take their word on it, and thus need to conduct a thorough and unbiased evaluation of the various system aspects.
Cairo: To Trust or Not to Trust?
This Forex EA is sold on the MQL5 website, where the vendor has provided a link for a recommended broker, and also a page on the website showing the live trading results for the system. We have a brief overview of what the system is and how it works, along with the best recommendations that would help you get the most out of it.
Finally, we have a list of input parameters that we can change to suit our trading style. The vendor has also provided separate backtesting results for the dynamic and static modes. Since this is a newly launched system without any verified trading proof, we do not think it's wise to trust it as of now.
Features
Every week, Cairo opens multiple trades that are mostly closed on the same day they are opened. The vendor mentions that the system does not use risky trading schemes like averaging, grid trading, martingale, or smart recovery while trading. An active Telegram group is maintained for this robot, where users can follow the latest market developments and get the latest results.
This Forex EA uses Stop Loss and Take Profit for every trade, although the user has the option of modifying them. Only one trade is conducted at a time, and the vendor recommends using the default settings for best results. The robot works best for the EUR/USD pair and you can use any timeframe of your choice.
It has a dynamic lot feature that allows it to automatically select lot sizes based on your account balance. You can also modify the settings to trade with a fixed lot in the static mode. Support is provided by the vendor via the Telegram channel and the MQL5 website.
You can purchase Cairo for a one-time fee of $399, or rent it on a monthly basis by paying $249. There is a free demo version available for those who wish to test the system before investing in it. The vendor does not provide a money-back guarantee for this product.
We are not provided with a clear explanation of the trading strategy, which is a bit disappointing. Maybe it is something that only the paid customers have access to. Nevertheless, some potential investors might take it as a red flag.
Unverified Trading Results

On the MQL5 website, we have the live trading results for Cairo. It shows a growth of 57.79% over 17 trading days. The total profit currently stands at $57.67 and the account has a win rate of 100%. It has an overwhelmingly high profit factor of 18.48 as well. Although the trading results look promising, we cannot put too much weight on them, since they are not independently verified by websites like Myfxbook, FXstats, or FXBlue.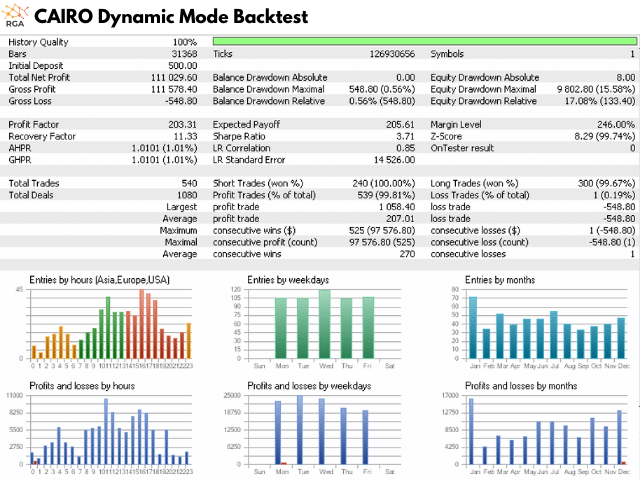 This backtest was conducted for the Cairo dynamic mode with a history quality of 100%. With an initial deposit of $500, a total net profit of $111029.60 was generated during this test. Here, we can see that the win rate was quite high at 99.81% and that the profit factor is 203.31. The relative equity and balance drawdowns are 17.08% and 0.56%, respectively.
Vendor Transparency
Cairo has been developed by a Swiss trader known as Ruben Octavio Gonzalez Aviles. From his MQL5 page, we can see that he has developed systems like Kyoto, Paris, Tokyo, and Miami Static, and has also published signals for some of them. No other information is available for the vendor, and it seems like he is the only person working behind this robot.
Customer Reviews
It is hardly surprising that there are no user reviews for this Forex EA on popular review websites. Since it was launched just a few months ago, it is highly likely that not many people know about it yet. It will take some time before the robot earns a name for itself in the highly competitive Forex EA market.