Botcrypto offers traders an opportunity to create algorithms that use dollar-cost averaging with the help of technical indicators. The platform currently only has support for Binance and Kraken and does not require any withdrawal rights for the safety of the funds.
We will review the service in our article to see if traders can receive any benefits and if the said statements are factual. All the pros and cons will be detailed neatly with information on the features and the number of years the platform is on the market.
How does Botcrypto function?
By developing an algorithm with a sound strategy, traders can backtest it using the platform. If the results are successful, they can then be automatically connected to the exchange to trade. It is also possible to send manual orders. The commissions are not considered from the platform, and there is no restriction on the minimum lot size.
Botcrypto review – positive aspects
The plus points of the services are as follows:
The user interface is beginner-friendly
The system is available with multiple subscription packages
Traders can develop an algorithm and connect it directly with one of the supported exchanges
Traders can contact the helpdesk for solving their questions
Supports reputable Binance and Kraken exchanges
Botcrypto review – negative aspects
The negative points are:
The number of candles is restricted based on pricing
No clear information on the working methodology
There is no information on the service hours
Only two exchanges are available in total
Time in business
There is no information present on when the platform was launched in the market. However, we have conducted an additional Whois.domaintools research and found that the website was created in 2017 with an IP location in San Jose, California.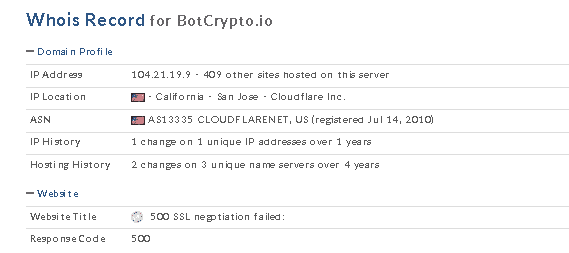 Reputation
There are no customer reviews present on Forex Peace Army or Trustpilot that could guide us on the general viewpoint of traders.
Supported exchanges
The platform supports only two exchanges as of now, including Binance and Kraken. Lack of available exchanges is not a good omen for the service.
UI of Botcrypto
Botcrypto comes with subscription packages and allows traders to create their own custom algorithms. The platform has 20 indicators that can be used to develop a strategy. Connecting your EA with the exchange traders can then automate their game plan. The user interface looks good. However, beginner traders may feel a slight difficulty using it for the first time.
Key features of Botcrypto
The cryptocurrency bot has the following features:
Unlimited strategies are available
Traders can use limit free simulations
Notifications are available on Discord and Slack
Offers full access to API
How to get started on Botcrypto?
Traders can get started with the platform in the following steps:
Build your strategies using the web interface
Backtest them on the platform
Connect with your exchange using the API keys
The bot will start trading immediately
How secure is Botcrypto?
Botcrypto does not have access to withdrawing your funds as they are fixed in the exchange account. API keys are used to connect the algorithm with your cryptocurrency portfolio. Afterward, the bot trades your fund with full automation, depending on its code.
Customer support
Customer support is available through live chat and email addresses. The company is not transparent about its support hours.
Are traders happy with Botcrypto?
The company provides highlights of a few customer reviews who praise their platform. We could not witness any feedback present on TrustPilot and Forex Peace Army that could provide a general view of traders.
Pricing and fees
Botcrypto supports more than 20 indicators, including moving averages, Bollinger Bands, Ichimoku Clouds, etc. Traders can also import the methodologies and perform simulations. There is an option to get notifications on selected social media platforms.
There are multiple subscription methods available to choose from. This includes monthly and yearly plans starting from €9.99 each month for two bots on the market. The other two packages coming with 5 and 20 EAs are present for €29.99 and €59.99, respectively. There is an option to make your own plan, for which you will have to contact the developers.
Is a free trial available?
The developers do not offer any free trial with their service. The free version does not allow any bots to be uploaded or attached to exchanges.
Languages supported
Currently, the platform is only available in English and French. There should be more languages available to cater to traders worldwide.
What kinds of traders is Botcrypto best suited for?
Botcrypto is best suited for traders who have general experience of algorithms and their working methodology. Beginners can use the platform and employ systems made by others.
Company information
Their team includes three members Constantin Del La Roche, Theo Poizat, and Mehdi Boussaad. The respective profiles are available on the Linked In platform.
Botcrypto verdict: should you get it a try?
Botcrypto supports a limited number of exchanges and lacks in the number of strategies available for traders. The platform does not detail its features clearly, which is a poor approach.