BlackQueen is a fully automated robot with a user-friendly interface. It applies multi-currency trading and has unlimited customization potential. But can you really trust this EA? This review will help you to answer this question.
BlackQueen: to trust or not to trust?
The vendor doesn't feature dependable backtest and live trading data in the presentation. This implies that he doubts the efficiency of his product.
Features
The main features of the robot can be found below:
It supports hedging accounts.
The system works with multiple trading including the EURUSD, GBPUSD, AUDUSD, NZDUSD, USDCHF, USDCAD, and USDJPY pairs.
Super-short trades like scalping and pipsing are not used.
The EA functions on hourly bars and is not demanding on the quality of the internet connection.
This system mainly works on the H1 chart.
It offers 3 different trading modes, namely Auto-7 pairs (entails multi-currency trading from a single chart), Auto (THIS CHART)-7 pairs (allows you to trade one pair), and manual, which can be used on any instrument.
A lifetime license for BlackQueen is currently priced at $371. However, if you want to use the robot temporarily, then you can rent it for a month or 3 months at $40 or $68, respectively.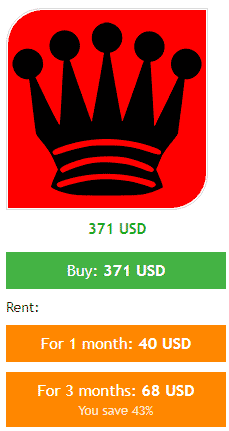 BlackQueen works with two different strategies. You can choose whichever one you prefer. We have the BQ approach, which focuses on using opposite trades to win back any losses the EA makes. It also allows you to increase lot sizes to recover losses. The other approach is called OneOrder. After the robot suffers a loss, it accepts it and waits for the next trading opportunity to initiate trades.
Backtest results
As far as backtest results are concerned, the vendor has posted a chart, which claims that the robot was able to increase a $1000 deposit to $10000 within 2 years. However, the chart presentation is not satisfactory. We need more information that tells us the kind of risks the system takes, the trading frequency, possible win rates, profit factor, etc.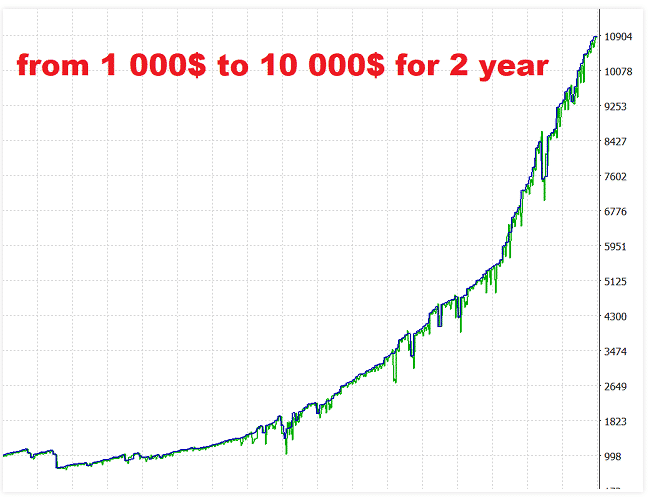 Live trading results
BlackQueen lacks credible live trading data. The owner is not using the robot on any of the verified sites like Myfxbook.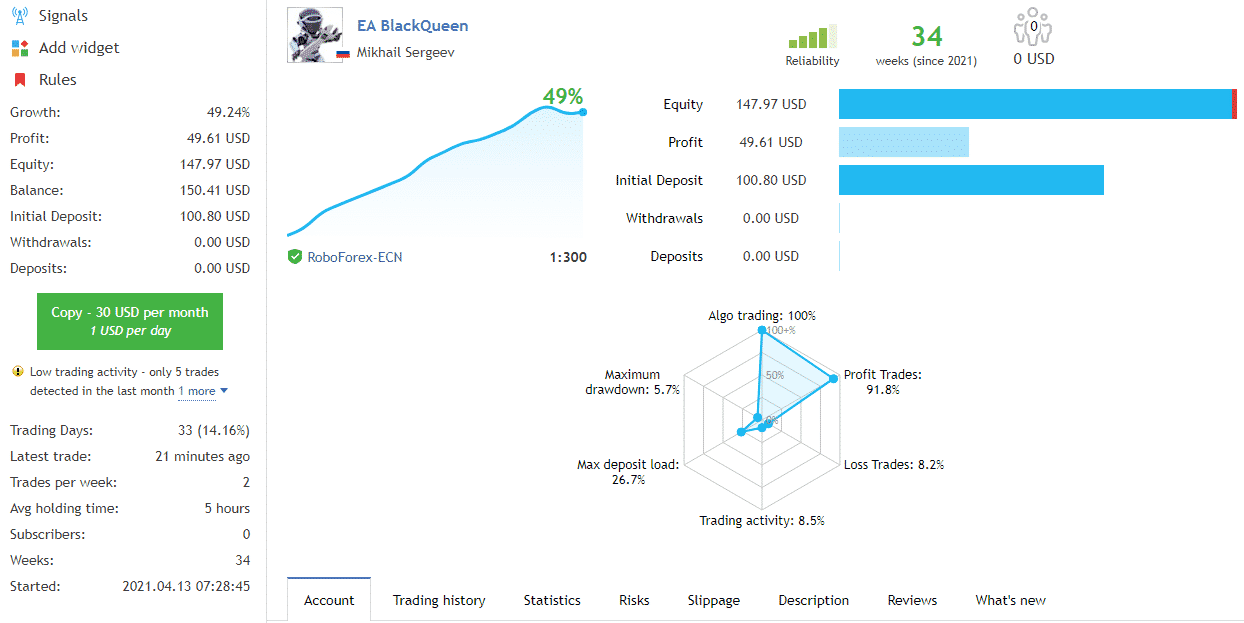 Since its opening in April 2021, only a mere profit of $49.61 has been made. Consequently, the balance has increased from $100.80 to $150.41. Only 2 trades are conducted weekly. This means that the robot loses out on many trading opportunities that it could have taken advantage of to make profits.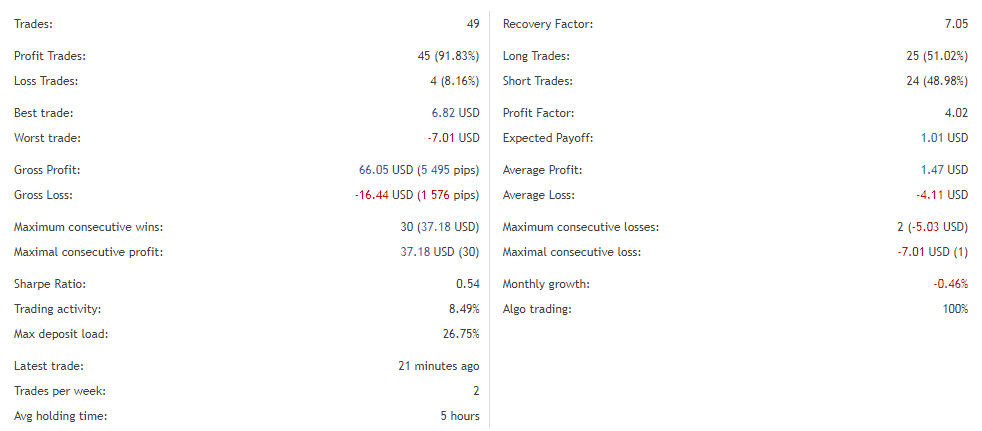 From 49 trades completed, 91.83% have been won. Only 4 trades have been unsuccessful. The average profit trade is $1.47, whereas the average loss trade is -$4.11. The long trades (51.02%) and short trades (48.98%) have recorded very small win rates. There's a profit factor of 4.02.
Low drawdown
The EA generates a low drawdown in the live market. Since it started trading, it has only made a small drawdown of 5.7%. If such a value can be replicated on Myfxbook or FXBlue, then we can be 100% sure that the system's trading activities are indeed safe.
Vendor transparency
BlackQueen was created by Mikhail Sergeev, a developer based in Russia. He is also selling many other automated trading systems on mql5. Some of them include but are not limited to Aver, Spata BearsHunter, Devilfish, and ForExp1. There's no more information given about him. Therefore, it is not known when he started creating these products or if he is an experienced trader.
Customer reviews
A significant number of the customers who have written their reviews on mql5 are concerned about the system's low trading frequency. Apparently, BlackQueen can go for weeks without trading. We have also realized this as we assessed the live trading stats.