Big Poppa EA is a newly released trading system with more than 300 sales so far. The vendor alleges that it trades lucratively with minimal risks. Let's assess this claim.
Big Poppa EA: to trust or not to trust?
This system cannot be trusted. The devs lie to us about its profitability potential and risks involved in trading. Our review found that the EA doesn't make profits at all and generates very high drawdowns. In fact, the system is almost blowing up the account it runs on Myfxbook.com.
Features
The EA features the following:
A money management system
A backtesting process optimization feature
Free updates
Ease of use
We are also informed that the system works well with Shizuka, another EA, which is being offered by the company. The working time frame is 1 hour and 15 minutes, and a minimum balance of $500 is required to commence trading.
Big Poppa EA works with more than one strategy. The first one focuses on money management with the aim of securing profits. Trailing stop, equity stop, and hedging are the features that help the EA to achieve this.
The second approach entails mixing the Fibonacci Golden Zone and the probabilistic zones that seize the retracements and assess their extensibility over time. Lastly, we have price action. As the name implies, this technique identifies trading opportunities by relying on price movements. Martingale is also mentioned, and we believe that it is part of the system.
Big Poppa EA costs $149. This price includes 1 lifetime license, unlimited accounts, +10 set files, and a user guide.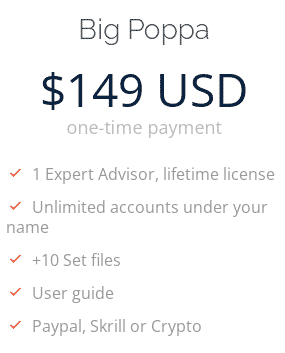 Backtesting results
Backtesting results are not part of the presentation. This may mean that the devs didn't test the reliability of the algorithm. Also, they might have tested it but were not impressed with the results and are hence not willing to share them. Either way, nothing justifies the lack of openness in this area. Backtest data is key to assisting traders to ascertain the efficacy of the system.
Trading results
The devs are using this EA to run a demo account on Myfxbook. By the looks of it, the trading algorithm is not performing well at all. In less than four months of trading, the EA has brought the account to its knees, having made a loss of $996.10.
The robot has carried out 180 trades, and a profit factor of 0.43 indicates that these deals are not profitable. There's more bad news as only 60% of the long and 64% of the short positions have been successful. Also, from the average win and average loss values, it is apparent that the robot has a higher likelihood of recording more losses than profits.
The trading history highlights a period, mainly between September and October, where the system made a series of huge losses. We believe that these losses played a significant role in weakening this account.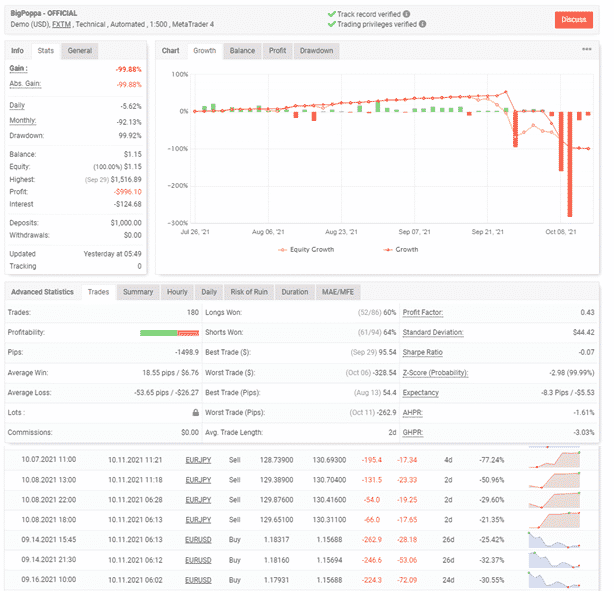 High drawdown
The system utilized by Big Poppa EA has an insane drawdown rate of 99.92%. This depicts a system that takes high risks as it attempts to make profits. Since the vendor has hidden info on the number of lots used, we suspect that the sizes applied are large and are increased every time a loss is made. It is very unfortunate that this approach has come at a great cost — enormous losses.
Vendor transparency
Big Poppa EA is the creation of a company known as BenderFX from South America. The firm is said to work with a group of young traders who automate trading strategies during their free time. They are well-versed in machine learning, development, data analytics, and genetic algorithms. The traders have also developed 3 other systems; BenderV2, BenderV4, and Shizuka EA.
Customer reviews
No customer has come out to talk about their experiences with this EA yet. This may mean that not many traders know about it or are not interested in it.